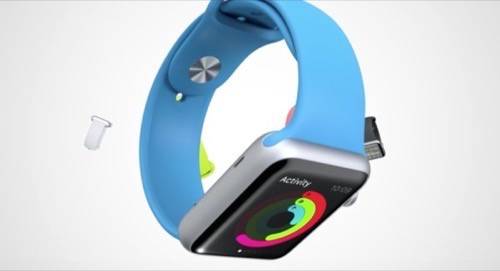 Apple's long-awaited smartwatch made a spectacular debut on Tuesday, with many of the expected features, but without the "iWatch" branding many expected. Starting at $349, the Apple Watch won't be available until 2015. And you'll need your iPhone to use it.
"Apple Watch is the most personal device we've ever created," Apple CEO Tim Cook announced to a standing ovation. "We set out to make the best watch in the world one that's precise—synced to the universal time standard," Cook added, showcasing the Apple Watch he wore on his wrist.
See also: What You Can Do With The Apple Watch
The Apple Watch is customizable in both design and capabilities. It's made of custom alloy stainless steel, with a "digital crown"—basically a side knob similar to the winding crown on old gear-driven watches—is capped with a polished single-crystal of sapphire (for durability) and a flexible "retina" display. Wireless and magnetic inductive charging means you don't have to plug in. (It's magnetic, so it sticks to the charger. Get it?)
It's a multi-functional health monitoring device, too, capable of tracking your heartbeat and enabled with an accelerometer. But don't expect it to replace your iPhone. In one of the details left to the last minute, Cook added that you need an iPhone to make it work. GPS and WiFi capabilities will be patched through the smartphone.
The details of Apple's first wearable unrolled via one of Apple's signature product videos, narrated by Apple's infamously enthusiastic designer Jony Ive, and showcasing both aesthetic and technological designs which seem equally impressive.
See also: The New Apple Watch Leaves Fitness Trackers Looking Unhealthy
The Apple Watch will come in two different sizes, as expected, a welcome remedy for fine-boned fans left behind by Apple's new, large-screened iPhones introduced earlier at the event. For added variety, it's also available in three different styles: standard, Sport and 18K gold, a myriad of wristband styles and a groundbreaking magnetic wristband release that seems so obvious one wonders how watchmakers didn't think of it sooner.
Apple seems intent on conquering the "ugly" or "bulky" labels that have hampered the adoption of rival smartwatches to date.
Screenshot by Stephanie Chan for ReadWrite