Next week will be all about the new Apple iPhone. This week, however, is more of a free-for-all among manufacturers determined to garner as much attention for their new smartphones as possible.
Maybe some of these companies want to beat Apple out the door; others may have simply set their launch dates long ago to coincide with the IFA Show in Berlin. Either way, Microsoft, Sony, Samsung, and others have their own moments in the spotlight right now.
Here's what's hot in the world of smartphones and tablet releases so far:
Microsoft's Nokia Lumia 830
Dubbed by Microsoft as "the affordable flagship," the Lumia 830 invokes Nokia's premium PureView photo lineage, but for a middle-of-the-road price compared to the Lumia 930 or 1020. With a 5-inch, 720p display, a 10-megapixel rear camera and Zeiss optics, this Nokia Lumia is a picture-taking machine first, a phone second.
As a budget camera phone, its quality may not be quite as good as its higher-end siblings, but Engadget pointed out a noteworthy feature: The 830 is capable of taking two photos at the same time, one with flash, one without. The Lumia 830 has a polycarbonate shell and aluminum frame, and will ship with the Lumia Denim update, a specialized version of Windows Phone 8.1.1 (Update 1), globally this month, priced at €330 (roughly $430 USD).
HTC Desire 820
This colorful "midrange flagship," there's quite a bit that the Desire 820 and the Lumia 830 have in common. What sets the Desire apart is its 64-bit support for Android L, the next generation of Google's mobile operating system.
For Desire users, that means increased performance while playing games or using processor-heavy applications, and even less battery drain—but only after Google releases Android L this fall. The Desire 820 features a 13-megapixel rear camera. It will be here in late September, but there's no price yet.
Sony's Xperia Z3, Z3 Compact, and Z3 Tablet Compact
Sony unveiled a trio of Xperia devices to give gamers a reason to take notice. The 5.2-inch Z3 smartphone with 20 megapixel camera and 1080p screen, the Z3 Compact with a 4.6-inch 720p display, and the super-light 8-inch Z3 Tablet Compact.
Sony says the Z3's 1080p screen is the brightest of the leading smartphones, which is all the better for use as a gaming platform—both the Z3 and the Z3 Compact can serve as Playstation 4 controllers. Meanwhile, the Tablet Compact can Remote Play stream PS4 games over a local Wi-Fi network.
Don't worry about dropping it in the bathtub either. All three devices can survive in up to three feet of water for up to 30 minutes, and take pictures down there while they're at it, which might The Z3 is the only one confirmed to be making it to the U.S. so far, but no price has been announced.
Lenovo's Vibe Z2 and Vibe X2
Lenovo is calling the Vibe Z2 its "selfie phone." While the 13-megapixel rear camera is comparable with the competition, the company also put an 8-megapixel camera in front. The Z2 will retail at $429 in China this October, with plans to expand to Europe and Asia. There's no mention yet of a launch in the U.S.
Alongside the Z2, the company also announced its Vibe X2 smartphone, which will be available in two variations, one with a dual-SIM (to work with more cellular networks internationally) and a single SIM version.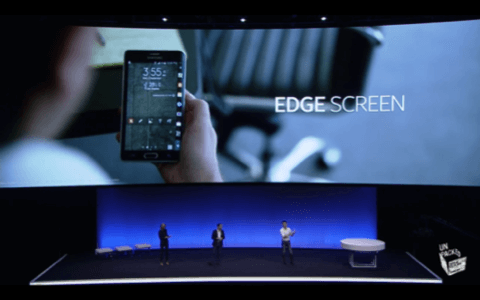 Samsung's Galaxy Note 4 and Note Edge
Samsung released its latest phablets in the Note series on Wednesday in conjunction with the IFA show in Berlin. The Note 4 is a stronger, thinner version of the Note 3 with the bulk of the changes made to its battery life—Samsung claims it has a 7.5% longer battery life, and only takes 30 minutes instead of an hour to charge to 50% power. Meanwhile, the Note Edge provides extra screen real estate that serves as a secondary display for users.
Motorola is also expected to unveil updates to its Moto X and Moto G smartphones, alongside the much-anticipated Moto 360 smartwatch on Thursday. Altogether, it looks like the smartphone makers are doing their best to make this pre-Apple week an exciting one.
Lead image via HTC; Xperia Z3 Tablet Compact image via Sony; Samsung screenshot via Adriana Lee for ReadWrite