I have a confession: My name is Adriana, and I'm addicted to arm notifications.
When I began checking out smartwatches last year, I didn't realize how dependent I'd become on having alerts piped to my wrist. Now I'm obsessed with finding just the right device to deliver them.
This is a tricky mission. I've had a Pebble smartwatch strapped to me for several months. Now I'm running around with the LG G Watch, the first Android Wear device to hit the market. In between, I've peeked at numerous other contenders vying for the valuable real estate on my arm.
The current crop's giant offerings tend to elicit two responses: Curiosity from male onlookers, and weird looks from female friends that seem to come with an unspoken hashtag: #JustNo.
The gadgets offer different features to satisfy various needs, but none can give me the one thing I really want: an attractive, functional device that doesn't look ridiculous on my delicate lady wrists.
In other words, I am screwed.
Looking … Smart?
Whatever smartwatch that is looks gigantic on a woman's wrist #IO14 pic.twitter.com/FeSd3eRA2y

— Adriana Lee (@adra_la) June 25, 2014
Smartwatches aren't a mainstream movement yet, but that could be about to change drastically. And soon.
This year alone, the global wearable technology market is projected to garner $5.26 billion. In the next four years, it's expected to hit $9.2 billion, with smartwatches very likely to lead the way.
Tech companies are jumping on this bandwagon in droves. Android Wear devices are just the most recent options capping a long list, including offerings from Sony, Pebble, Martian, and many more. Each one tries to differentiate itself. And yet, most just wind up looking like some variation of these:
To be fair, the $229 LG G Watch offers stock watch faces that are attractive, even fun. But at the end of the day, it's a black slab on a rubber strap. The flattened box looks downright comical on a smaller arm like mine—way too basic to even work as a "boyfriend watch" (an oversized women's timepiece that takes cues from men's watches).
Well, at least the wrist strap is a standard 22 mm size, so that rubber can hit the road. And yes, it is rubber, black-grey that is not attractive or unattractive, but certainly not a stylish leather or metal band that could enhance its cool quotient.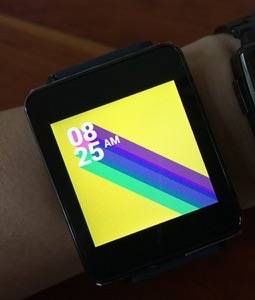 Style in general has become an important issue for wearables. (Oh, please—we wear them on our bodies. Of course we want them to look good.) Even your choice of smartphone is a fashion statement these days. For wearables, women's fashion may be even more crucial. Analyst firm NPD Group believes women will fuel the wearables market, with more than half of prospective buyers skewing female, at 58%.
Some wearables companies are getting it right. I gave Ringly credit for making a gorgeous piece of jewelry that doesn't skimp on the technology. Fitness-tracking watches such as Gear Fit and Withings Pulse O2 figured out that watches don't have to be fat, chunky slabs. Even Google finally got a clue, hiring high-powered fashion designer Diane Von Furstenberg to work on Glass (though even she can't seem to make the whole "camera on your face" thing attractive. Go figure).
At least it's a start. Hopefully the tech giant's Android Wear partners will consider putting the same thought into their watches. Perhaps the best designer of Google's Android partners—HTC—can take Android Wear aesthetics to the next level.
See also: Meet Ringly, An Attractive Wearable Gadget Women Might Actually Want
Of course, these manufacturers may have no choice but to build beautiful watches. Apple, after years of iWatch rumors, seems primed to finally get into the wearables game some time this year. Whether that will be a fitness-oriented device or a full-fledged smartwatch isn't clear. But if it exists, it will surely be beautiful. We hope. Apple's strongly honed design chops likely wouldn't have it any other way.
Is Android "Ready To Wear"?
When it comes to the LG G, the sex appeal obviously does not lie in the hardware. It's in the software, which also graces the next Android Wear watches Samsung Gear Live and the upcoming Moto 360. Good thing the software looks like a decent start.
Pebble may get credit for setting off today's smartwatch craze, but the Android Wear experience might bring it home. Pebble launched its software development kit last year, so it has had more lead time to usher in and encourage the smorgasbord of watch apps in its now swelling app store. By contrast, Google only just released the SDK for Android Wear last week. And yet, the initial set of test apps does a good job of showing the company's vision of how applications and notifications should work on the wrist.
The main way to interact with the watch is via voice command, and using that, I can reply to texts, call a ride, send an email, show my step counts and much more. For times when I'm shy, I can also pull up some of those features by tapping the touchscreen. Swipe-able cards deliver full-color notifications or snippets of useful, contextual (or even location-aware) information, thanks to Google Now.
Swiping vertically on the 1.5-inch screen conjures different cards—whether for Eat24, Fancy, Delta flight details, appointments, messages or other apps—while swiping the card horizontally drills into the app further, for more info or settings. I even like the ability to put the display to sleep by placing my palm or forearm on top of the screen.
See also: Why The All-In-One Smartwatch Isn't Happening Any Time Soon
But all these features come with a downside, and primary among them is battery life. The Pebble, with its non-touch, e-paper display, runs for 5 to 7 days on a single charge. So does the ill-fated Qualcomm Toq with its MEMS display. The LG G, with its 400 mAh power cell, may charge quickly in its battery cradle, but only offers about a day and a half. That's more than the one day the company promises, but it's still unacceptable for any active person on the go.
Square Hole, Meet Round Peg
The LG G Watch is just the beginning of what will probably be a flood of Android Wear watches. So it's possible that some of my criticisms will be addressed later on. What probably won't, though, is this: The predominant design ethos yields an awfully clunky gadget that's just not comfortable to wear.
Like wrists tend to be, mine are rounded. The G watch's large, unforgivingly straight body teeters on top, with the rubber strap lashing it in place. It feels like having a stiff board tied to my arm.
For the size, I would expect the device to at least pack some high-powered internals that could, say, let it work as a standalone smart gadget, separate from a phone. But I would be disappointed. Android Wear requires pairing with phones loaded with Android 4.3, at minimum.
There's no getting around the fact that larger screens offer better usability. The problem is, when they're not in use, they hang on the body like the fashion equivalent of an albatross.
Hope is not lost, though. There's still one stunning style statement for Android Wear on the way: the Moto 360.
It's a genuinely good-looking smartwatch, which is a rarity in the current market. While it too boasts a big screen, the Moto 360—like the Martian analog-digital smartwatch mash-up before it—offers a rounded aesthetic that bucks the boxy dictum. This is sexy hardware design that might work as a high-tech boyfriend watch, at least.
It's also more comfortable. When a Motorola representative let me try it on at the Google I/O developer conference last week, I expected it to be just as ill-fitting as the other large watches. It wasn't. The device is big, that's true, but somehow it sat well on my wrist. And the software also adapted nicely to the circular frame, displaying a pleasing interface. I was surprised.
Now I'm incredibly impatient. The Moto 360 is expected to ship sometime in August. Maybe it's too much to hope that this pretty watch will offer decent battery life as well. But maybe, just maybe, users won't get screwed after all.
Fingers crossed. Wrist waiting.
LG G screens courtesy of LG. All other images by ReadWrite.