Last month, Google cut a one-time deal with existing Google Glass Explorers allowing them to swap their familiar futuristic facewear out for the next evolution of Google Glass. But beyond the announcement of a more robust set of developer tools—the long-awaited GDK—and a then-baffling little earbud accessory to pair with our ill-fated Google Music experience, we didn't know a whole lot about the next version of Glass.
There were the things we wanted, sure, but does the second Explorer Edition of Google Glass deliver? Read on for our early impressions of Google Glass Explorer Edition XE-C.
The second version of Glass available to the still-quite-limited public is actually version XE-C, while the version that graced the doorstep of Google I/O 2012 attendees earlier this year was version XE-B.
New Glass XE-C label.
Old Glass XE-B label.
In spite of some early sniffing, cats remain largely uninterested in the Glass XE-C release.
The newer version of Google Glass comes with the sunglass lenses, but no clear lens. I actually found the latter more useful than the former, considering that I didn't want to look any more like the Terminator than absolutely necessary.
Cosmetically, Explorer Edition XE-C is pretty much identical to Explorer Edition XE-B. These photos are basically exactly the same as the ones I took in May of my own Google Glass, also in Cotton.
The big difference this time around is the inclusion of a mono earbud, featuring the not-quite-iconic Nike swoosh-esque Glass symbol.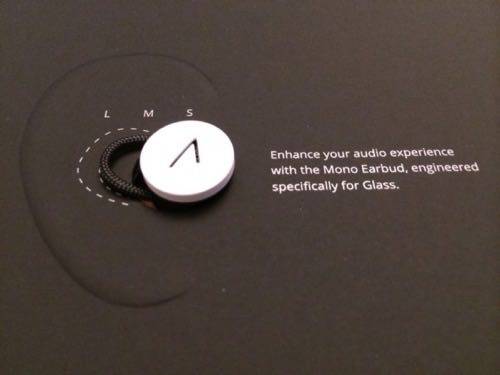 The included zebra-colored micro-USB charger and cable are the same. A bit disappointing, considering that the cable wears down quickly due to its 90-degree hinge design.
The same Japanese microfiber pouch? Check.
We'll be, er, exploring the second Explorer Edition of Glass further in the coming days, with a close eye on differences. Unfortunately, in preliminary testing, the battery life seems to be the same dismal couple of hours with moderate usage. Stay tuned.
All photos by Taylor Hatmaker. Thanks to my new cotton Glass twin, Cee Webster, for letting me hang with your Google Glass (and your handsome cat)!