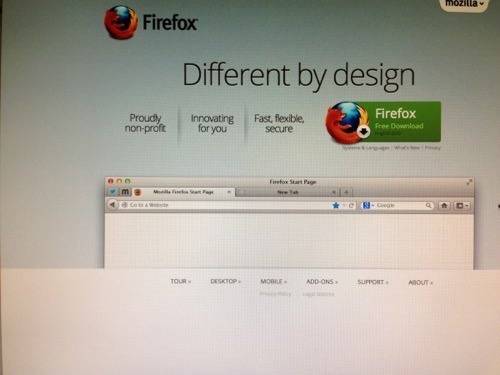 After years of lackluster performance, the Firefox browser is back. Its latest incarnation—version 22, for those counting at home—is a speedy desktop browser featuring some fancy future-forward tech.
It's just too bad that the Web's future lies in mobile, where Firefox still can't win.
Liberator And Jailor
Years ago, Firefox liberated Windows users from the stagnation of Internet Explorer, only to wind up imprisoning people with lags and system freezes.
When it launched back in 2004, Firefox finally offered Web users an alternative to Microsoft's lumbering, resource-hogging native browser. That was a revelation, and Firefox—which, among other things, offered then-novel tabbed browsing and pop-up blocking—inspired wild enthusiasm. In its very first year, the browser jumped out of the gate with 100 million downloads.
The infatuation didn't last. Users first seduced by Firefox's rebellious sex appeal wound up in a long-term relationship with a bloated couch squatter. Through the years, it earned a bad reputation thanks to slowdowns, memory leaks and crashes.
But that was then. Now Firefox has a brand new bag with version 22.
Today's Fox Is Fast
I've been using Firefox 22 for roughly a week now, and it's noticeably faster than before. Much faster. In fact, I've noticed that it runs neck and neck with Chrome on my system.
I'm not alone in noting that improvement. Firefox 22 also outperformed Chrome in recent speed tests by Tom's Hardware. The site pitted it against rivals Chrome 27, IE 10 and two different versions of Opera across four performance-based categories—wait times, JavaScript/DOM, HTML5/CSS3, and hardware acceleration. Firefox stunned testers by edging out long-time champ Chrome and nabbing the top spot.
See also: 7 Reasons To Switch To Firefox, The Browser With A Conscience
These results stem from the changes Mozilla stuffed under the hood. With new Web technologies known as WebRTC and ASM.js, Firefox developers specifically attacked the biggest causes of performance problems—third-party plugins and poor JavaScript handling.
WebRTC (Web Real-Time Communication) eliminates the need for users to download separate bits of often poorly written software known as plug-ins, which have long been necessary to operate communication features such as video chat, audio calls and even peer-to-peer file sharing.
ASM.js, meanwhile, essentially speeds up and optimizes the handling of code written in JavaScript. Huzzah! No more sitting around, waiting for a sluggish browser tab to load JavaScript.
Even with these welcome changes, Firefox maker Mozilla still has an uphill battle on its hands. After all, it's not easy to get jaded users to forgive and forget. And thanks to the much-hyped browser wars, the competition is fierce.
No wonder Firefox continues to bleed users.
Not Fast Enough To Plug This Leak
There's no question that Firefox's market share has sprung a slow leak.
NetMarketShare's desktop-browser numbers for June 2013 put Firefox market share at 19%. While that's enough to seal second place behind IE's 56%, it still amounts to a loss of more than a full percentage point since April. Google's Chrome, meanwhile, improved its standing to a 17% share, an increase of a little less than a full point.
Of course, numbers vary depending on whom you follow. According to StatCounter's statistics, which cover both desktop browsers and tablets, Chrome is in the lead, way above both IE and Firefox. Either way, the Mozilla browser is sputtering along as Chrome usage continues to grow.
Firefox's bad rep for buggy performance isn't the only reason for its downward turn. It also has no powerhouse platform behind it. In other words, it's not the default browser of any major operating system, so no users are tethered to it.
You might say something similar of Chrome (at least today, though Chrome OS might be showing signs of life). Still, the Google browser has something else Firefox doesn't—a ubiquitous desktop presence paired with a broad mobile reach. Users like cross-platform browsers for the sheer convenience. With one sign-on, Chrome users can sync bookmarks, login data and browser histories between all of their devices—whether Windows, Mac OS X, Android or iOS.
Meanwhile, Firefox doesn't run on iPhones or iPads, which means it's missing a huge chunk of the mobile market. Apple considers Firefox "browser non grata" because it doesn't use Webkit, the underlying "rendering engine" that powers both Apple's Safari and Google's Chrome. And that's not changing anytime soon.
In other words, Firefox's main rivals have home bases in their associated mobile platforms—Safari has iOS, Chrome has Android, and IE has Windows Phone 8. Firefox has nada.
Well, not exactly nada. Mozilla did just launch Firefox OS, a new mobile operating system that hews to Mozilla's Web-standard approach and that will first roll out on cheaper smartphones.
It's unlikely, though, that Firefox will get much of a boost from Firefox OS in the near term. It's a new platform with a (very) limited reach, as phones based on this operating system are only headed for a few European countries and developing markets such as Latin America.
See also: Two New Firefox OS Smartphones Spur The Future Of The Mobile Web
It's ironic: One of Firefox's strongest early selling points—independence that supersedes dedicated, restrictive platforms—is now a major obstacle for it.
Forget Desktops—Mobile Is Where It's At
While the new Firefox browser is impressive, the whole conversation around desktop browsers may soon be irrelevant. Internet usage via mobile is on the rise. Some even think it's only a matter of time before mobile dominates desktops. None of this is good news for a browser that struggles with mobile.
It's not Mozilla's fault, says Website expert and SitePoint writer Craig Buckler. "Mozilla launched Firefox on as many [mobile] platforms as they could," he says. In practice, though, that mostly means Android, where Firefox runs well behind Chrome and the stock Android browser. It's a fairly small puddle to be playing in.
But it's not a matter of blame. It's a matter of reach, especially in light of charts like this.
If the browser war was being waged on the desktop alone, Mozilla might have a chance with Firefox 22. It did the best it could on the mobile front by updating its Android app and launching a new mobile OS. But none of that changes the fact that iOS still accounts for 62% of U.S. and Canadian mobile Internet traffic.
Unless and until Mozilla can figure out how to get into Apple's hen house, this fox just may not have much fire left.
Lead image via Flickr user mozillaeu, CC 2.0