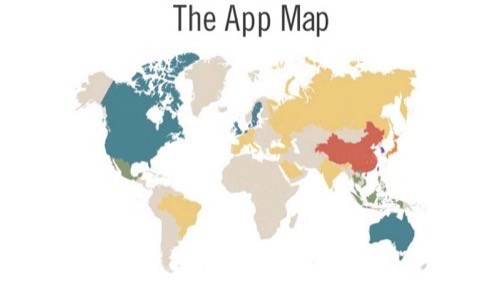 This post is the fourth and final installment in the ReadWrite series Making Android Pay, focusing on the opportunities and challenges that mobile developers face trying to make money from Android Apps.
Android is truly a worldwide platform. If you are a developer trying to make money with Android apps, that global presence could be your biggest asset – or a tremendous headache.
The smartphone installed base in the United States is near 224 million, according to mobile analytics firm Flurry. Android's slice of U.S. smartphones, depending on what stats you trust, lies somewhere between 40% – 50%, or about 90 -110 million devices. Throughout the world, Android devices have been activated 900 million times, according to Google's Android head Sundar Pichai, speaking at the Google I/O developers conference keynote address earlier this month.
It's Not About The U.S.
Hence, if your Android development and distribution strategy is centered in the United States, you are leaving out most of your potential customers.
Google realizes this and has worked to give Android developers more tools and tips to be able to hit the international market. "One thing we heard very clearly from Android developers was that they want to take advantage of the international footprint," said Purnima Kochikar, director of Google Play apps and games, in an interview with ReadWrite.
When Google updated its developer tools in its Google Play Developer Console at Google I/O, it gave particular weight to international distribution. Included was the ability to translate your app to a variety of languages, analytics by region and optimization tips based on that data. For instance, Google might recognize that your app is doing well in Central America and recommend that you translate it into Spanish.
The Android Google Play app store is now available in 134 countries where Google can process payments. Kochikar said that Google wants to provide the type of infrastructure for Android app development where it becomes an egalitarian platform where, "with one click you can present your app to the entire world."
Think Globally, Act Locally
Mobile developers often have a "rip it and ship it" type of mentality. Get the app done, make sure it works and get it out the door. That type of mentality can work for some (Facebook, for instance), but loses the nuance and thoughtfulness that can be the difference between just another app and a successful mobile business.
Different countries have different behaviors when it comes to smartphone behavior. For instance, did you know countries around the equator are really, really big into gaming? Or that the Japanese really like productivity apps (and karaoke)? "Ecosystems are built locally," Kochikar said. "The ecosystem is locally relevant content distributed on a global scale."
Flurry has highlighted some of the differences in behavior in varying geographical regions. It separates the world into six categories, based on 20,000 apps in the 30 heaviest app-using countries:
Mobile Pioneers (U.S, United Kingdom, Singapore etc.) with the highest app usage
Connected Asia (Hong Kong, South Korea)
China
Japan
Equatorial Pacific (Mexico, Thailand, Vietnam etc.)
Lumbering Giants – countries with the potential to be heavy mobile users but for one reason or another have not kept pace with mobile adoption in other countries (Brazil, France, Russia, Spain, Turkey etc.)
Be Local And Contextually Relevant
Flurry's analysis doesn't dig very deep, but it reveals some interesting trends. When it comes to games, the Equatorial Pacific Region leads in terms of adoption rate, while the Japanese tend not to be big gamers.
The Chinese and Lumbering Giant countries tend to be heavy into entertainment apps. Sometimes, smartphones and tablets are the only place where users in those countries can get foreign entertainment or a wide selection of music.
The idea is to make your app contextually relevant to the locations where it is available. That is why Google chose an agency-based (human, not machine) model for its new app translation service in the Google Play Developer Console. It is also why Google has redone the backend payment system for Google Play to allow for direct-carrier billing and gift cards along with the standard credit card payments. Different countries have different standards of payment and Google is trying to accomodate that with as little pain to the app publisher as possible.
"If you think about where the next million apps are coming from, they are probably not going to be made in the U.S. They are probably going to be made by developers in Brazil, Russia, India et cetera," said Ellie Powers, product manager for Google Play. "Those folks may have a very different set of users but some of them may go global. So having to understand what is happening globally is really important."
See also:
Top image courtesy Flurry.