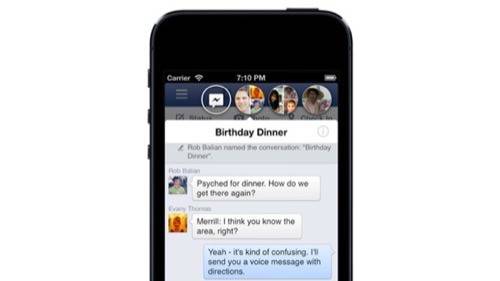 Facebook released an update to its iOS app today that brings one of Home's strongest features—Chat Heads—to the iPhone and iPad. The bad news: Because Apple does not allow third-party apps to mess with its interface the way Google does with Android, Chat Heads is only accessible within the iOS Facebook app.
It's a gutted version of the Android app, which strips away key features like mixing SMS text messages with Facebook messages and popping chats up on top of other apps. Those are what make Chat Heads special.
Alongside Chat Heads, the update allows users to buy and share "stickers" from the social network's new Stickers Store—a feature recently introduced by Path, a mobile social app closely watched by Facebook's designers and engineers. It also gives iPad users a tablet-specific version of the News Feed design overhaul announced in March.
The iPad update is out now. Chat Heads and Stickers features will be rolled out to iPhone users "fully over the next few weeks," the company said in a press release.
The New Look For iPad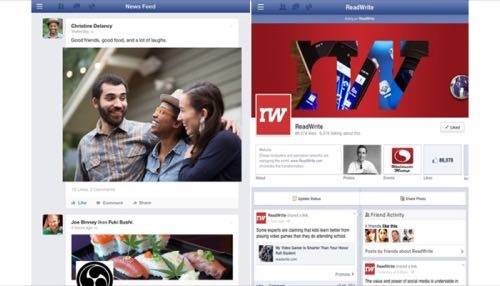 For heavy iPad users, the News Feed update is a welcome upgrade. The tablet screen size allows for an almost exact replica of the new browser-based News Feed that Facebook recently announced. It strips away unnecessary sidebar noise from the News Feed and gives you a simple page of avatars and updates with a special focus on blown-up images. (ReadWrite's Taylor Hatmaker makes a strong argument for why this might be both good and bad for users.)
(See also Chat Heads Will Be The SMS-Killer Facebook Has Been Looking For.)
As for Chat Heads, it works great. Hitting the messaging button on the top tab and clicking on a name immediately pulls up a friend's face in a Chat Heads bubble. You can add up to four bubbles before it begins automatically swapping out the bottom one. The feature that lets you collapse and move multiple chats works as advertised. It's likely much better on the iPad than it will be on the iPhone given that you have more screen real estate and can keep Chat Heads active all the time. If you don't want to get rid of Chat Heads, a circled 'x' shows up at the bottom of the screen when you hold down the bubble and flicking it down will remove it.
A Strong First Step, And A Dilemma For Apple
While it may be a drag for iPhone and iPad users to have a subpar version of the Chat Heads experience, it's a start. The big unknown is what's coming in iOS 7, the next big version of Apple's mobile software, which is expected to be out this summer. Will Apple allow not just Facebook but other developers to layer apps on top of each other, the way Google does in Android? Or will it maintain tight control over the experience and risk making Android the bleeding-edge playground for experiments like Chat Heads?
(See also Why Apple Really Needs To Kill It With iOS 7.)
Apple has no easy choice here. It wants to have the best experience for consumers. But part of that experience is the sense that new apps with the coolest features come out for the iPhone first. If Chat Heads is the best mobile version of Facebook, and you can't get it on the iPhone, where does that leave Apple?
Update: Facebook has just released the iOS update for iPhone as of 12:01 p.m. PT. The update includes the in-app Chat Heads functionality and bakes in some aspects of the News Feed redesign that are more prominently visible in the iPad and browser versions of Facebook.

Images courtesy of Facebook.