Google launched the original CR-48 Chromebook as a companion device to a full-fledged PC. With the Chromebook Pixel, that slate has been wiped clean: Google is now challenging traditional computer makers with a high-end, $1,299 Chromebook.
The rumors were true: the Pixel marries a gorgeous, high-resolution 2560 x 1760 display with a touch interface, tucked inside specs that look and feel like a high-end laptop: a dual-core, 1.8-GHz Intel Core i5 processor, Intel HD 4000 Graphics, 4GB of RAM, and either 32GB or 64GB of local solid-state storage. The 64GB option is included with the even-more-high-end version of the Pixel: for $1,449, you get the larger storage option as well as an integrated Verizon LTE 4G wireless capability, that you'll will have to pay for separately. Oh, and you get a whopping 1 terabyte of Google Drive cloud storage, too.
Other connectivity options include a pair of USB 2.0 ports, a mini-display port, plus a 2-in-1 card reader with SD and MMC support. In addition, the Pixel supports Bluetooth 3.0 and dual-band Wi-Fi, 802.11 a/b/g/n. It weighs 3.35 pounds.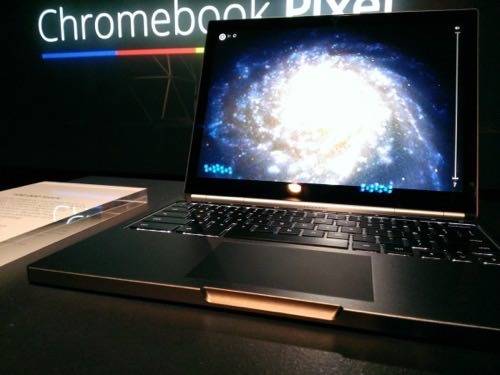 Customers can preorder the Pixel Thursday from Google Play and Best Buy, where Google will have a limited number of kiosks to show off the device.
It's a far cry from Samsung's $249 Chromebook Google announced last year. The Pixel is built by an undisclosed Taiwan manufacturer.
"There is no high-resolution laptop with touch available available today in the market," Sundar Pichai, the vice president of Chrome at Google, said in a press conference Thursday in San Francisco. "I think the hardware shines, and if you're living in the cloud, this is the best experience you can use."
And he's exactly right. With an all-aluminum design, a full piano hinge and sweet little touches like a back-lit keyboard, the hardware does shine. And for users who already reside within the Google cloud, the transition is seamless: I took notes during the press conference on a Macbook Air, via Google Docs; after the Pixel was officially unveiled and devices were handed out to test and evaluate, I simply logged in and continued writing from the new Pixel machine.
(One hardware detail that Pichai called out was how Google had optimized the mechanical dome underneath the keyboard to facilitate typing; the keyboard does feel a little less mushy than the more recent Samsung Chromebook Google launched last year. Google has also added a third microphone underneath that keyboard, in addition to two it has mounted behind the display, in an attempt to isolate the noise from typing within Hangouts and other applications.)
Google said that the new high-resolution display should consume slightly more power than older Chromebooks; the device itself seems to expect about 5 hours of battery life, according to the built-in battery meter. On the other hand, the robust performance of the Intel Core i5/graphics combination should allow multiple HD video windows to play smoothly; this seemed to be borne out in my quick hands-on tests.
With the touch-enabled Pixel, Google has approached the problem of touch from two separate directions: on the one hand, phones and tablets that use Android include touch capabilities. Until now, that has been separate from the touch-enabled ChromeOS. Chrome product managers said they have taken what they've learned from running Chrome within touch-enabled environments and added little touches, such as swiping down the shortcuts bar at the bottom of the screen to hide it.
"There are two viewpoints," Pichai said. "We are enabling both." Pichai said that he switches back and forth between his Nexus 4 phone and his Pixel Chromebook.
Not Enough Software?
Eventually, however, consumers are going to have to make a choice: Do they wish to buy a 13-inch Apple MacBook Air, which is actually priced less than the Pixel, at $1,199, along with the rich ecosystem of apps that Apple offers? Or will they turn instead to the Chrome Store, with a much smaller, less robust set of plug-ins that only rarely includes big-name developers?
Google has developed new apps to take advantage of the Pixel, including a new Photos app, and the lovely 100,000 Stars app, which allows users to zoom in and out on a virtual Milky Way. But while those two may be stunning, they don't have much company. And Google's Pichai said that QuickOffice would be integrated with ChromeOS in a few months, allowing true Microsoft Office compatibility.
My suspicion is that most consumers will go with the tried and true. The Chrome Web store, though well-stocked, just hasn't quite attracted the kind of attention lavished on, well, Android. Google obviously hopes to change that by seeding the Pixel among its high-end developer base. But until it does, my advice would be to stick with the more budget-friendly Chromebooks Google and its partners offer.
Images via Google and Mark Hachman.