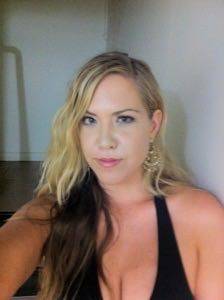 You may not know this but ReadWrite is owned by a company called Say Media, which owns a handful of other sites, including xoJane, whose readers are mostly women, and not just any women, but the kind who like to do naughty sex-type things and write about it on the Internet. Just check out this article about how to have Skype sex, by a woman who claims to have developed some expertise in this area.
So, right. Let's just say there's not much overlap between the xoJane audience and our audience here at ReadWrite. But that may be changing, because the deputy director of xoJane, Mandy Stadtmiller, is on a quest, and I think our readers can help.
You see, Mandy is looking for gigolo. And she wants the Interwebs to choose him. She is crowd-sourcing the decision and is letting readers vote on which of seven hunky dudes she should hire. The guys all work for a service called Cowboys4Angels, and they have names like "Vin Armani" and "Bradley Lords."
You can check out their photos here, or in Mandy's post on xoJane where she lays out her scheme, but I warn you, there are a lot of pulled-down tighty-whiteys, which might be NSFW, depending on where you W. For what it's worth, I'm voting for the gigolo who's out hiking in a cowboy hat, no shirt and plate-sized belt buckle, because why not?
Not only can you vote on the guy, you can also vote on which roleplaying fantasy Mandy should act out with the guy, and whatever readers decide, Mandy swears she will do it. Because that is just how she rolls.
Thank You, God, For The Internet
Cynics might see this as just a craven ploy by Stadtmiller to gin up pageviews, which it is. We got wind of it when one of our reporters, Dan Rowinski, happened to visit the New York office of Say Media, where xoJane's offices are located. Somehow Rowinski got talking to the staffers at xoJane, who told him that hey, we're working on a tech story, and maybe you guys at ReadWrite can write something with it.
This was the gigolo project. Now, Rowinski is a shy lad who has led a sheltered life, and of course he was terrified. He managed to escape the clutches of the New York City lady monsters, and when I ran into him the next day he told me what they were up to. I knew right away that, frightening and awful as this is, we must get involved with this important sociological experiment. Plus here at long last was our chance to achieve synergy with our sisters in arms at xoJane.
I traded some mail with Stadtmiller this evening. She told me she came up with this idea after writing a somewhat disturbing post about depression and medication and sexual dysfunction, titled, "I've Been Going To Some Dark Sexual Places Lately In Fantasy – And It's Bumming Me Out." A sympathetic reader wrote in telling Stadtmiller she should do what the reader had done when she needed something to pick up her spirits, which was, "Go professional." In other words, hire an escort.
The reader told Stadtmiller about Cowboys4Angels. "I followed up as I knew it would be a fun, hilarious story," Stadtmiller tells me. "I decided to do the crowdsourcing angle because I'm a dork, and I love shit like that. This seemed like a terrific way to involve crowdsourcing in something that was sexy and sexual and fun –and encourage reader engagement."
Ah, yes. Reader engagement. We talk a lot about that at ReadWrite, too, but so far our ideas have been much less daring. The best we've done is give away a Nexus 7. Different strokes, I guess. We're bringing on a new editorial assistant next week. Maybe we can dream up dangerous and/or embarrassing things for him to do, and let readers choose his fate.
Sorry, No Sex
Stadtmiller, who just started a relationship, says she will act out some roleplay fantasies with the gigolo, but won't actually have sex with the guy, if only because "super handsome ripped guys aren't really my thing." The roleplay choices are pretty tame. There's no two-girls-one-cup action on the menu.
Stadtmiller has pulled a gigolo stunt before, when she was reporting for the New York Post and hired a "prosti-dude" at a brothel in Las Vegas and wrote about her experience. It's a hilarious read. Here's a clip of her talking about it on the Joy Behar show in 2010:
Stadtmiller will go on the Joy Behar show later this month to talk about the new gigolo project, and to let that audience join in the voting. Then she'll choose her gigolo.
"I'm just hoping for a great story and experience," she tells me. "I don't have trouble getting dates, but this is an experience where readers can live vicariously through me – especially with the crowdsourcing component."
Is this what Tim Berners-Lee had in mind when he created the Web? Probably not. Anyway, here we are. The end times are upon us. Women are going crazy and turning into man-eating sex monsters. Next thing you know they'll want to vote. Now if you'll excuse me I'm going over to xoJane to choose a gigolo.