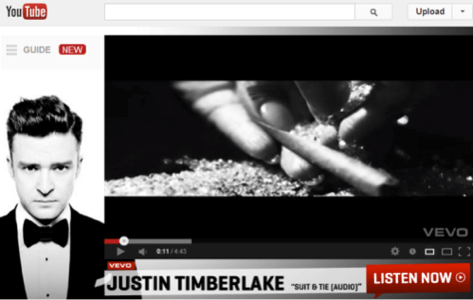 Is Google about to make a move to control the distribution of music videos? Well, maybe.
If YouTube and its corporate owner Google take a stake in music video distributor Vevo, as has been widely reported in the last 24 hours, it would be yet another sign of the tech giant's increasing interest in video content.
All Things D reports that Google will take a minority stake in Vevo, the source of YouTube's most popular videos. The amount is expected to exceed the $35 million Google invested in Machinima, the videogame and entertainment distribution network, back in May 2012. According to the Guardian, the investment could amount to as much as $67 million.
If it happens, the deal will solidify a shaky, three-year relationship. Vevo is a top traffic driver on YouTube, the largest video site on the Web and second-most-popular video search engine. Vevo, a joint venture between Universal Music, Sony Music and Abu Dhabi Media, threatened to remove its videos from YouTube last July unless Google's YouTube fees were lowered, and even went so far as to pursue publishing arrangements with Viacom's MTV and Facebook.
While YouTube did not respond to requests for comment, the deal would guarantee that Vevo stays put on Google's video service, which should keep the music videos flowing. That's a good thing. No one wants to spend their time watching music videos through Facebook's wonky video player.
Photo courtesy of YouTube.