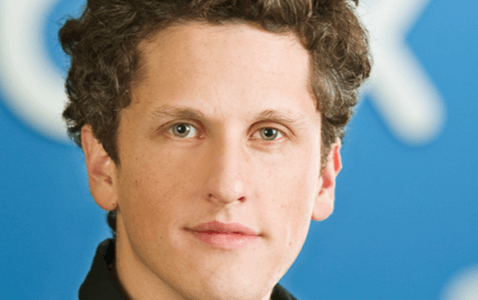 There's a lot of talk in Silicon Valley about the decline of consumer Internet companies and the rising interest in companies that sell software to enterprises.
After all, Zynga and Groupon, the darlings of the consumer wave, have tanked. Facebook's stock collapse robbed the company of some of its sparkle. And suddenly all those boring companies that have been toiling away down on the San Francisco Bay peninsula selling boring software to boring enterprises don't seem quite so boring anymore — especially after we saw Workday, which sells cloud-based human-resources software to the enterprise, pull off a phenomenal IPO, and when we have investment bankers talking about a trillion-dollar wealth transfer that's about to take place in the enterprise market.
Yes, suddenly the enterprise is cool again. And nobody is loving this more than Aaron Levie, the 27-year-old co-founder and CEO of Box, which sells cloud-based data storage and collaboration software to enterprises. "We're feeling fortunate," Levie said when we sat down for a chat at Box's offices in Los Altos, Calif.
A Smart Bet On The Enterprise
Five years ago, Levie figured out that the enterprise ultimately would be a better market than consumer products. He focused Box entirely on the enterprise. Back in 2007, that might have seemed like a crazy thing to do. Facebook and Twitter were the hot new things. All the so-called smart money in the valley was chasing consumer stuff.
Just two years ago, in 2010, John Doerr of Kleiner Perkins was raving about Zynga, citing it's fast growth and profits. This was right after he launched the $250 million sFund to try to create even more Zyngas. A few months later he made a huge late-stage bet in Groupon — at about twice the price that the stock carries today.
Meanwhile the guy who created the Flip camera is raising new VC money to make melted cheese sandiwches. Color Labs raised $41 million for God only knows what. We had Airbnb, then a bunch of Airbnb clones, and then another generation of clones that were the Airbnb of cars, scooters, bikes, whatever. We had Sean Parker raising $33 million to make a clone of Chatroulette.
Meanwhile, Levie and everyone else in the enterprise arena were building real businesses and not getting a lot of attention.
For the past five years, Levie watched the consumer companies boom and bust while Box took a slower, more difficult path, creating a sales force and learning how to sell to big companies.
Now, of course, everyone is hot for enterprise, and look who's sitting pretty.
Box's War Chest
Box has raised $285 million in venture funding, including a huge $125 million round in July that valued the company at $1.2 billion. Levie won't disclose revenue figures, but allows that Box has 650 employees, roughly double the level from a year ago. He says revenue growth is tracking with head-count growth, meaning sales are up roughly 100% year over year.
Box's software is used by 14 million people inside 140,000 companies, including 92% of the Fortune 500.
And this is just the beginning. Pretty soon that trillion-dollar transfer in the valley will begin in earnest, draining out of the legacy vendors and into Box and other cloud-based vendors.
"The dam has broken," says Levie, who often speaks so quickly that it's impossible to keep up with him. "We're seeing all this innovation. There's more opportunity than ever before. We're going to see, over the next decade, a huge changing of IT architecture."
A New Cloud Architecture Emerges
Every day, Levie says, he's on the phone with CIOs who are building what he calls "the new cloud architecture." Essentially this means replacing a list of on-premises software with cloud-based alternatives that do more and cost less.
A new lineup is emerging that includes software from NetSuite for ERP, Salesforce.com for CRM, Zendesk for help-desk management, Workday for human resources, Domo and GoodData for business intelligence, Okta and Ping Identity for identity management, AirWatch and MobileIron for mobile device management — and Box for cloud-based storage and sharing.
The Next Market Will Be Bigger
Levie agrees with the premise that massive amounts of revenue and market capitalization will swing over to upstarts. But he says this shift is about more than that.
As he sees it, this is not just a matter of moving the same dollars from one bucket into another. Levie believes that the proliferation of low-cost tablets is creating a much bigger addressable market.
The fact that cloud-based programs cost far less than legacy programs means that even tiny companies can afford them, not just the medium- and large-scale enterprises that can pay for top-dollar products made by companies like Oracle and SAP.
"The one thing that people don't seem to realize yet is that there's a good chance that the market will be far larger at the end of all this," Levie says. "It's going to be massive."
Forget Those Fickle Consumers
Enterprise customers do tend to choose products with a great deal of caution, but they stick with them for a long time. Consumers go crazy over a new app or game and quickly move on.
The pain is already being felt in the consumer sector. The Wall Street Journalreports that funding for consumer Web companies dropped 42% in the first nine months of this year. Venture capitalist Fred Wilson, whose firm, Union Square Ventures, mostly invests in consumer Internet companies, says things have changed.
"We are still in the early innings of this more challenging environment," Wilson said.
I'm sure that stinks for the next 10 companies that were hoping to make Instagram clones. But for the rest of us? Maybe it's not so bad.
After a decade of going crazy over Farmville and Angry Birds and me-too photo-filtering apps and other such fluff, Silicon Valley is finally getting back to its roots — making real software to run real businesses.
Not a moment too soon, in my opinion.