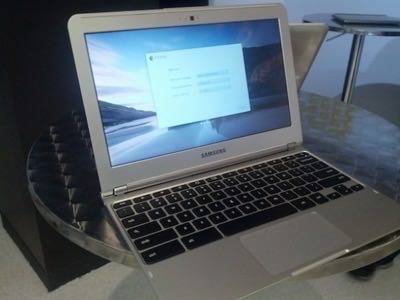 Google Thursday announced a new $249 Samsung Chromebook, finally delivering a Web-optimized computer at a price that makes sense for consumers.
The "new Samsung Chromebook," as Google executives officially refer to it, will complement the existing $449 Chromebook and the $329 Chromebox computers, both of which are also manufactured by Samsung. Sundar Pichai, senior vice president of Chrome and apps for Google, told a San Francisco press conference full of analysts and reporters that the new Chromebooks were the first of many more to be launched with a number of partners.
Google will sell the new Chromebooks at Best Buy beginning next week, Pichai said. The new netbooks will also be available via Google's Google Play online store.
Distractions From Google's Messaging
The press conference was thrown into disarray, however, by two premature releases of Google announcements that distracted attendees attention. First, the the company published the webpage advertising the new Chromebooks live before the press conference was completed. More significantly, a draft press release of the company's surprisingly weak third-quarter results hit the SEC before they were expected to be announced Thursday afternoon.)
That could be one reason it remained somewhat unclear what the exact differences were between the new Chromebook and previous versions. The new Chromebook will weigh 2.5 pounds, measure 0.8 inches thick, and is spec'ed at more than 6.5 hours of battery life. That's a little less than the 7 hours seen in typical Windows 8 notebooks and tablet. The key difference is apparently that the new version of the Chromebook is the first to use a less-expensive ARM processor from Samsung, a dual-core A15, along with a less expensive battery, explained Linus Upson, vice president of engineering at Google, in a brief interview.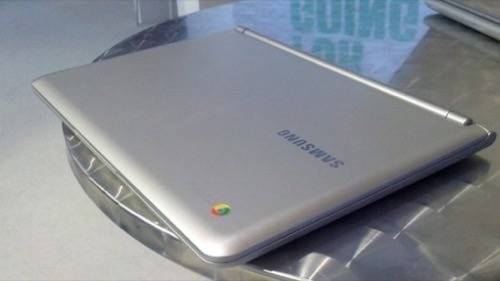 A Perfect Companion?
Pichai portrayed the ecosystem of Windows devices, however, as one that requires constant support. He positioned the Chromebook as the perfect companion device.
"The most common uses cases are as an additional computer for the home," Pichai said. "[The parents] have Windows or a Mac, but they can use the Chromebook and leave it on the living room and give one to their kids. You're never maintaining or updating these devices. This use case really really excites us. This goes to the heart of what the project is about."
Google originally portrayed the Chromebook as the perfect low-cost, low-administration device for businesses. Thursday's focus was more on the home and education. Google's Pichai said that the Chromebooks are being used in pilot programs by hundreds of schools, although they're actually deployed in far fewer.
Pichai said that the new Chromebooks would run the standard Google suite of services, including offline Gmail and Docs, which allows the normally connected Chromebooks to operate without an Internet connection.