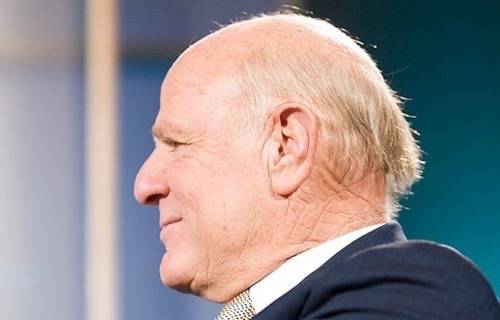 Aereo, the controversial Barry Diller-backed service that is streaming live and pre-recorded TV over the airwaves in New York City, is celebrating its recent preliminary court victory against 18 broadcasters by offering a free hour of service and new pricing options. But the real key for the viability of this high-flying IPTV startup in court might well be revealed in four patent applications filed earlier this year.
In March, ABC and 17 other New York City broadcasters filed a copyright infringement suit against Aero, claiming the service was essentially stealing and rebroadcasting its over-the-air (OTA) programming for its $8 to $12 a month Internet Protocol Television (IPTV) service.
Now in beta, Aereo lets Apple iPhone, iPad, Apple TV and Roku users access round-the-clock live and prerecorded over-the-air (OTA) TV channels on their screens. The company defeated a preliminary injunction demandedy by ABC et al in July that would've shuttered its service. As a result, the four patent applications it's filed with the U.S. Patent and Trademark and Office (USPTO) are increasingly relevant to Aereo's futre and this particularly nasty copyright infringement case.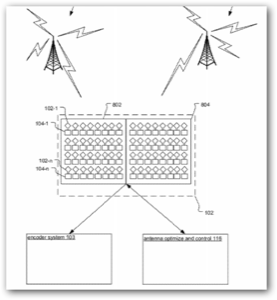 "Typically, patents or patent applications have no relevance in a copyright infringement case," said Tom Ewing, an IP expert who trains attorneys for the United Nations on IP matters. "But after this July 11 ruling, the case is becoming a different bird. That's because the judge expressly signaled her interest in the technologies employed by Aereo, saying the details will decide the case.
"If in fact the four patent applications Aereo filed four months before the suit hit it accurately describe Aereo's deployed technology in New York City," he added, "then these patent apps could give Aereo a leg up."
Aereo representitve Virginia Lam told ReadWriteWeb that they do. "On your question of whether or not our technology works as we have described, the answer is a resounding, yes," Lam said. "In fact, the recent decision by Federal Judge Alison J. Nathan in favor of Aereo (denying a preliminary injunction that had been filed against the company) bears this out."
In her July 11 order Federal District Court Judge Alison Nathan was explicit that the case is all about the technology: Is Aereo simply copying and redistributing copyrighted over-the-air broadcasts as ABC et al claims. Or is Aereo just providing people the equivalent of virtual rabbit ears to grab freely available material on the airwaves, as it claims. In her opinion, she indicated that the merits of the case will lie on whether the Aereo system can be considered "one" or "many" antennae.
According to the USPTO, patent examiners have yet to take a look at the applications. So it may be too soon to party. But early indications from Judge Nathan's order signal that Aereo's use of a tiny and separate antenna in NYC for each user "reinforce(s) … that the copies (of broadcasts) are unique and accessible only to a particular user, as they indicate that the copies are created using wholly distinct paths."
The patent applications appear to support this provided, as Ewing noted, that Aereo is doing exactly what the patent applications say it is doing: Providing an antenna per user, ala rabbit years, just 21st century remote style.
The four filed patent applications show how the company would use a rooftop array of tiny, dime-sized antennae at its New York City building – and assigniing each one per user as his or her own remote antenna.
The system, at least according to the patents, is essentially designed to provide each user with his or her own remote antenna – one of the tiny ones in Aereo's rooftop array of millions of them.
Here are the four applications Aereo has filed with the US Patent and Trademark Office: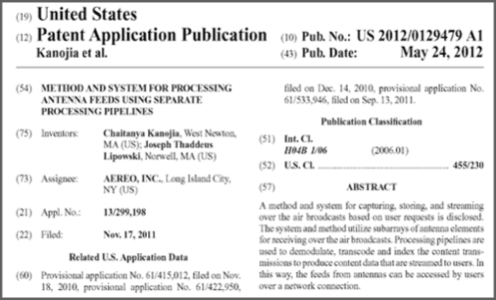 Its application (20120129479)called "Method and System for Processing Antenna Feeds Using Separate Processing Pipelines" supports the idea that the system's intent is to assign an antenna per user as opposed to just stealing, recording and rebroadcasting, as ABC and the other broadcasters claim.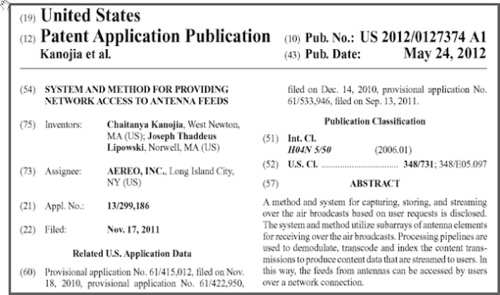 Its application (20120127374) "System and Method for Providing Network Access to Antenna Feeds" describes how Internet users get access to live antenna feeds, which appearst to be consistent with what Aereo reps have described about the system in its PR materials and in court.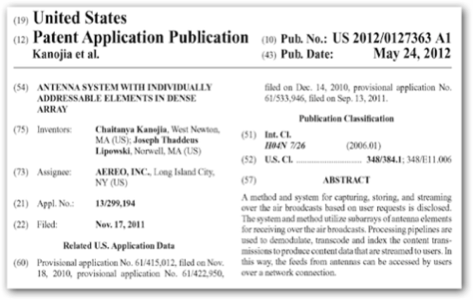 The same goes for its application (20120127363) "Antenna System with Individually Addressable Elements in Dense Array," which describes in detail how the system assigns users to individual antennas.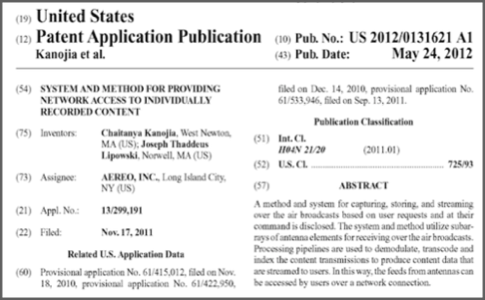 Accessing the recordings users make with their Roku, Apple TV or other DVR is the heart of application 20120131621, titled a "System and Method for Providing Network Access to Individually Recorded Content."
In New York City, Aereo currently offers 28 broadcast channels available over-the-air, including WABC, WCBS, WNBC WNYW-FOX, WPIX-11, WNET-PBS, Telemundo Univision and other special interest and foreign channels.
Aereo plans to extend the service to PC and Android users in New York City later this quarter, and enter other markets in the United States in 2013.
This should be be an interesting case. It is a rare copyright infringement case that hinges on technology, much less patents. And the stakes are high.
Barry Diller photo courtesy of James Duncan Davidson/O'Reilly Media, Inc.
Lead Barry Diller photo by FOUNDERSclub NYC