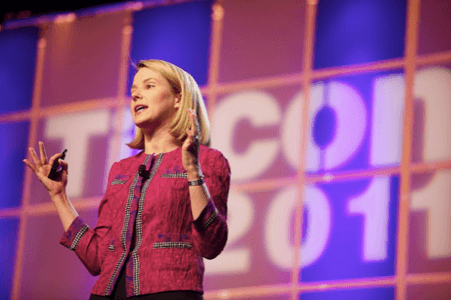 Google top executive Marissa Mayer has surprised the tech industry by jumping ship to become chief executive of Yahoo. Mayer started as a computer programmer for Google and rose to become a star in product development. Her background has left some analysts wondering whether she is the right person to lead the nearly 20-year-old Yahoo, which has plenty of products, but no clear vision of how to stay relevant on today's Web. "I'm not sure I'm 100% sold," Shar VanBoskirk, analyst for Forrester Research, said of Mayer's appointment.
Thirty-seven-year-old Mayer, who was employee number 20 at Google, resigned as vice president of local and location services Monday and is expected to start work at Yahoo Tuesday.
Mayer has been the brains behind the design of Google's most popular products, including the search engine's homepage, Gmail, Google News and Google Images. More recently, she was put in charge of Google Maps. Mayer sat on the company's operating committee, which means she had a direct line to Google co-founders Larry Page and Sergey Brin.
VanBoskirk's first fault with Mayer is her background. "What I think Yahoo needs is a visionary – an aggressive executive who can make some pretty solid decisions about the business Yahoo needs to be in," VanBoskirk said. "I'm not sure Yahoo needs another product person."
Mayer's hiring also signals yet another strategic direction for Yahoo, marking the company's fourth in the last two years. In 2010, Yahoo was a media company focused on creating content. It then changed focus to provide tools that other media companies could use to sell ads on the site. During its previous chief executive, Scott Thompson, who stepped down in May, Yahoo had shifted to becoming an e-commerce company.
Hiring Mayer indicates the company is likely to go back to focusing on its consumer products, such as Yahoo Mail. "I want them to pick one thing and stick with it," VanBoskirk said. "And this indicates yet another strategic vision for the company that's not consistent with what they've been trying to do in the past with previous executives."
According to Allen Weiner, analyst for Gartner, Mayer's background was "more a match for Yahoo's needs a decade ago rather than its current needs as a technology-based media company."
Many observers expected interim CEO Ross Levinsohn, ex-president of News Corp's Fox Interactive Media division, to be made permanent. Now that he has been passed over twice, the first time with Thompson's appointment, Weiner said it would be a "minor miracle" for him to stay.
While Yahoo is financially viable, it is very possible that Yahoo's time as an industry icon is gone and Mayer won't be enough to change that. However, if Mayer does, then "she is a first batch tech industry hall of famer," Weiner said.
In May, CEO Thompson stepped down after only four months. His downfall came after activist shareholder Dan Loeb revealed that Thompson falsely claimed on his resume to having a computer science degree. Loeb, who was waging a proxy battle with Yahoo's board, was later appointed to the board, along with three of his cronies.
Before Thompson was Carol Bartz, the former CEO of engineering design software company Autodesk. Bartz was fired in September 2011 after two years at the helm. Bartz had replaced Yahoo co- founder Jerry Yang, who returned as CEO in 2008 and lasted only 18 months.
Nevertheless, Mayer, a 13-year-veteran of Google, told The New York Times that leaving the company "was a reasonably easy decision." She described Yahoo as "one of the best brands on the Internet."
Mayer's possible departure from Google had been the rumor around Silicon Valley for sometime. Despite her success in running the company's most profitable businesses, Mayer watched as Google promoted Jeff Huber to senior vice president of local and commerce, placing him one level above her. While Google played down the reshuffling, the buzz in Silicon Valley was that Mayer would unlikely be happy with the reshuffling, according to The Times.
As Yahoo CEO, Mayer enters a small, elite group of women to lead a major company in the tech industry. Others include Meg Whitman, CEO of Hewlett-Packard, and Virginia Rometty, president and CEO of IBM.
Photo by startupamerica.