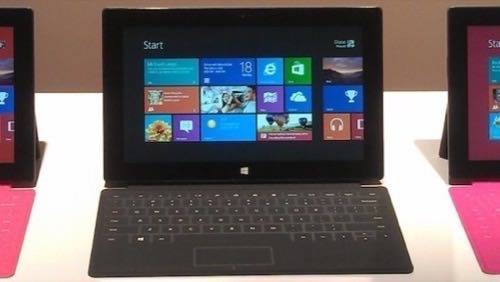 A few minutes spent actually handling a prototype of Microsoft's new Surface tablet reveals a solid device, combining a slightly bulky chassis with a clever Touch Cover keyboard that appears to work well – all powered by a Windows RT operating system that seems to be a viable competitor to iOS and Android on these types of devices.
However you look at it, Microsoft's new Surface tablet, released at a heavily hyped event in Los Angeles on Monday, is undeniably the most interesting product the company has revealed since the Microsoft Kinect motion-based controller. A very quick hands-on examination revealed real strengths, as well as some flaws.
First Impressions Only
First, a very large caveat: Microsoft allowed journalists and analysts hands-on time that could be measured in seconds. I mean that literally: Groups of seven reporters were shuttled in at about 90-second intervals to listen to short presentations, take pictures and otherwise play with the device. I was able to handle the smaller Windows RT version of the Surface twice. (I didn't get to touch the bigger and heavier business-oriented Windows 8 Pro model that will run Windows 8 on Intel Core i5 processors.)
Based on those limited interactions, I'm pretty sure users will be surprised by two things: how thick and somewhat bulky even the smaller Surface tablet feels, and the unusual integrated Touch Cover keyboard.
Solid as a Tank
If there's one word to describe the Surface, it's "solid." Microsoft executives said that they engineered and iterated the Touch Cover to "sound like a car door," with a solid snap that indicates bulletproof engineering.
Apple's iPad evokes a feeling of luxury, while top-of-the-line Android tablets like the Galaxy Tab feel fast and efficient, but not overly polished. The Surface feels like a Cadillac: powerful, luxurious… solid. There's nothing flimsy about it.
That said, at 1.49 pounds (676 grams), the Surface feels surprisingly heavy and a bit bulky. Compared to the Surface, an iPad or Galaxy Tab seems significantly thinner and lighter. (The Windows 8 Pro model of the Surface will weigh almost 2 pounds – 903 grams, while a new iPad weighs 1.44 pounds – 652 grams.) The built-in kickstand, I suspect, will be a necessary crutch.
Microsoft characterizes the Surface as an "HD tablet," but didn't disclose the resolution of the display. It will show 16:9 video natively, and the widescreen aspect ratio worked nicely running a Web browser and a mail application simultaneously. I thought I noticed a bit of jitter when the product manager scrolled the screen horizontally, but the slowdown was momentary, if at all. The touchscreen appeared responsive.
While the iPad has evolved from a content consumption device to include content-creation applications, Microsoft seems to have deliberately designed the Surface for both content consumption and creation. Key to that are the unique Type Cover and Touch Cover.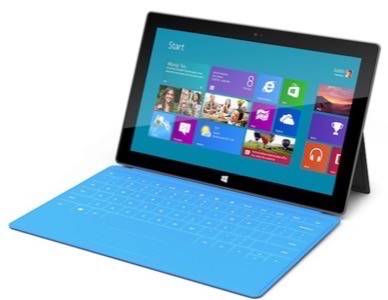 Unique Touch Cover Keyboard
Although only time (and repeated pounding) will reveal if these innovative keyboard/covers hold up as well as a typical Bluetooth keyboard, Microsoft executives swore that they could touch-type on them nearly as fast as on a normal keyboard. And I can believe it.
I briefly tried the thinner Touch Cover. Although the key travel looks to be minuscule, I'd guess that it's roughly similar to the "chiclet" keyboards used by the MacBook Air. Slight dimples in the "J" and "F" keys allow users to align their fingers for true touch typing. And, of course, there's the connection – the magnetic clasp seemed solid enough to require a bit of force to remove it. (The thicker Type Cover offers a more traditional keyboard feel.)
Windows RT
I haven't used Windows RT in a tablet environment before, and I was quite impressed. At first glance, it looks like Windows RT tablets will offer a robust experience.
Microsoft obviously couldn't show off the components within the Surface tablet – and there has been no indication of where the device will be manufactured – but Steven Sinofsky, who oversaw the Surface's development, bragged that its 2×2 MIMO internal antenna configuration would enable best-of-class Wi-Fi performance. It certainly appeared so; the demonstration tablets loaded content without a hitch. However, the demo didn't show off the unit's video port, a nice touch rival tablets lack.
Microsoft appears to be trying to position the Surface as a new class of device: the content-creation tablet. While I didn't fall wildly in love with the hardware, first impressions of the Windows RT tablet OS suggest that Microsoft has a winner.
Lead photo by Mark Hachman.