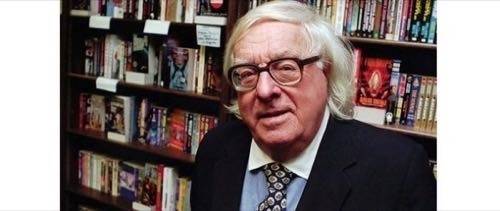 His influence can be seen and felt in the labyrinths of Lost, in back episodes of X-Files — in fact, every time you see a movie or TV show that shades from nostalgia slowly toward terror or wonder, you're seeing a little bit of Ray Bradbury. For six decades, his name was enough to tip you to the reading experience awaiting you below the byline. When you saw it, you knew you were going to be taken someplace you'd never been, shown things you hadn't seen, given vision of a future or a past or another world just enough like your own to give a smile of recognition, just different enough to raise the hairs on the back of your neck.
Born in 1920, Bradbury came of age as a writer during the '40s and '50s. While other science fiction writers of his generation had a larger effect on the genre itself – Heinlein, Asimov, Clarke – it was Ray Bradbury more than any other who brought technology-driven storytelling into the mainstream of American literature, and from there into movies and television. More than a few episodes of The Twilight Zone have a distinctly Bradbury-esque feel, though he scripted only one. His story "The Fog Horn" became the basis for The Beast from 20,000 Fathoms (1953), one of the first of the "atomic testing and giant lizard" movies, a year before Godzilla. John Huston hired Bradbury to write the screenplay for Moby Dick (1956). In the early 1960s Disney hired him to consult on the concepts behind EPCOT.
He wasn't a typical science fiction writer (assuming there is such a thing). There's very little technological extrapolation in Bradbury's stories, not a lot of realistic science. Other than in his very earliest pulp stories, there's little typical space-opera adventure: no vast fleets of armed-to-the-gills starships or interplanetary cruisers; no battles, robots, or hair's breadth escapes.
Instead, there are people. In all his fiction, Bradbury's concerns were with his characters, rather than with whatever science-fictional idea those characters were arrayed against. There's more mood than melodrama in his work, more filigree than flash. In some ways, his work anticipated the character-driven concerns of Philip K. Dick in the later '50s, or, in the '60s, Harlan Ellison or Ursula K. LeGuin or Robert Silverberg. Stephen King clearly learned Bradbury's lessons, particularly his early stories such as "The Body." If he is best remembered today as a science fiction writer, it's not only because his sci-fi was among his finest work, but also because he brought to science fiction the gifts and concerns of a mainstream literary writer.
Most science fiction writers, critic James Blish observed, have read mostly science fiction. Bradbury seemed to have read everything, and absorbed the lessons offered. Virtually from the beginning, his works displayed deep engagement with character, social and political concerns, and emotional resonances unusual in pulp fiction of the day. Along with his contemporaries and peers Theodore Sturgeon and Fritz Leiber, Bradbury dramatically broadened the scope of what was possible within the framework of sci-fi. Of the three, though, only Bradbury achieved wider literary acceptance at an early stage of his career.
None of this sort of thing happened to science fiction writers fifty or sixty years ago. But they all happened to Ray Bradbury, because he happened to be Ray Bradbury. He was a writer above all else, putting in daily stints at his desk until very recently. Bradbury wrote across genres, categories, modes, media: fantasy, science fiction, mystery, suspense, horror, domestic comedy and drama, poetry, movies, television, plays. And to every one of them he brought his unique changes and transformations, his distinctive voice and approach.
Born in Waukegan, Illlinois, in 1920, Bradbury moved to Los Angeles with his family in 1934, by which time he was already putting in long hours teaching himself to write. His early efforts were aimed at the science fiction and horror pulps, and were put together after school or between stints at jobs that included hawking newspapers. He was more a child of the Depression than the Twenties in many ways, and his childhood in the heartland most often informed the writing he created in California. The combination of nearly inflexible get-the-work-done discipline at the typewriter, a rich imagination and a gift for evocative language marked him as someone to watch – at least among the community of Los Angeles sci-fi fans.
That community had plenty to watch. After selling his first story – a collaboration with Henry Hasse – in 1941, Bradbury produced story after story (he used to advise young writers to write a story a day, every day), quickly finding markets for his unique, poetic, often nostalgic takes on science fiction, fantasy, horror tropes.
His work wasn't to every editor's taste. The Bradbury byline didn't appear in John W. Campbell's Astounding (now Analog)¸ the leading sci-fi magazine of its day, home to Asimov, Heinlein, Sturgeon, van Vogt and most of the others who created much of what we recognize as modern science fiction. But in other magazines – Planet Stories, Thrilling Wonder – Bradbury began to mature as a writer, and his elegant, often elegiac tales, particularly his stories of colonists on a lushly imagined, eerie and magical Mars, began attracting attention. Whether they were science fiction, or science fantasy, or pure fantasy became a matter of some debate.
What they were, of course, were Ray Bradbury stories, and there was only one source for them.
By 1950, when the colonist stories were collected as The Martian Chronicles, he was ready to move beyond the science fiction magazines, and his work began appearing in The Saturday Evening Post, Colliers, and other leading – and far better paying – periodicals.
He didn't leave the science fiction world behind. His 1951 novella The Fireman appeared in Galaxy, by then supplanting Astounding as the leading sci-fi outlet. But when the novella, expanded to near-novel length under the title Fahrenheit 451, appeared in book form, it found a readership far beyond the boundaries of science fiction. (The book, about book burning, remains one of the most frequently banned books in the United States, despite the fact that it contains not a single obscenity. Come to think of it, I can't recall a single obscenity anywhere in Bradbury.)
The marvelous roll of stories and books – Dandelion Wine, The October Country, The Illustrated Man, Something Wicked This Way Comes, dozens of other books and hundreds of stories written between the '50s and the '00s – found an enormous audience, including generations, now, of students who encounter his stories in American Literature texts rather than in science fiction magazines.
But Bradbury was never a pure science fiction writer or a pure fantasy writer, or any kind of writer other than a pure Ray Bradbury kind of writer, enormously influential, often imitated but rarely well. He used sci-fi, fantasy, other genres as colors in his literary palette, putting them to his own ends rather than shaping his talent to fit expectations of a particular style.
No one who produced and published as much work as Ray Bradbury could be completely consistent. He was not a natural novelist. Some of his works are far superior to others. But at his best – and there is, frankly, a pretty substantial shelf's worth of Bradbury's best – he was exceptional.
A Ray Bradbury story brings a distinctive voice, a fine sense of language and story, an acute memory and understanding of place and time, of love and fear, and perhaps above all a sense of joy and wonderment – even in the scary stories – at the nature of humans, the universe we inhabit and what we do to and for each other. And he brought those gifts, along with the special effects that science fiction permit, to a world of readers far beyond the boundaries of the genre from which he emerged.
In the last few days The New Yorker published a special science fiction issue. Hard to imagine that happening in a universe where Ray Bradbury hadn't written – right up until nearly the end of his life – those daily pages that showed us decades ago just what was possible in a sci-fi story.
Possible, that is, if you're Ray Bradbury.
His own contribution to that issue is a lovely, lighter-than-air essay about, among other things, lying on the grass at night as a young boy and looking upward. While all around him the real world, our world, went about its real-world business, the boy's eyes were on Mars. And, in more ways than one, so was the boy.
Exactly.
Keith Ferrell was the editor of OMNI magazine from 1990-1996, during which time Ray Bradbury did him and his son a kindness that still resonates, and reminds him that Ray was not only a great writer, he was a great and thoughtful guy.
This story has been updated since its original posting to reflect the correct birth year for Ray Bradbury and to add further commentary on his influence.