A new feature of News.me for iPhone delivers your news to your device whenever you leave the house. It's called Paperboy, and it uses iOS 5's built-in geofencing to wake up the app and download fresh news in the background. How cool would it be if your grocery list or your podcasts worked the same way?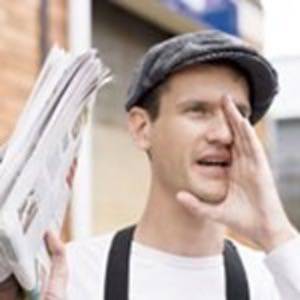 Delivery at Your Doorstep
Front-end developer (and Chief Marketing Officer) Jon Ferrer came up with the name Paperboy, and it's a perfect description. News.me gathers all the news articles shared by your friends on social networks and streams them to you in a clean interface, which you can read on- or offline. Paperboy refreshes the app automatically as you walk out the door, so you've got today's news to read when you pull out your phone.
The background geofencing in iOS is triggered by cell tower changes rather than GPS, so while it's less precise, it doesn't consume much additional battery life. With some apps, you'll notice the slight drop in accuracy: For example, Apple's built-in Reminders app uses geofencing for location-based reminders, and those can be hit-or-miss. You might want to set a location reminder for a specific store, but it might go off as soon as you enter the neighborhood.
But News.me doesn't need the precise location of the user, just the signal that he or she is leaving home, so geofencing works brilliantly. "What we've learned is that people love the app because they can read it on the subway," says Jake Levine, general manager of News.me. Thanks to Paperboy, they don't even have to remember to refresh before they go underground.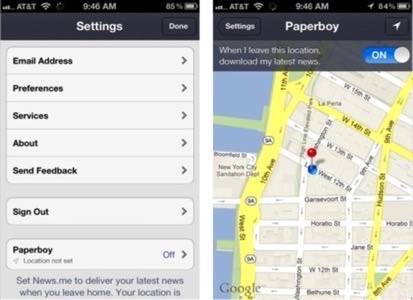 Built in a Weekend
"I've been trying to figure out some way to implement this idea of having different functionality based on [the user's location] for a while," News.me developer Rob Haining says. "I built the original Epicurious iPhone app at Condé Nast, and back then I was thinking about how you'd use the app differently at home cooking versus out shopping."
Though Haining never got to implement geofencing in Epicurious, the idea had been kicking around for a while by the time he got to News.me: "The idea that you can mark something as your home and provide functionality around it is really interesting. And now, with geofencing, it's easy to implement something with pretty low cost to battery life, CPU and the user."
"This is not a feature that was on any roadmap anywhere," Levine explains. "We were walking home one Friday night. We walked out of the building together, and Rob said, 'Hey, what do you guys think about updating the news in the background when you leave home?' "
"It was nowhere near any of the features we were building," Levine says, but they all loved the idea. So Haining went home that weekend and built it on his own time. "On Sunday night, we got a build from Rob that said, 'First version of automatic downloading by location,' and it worked when I left home on Monday morning."
Implementing Geofencing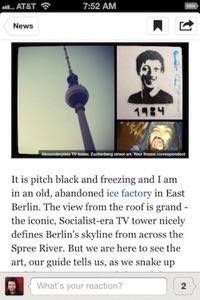 Since geofencing is built into iOS, Haining says implementing it is "pretty straightforward." Paperboy has two components. The first uses the native map view to drop a pin designating the "home" location. By way of contrast, OmniFocus for iPhone offers a different example of how to set up a geofence; it asks the user to choose an address from his or her contacts.
The other component is the actual geofence trigger when the user leaves that place. In News.me's case, it detects when the user leaves the "home" area, wakes the app up in the background and downloads the latest news for online or offline reading. Haining says "it's not too bad" to implement.
For developers, make sure you peruse your App Store review guidelines if you're building in geofencing. "There's language in the guidelines about proper use of geofencing, and it's incredibly vague," Levine says. The team wasn't sure Apple would even approve it, but they did: "Whatever the decision process was inside Apple to let this feature through, I think this is a thumbs-up for those guys."
For detailed instructions on how to turn on Paperboy, check out the News.me blog.
Lead image via Shutterstock.