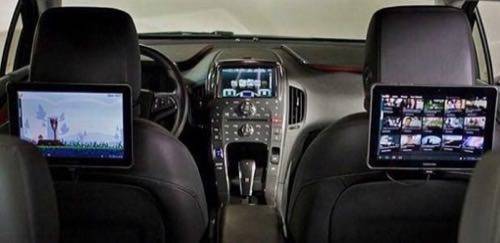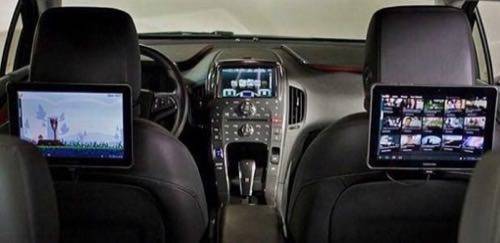 At this year's SXSW, I attended a showcase of the latest Chevrolet cars and infotainment technologies. A lead brand for General Motors, Chevrolet had a huge corporate presence at SXSW. But it was the extension of infotainment to backseat passengers, using 4G, that attracted my attention. As I noted when profiling the latest BMW infotainment systems, up till now these technologies have been focused on providing information and entertainment to the car's driver. But at SXSW, Chevrolet showed a conceptual in-car infotainment system that can be separately controlled by the backseat passengers.
Developed by General Motors subsidiary OnStar, the prototype system will provide Internet access via the Verizon 4G LTE network. It enables access to streaming content from a home computer or via services like Netflix.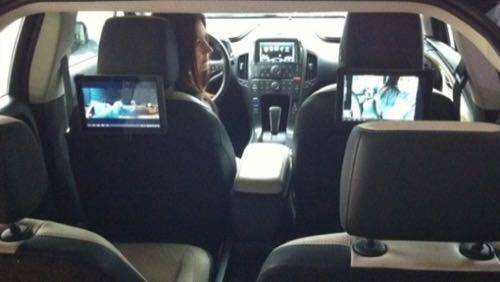 Passengers in the back seat can control their entertainment via screens mounted on the headrests. Up to 4 simultaneous streams can happen at one time inside the car. For example, a backseat passenger can have a Skype conversation with a friend while the other person in the back seat can watch a movie. Theoretically, this heavy use of bandwidth will be accommodated by Verizon's 4G network.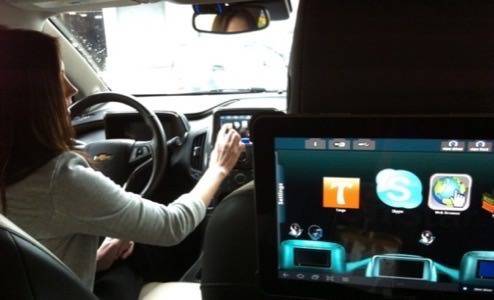 I spoke to Nick Pudar, OnStar's vice president of business development, about when we can expect to see this backseat passenger technology in production. We also discussed the future of in-car technology.
According to Pudar, the backseat technology is still in the proof of concept phase and there is no timeframe yet. However his personal opinion is that we'll see this technology arrive in 2015.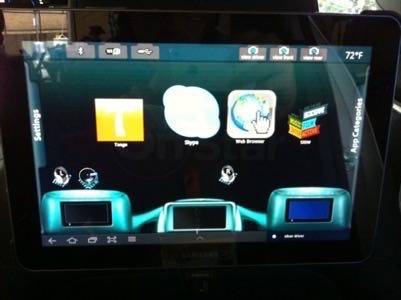 In the current era of in-car infotainment systems, the smartphone is the hub for connectivity and apps. The biggest challenge for all of the car manufacturers is how to safety implement Internet technologies inside the car, given that driver distraction is a major risk.
Txting in the Car? You Shouldn't Now, But You Soon Will Be…
Pudar showed me a prototype Android app that demonstrated how GM is designing for safety. The app enables you to txt inside the car, usually a big no-no for drivers. In developing this app, Pudar explained that OnStar had to figure out how txting should work inside the car. They decided that the app should either allow the driver to respond using voice, or it should auto-respond on your behalf.
The app knows that you're in the car and so these controls are activated automatically. For example if you get a txt while driving, if you have auto-messaging turned on then it will send one out. Something like: "Hi, I'm in the car right now, so if this is urgent please call me instead." Or if you prefer, the app can read the txt out to you and you can respond using voice controls.
The future of in-car infotainment systems will see more apps like the Android txt prototype. At CES in January, OnStar announced that it will make its API (application program interface) available to selected third party developers.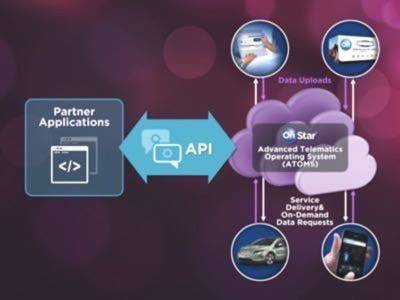 RelayRides, a peer-to-peer car rental service, was the first example of what can be done with the OnStar API. The API allows RelayRides customers to remotely access a car with their smartphones – such as locating or unlocking the vehicle.
Pudar told me he's confident that OnStar's API will result in innovative apps from third party developers in the future.
As for the backseat technology, when it eventually arrives it will be a welcome addition to families – a big target market for Chevrolet. I'm more excited though about future third party apps for Chevy and other brands. That's where the true innovation in car infotainment systems will happen.