Investment research firm CB Insights has released its end-of-year report for 2010, which finds both the fourth quarter and the year overall ending strong. The $6.5 billion in VC funding over 735 deals makes the fourth quarter an eight quarter high on deals and dollars. And overall, the year saw $23.7 billion in funding in 2792 deals – a 14% growth in funding and a 13% growth in deals over 2009.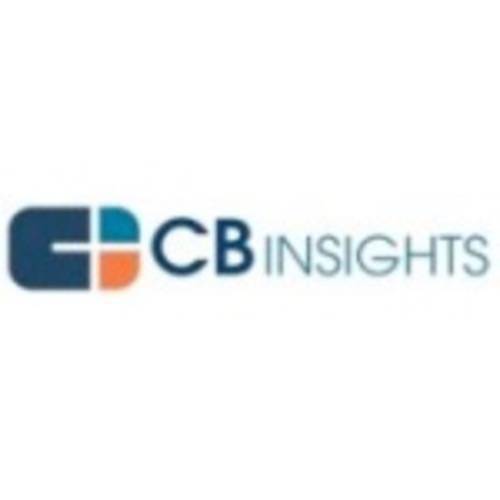 "For those of you looking for a data point that suggests VC is back and on the road to recovery after 2009's tough sledding," the report reads, "the eight quarter high on deals and dollars gives you something to hang your hat on. For those of you who think VC is overheated and we're headed for a bubble, the eight quarter high on deals and dollars gives you something to hang your hat on. Yes – it's all a matter of perspective." And for those of you wanting to argue that New York is indeed a hotspot for investment, this report will help make that argument too.
The report identifies a number of trends in both industries and regions.
New York Takes the #2 Spot For Tech VC from Massachusetts
Over the last five quarters, New York saw 208 tech deals. Massachusetts, 207. Funding to New York companies came in at $1.22 billion versus the $1.21 billion for Massachusetts. Sure, this isn't a rousting of Massachusetts by New York. It's a slim victory. What is interesting, however, are the trends of these states when mapped together.
The fourth quarter was the highest in five quarters for New York in terms of investment and deal volume – up 90% and 29% respectively since the third quarter. And year-over-year, investment in New York was up 63%.
Number of VC Deals Grows in California, But Funding Dollars Down
California is still the leading state for venture capital. Relative to 2009, California saw a 3% growth in the number of deals, but the funding amount dropped by 2%. 60% of the funding in the state when to Internet and Healthcare companies. No surprise, mobile investment continued to grow.
Alas, Poor Washington…
Over 50% of the deals in Washington were in early-stage companies, and almost 60% of the deals were to Internet firms. As the latter tend to be less capital-intensive than other industries, this drove Washington to a five quarter low in VC funding.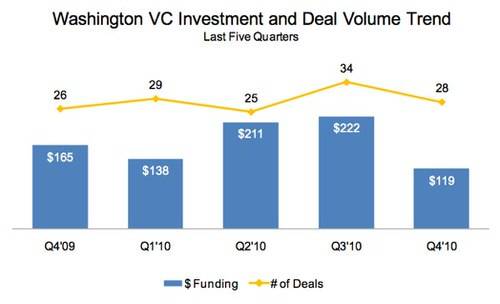 Early Stage VC Grows
Seed VC deals stayed about the same in the fourth quarter as in Q3 – about 11% of deals. But the share of Series A deals increased over the same period. And altogether, early stage deal activity was nearly 50% of total deals, the highest level in five quarters.
Internet Hot, Hot, Hot
Both deals and dollars were up – way up – for the Internet sector, hitting a five quarter high – even if you exclude the massive Groupon funding from the calculations.
Investment in green tech and clean tech declined. And while deals in the healthcare space were up slightly year-over-year, funding was down almost 16%.