When WikiLeaks began its release of more than 250,00 classified diplomatic cables late last month, its domain name – wikileaks.org – was the first thing to go. In the week that followed, however, a slew of mirror sites popped up, and Harvard-based developer Laurence Muller gave us a look at the global effort to keep WikiLeaks standing. Muller took the list of WikiLeaks mirrors, determined their locations, and plotted the points on Google Earth.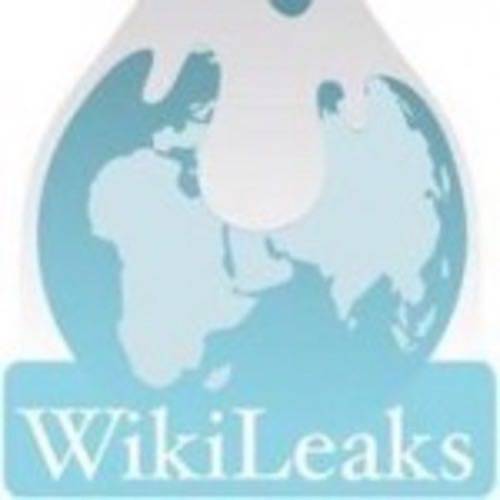 Now, Muller has taken this same data and plotted it over time, showing the viral replication of WikiLeaks from just a handful of mirrors to nearly 2,000 in just seven day's time.
To create the initial visualization, Muller wrote a PHP script to scrape the primary list of WikiLeaks mirrors on the WikiLeaks site, resolving each URL with a geospatial location and converting them to KML for use with Google Earth. The result is a series of pins on a 3D globe showing all of the locations, globally, where WikiLeaks data is being mirrored. Then, by keeping track of the list of mirrors, Muller was able to create a similar visualization showing the spread over time.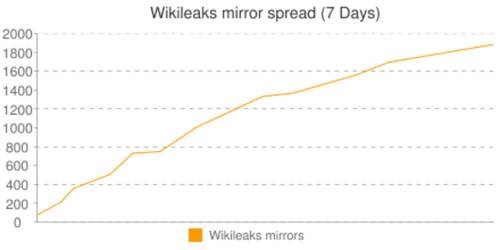 Muller also broke down the spread of WikiLeaks mirrors by country, finding that Germany was host to the majority of mirrors, with the U.S., France and the Netherlands all following close behind.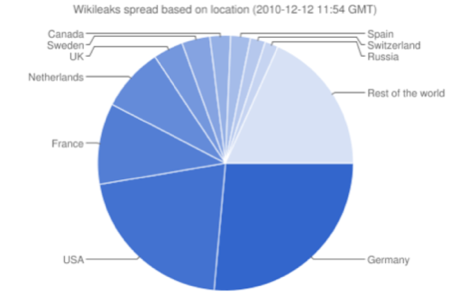 His latest work, however, plots these points over time using Google Earth and gives an interesting look at how the data spread across the globe in the week following the removal of wikileaks.org.
For those of you with the Google Earth browser plugin, you can also take a look for yourself.