RSS is not dead. But Bloglines, one of the most venerable web-based RSS readers, is about to close shop next month. According to a report on TechCrunch, Bloglines' parent company IAC will make an official announcement later today and shut the service down on October 1. In the early days of RSS, Bloglines was the go-to feed reader for early adopters. Over the last few years, however, the company struggled to innovate and hold on to its users.

Bloglines was founded by Mark Fletcher in 2003 and acquired by IAC/Ask.com in 2005. While it was one of the early success stories of the RSS movement, the service never managed to get its groove back after the launch of Google Reader and a number of technical issues that made Bloglines very unreliable for a while.
There are also issues inherent in the market for RSS readers that, as Ask.com's president Doug Leeds told TechCrunch, make running the service a losing proposition for the company. According to Leeds, IAC's market research indicates that the number of people consuming RSS feeds has declined as people shift their news consumption to other sources like Twitter. Indeed, as we noted last December, one of the most interesting trends of 2009 was the gradual decline of RSS readers.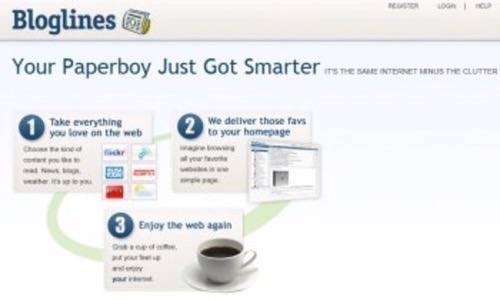 A Monopoly for Google Reader?
Back in 2008, our own Marshall Kirkpatrick argued that Bloglines was an important part of the RSS ecosystem and that "Google should not have monopoly control over RSS readers." Now, after Newsgator and Bloglines have shuttered their web-based tools, Google Reader does effectively have this monopoly over web-based RSS readers. On the desktop, though, you still have numerous excellent options, including NetNewsWire for the Mac and FeedDemon for Windows. With Fever ($30) and Tiny Tiny RSS (free and open source), you can also host your own web-based RSS reader on your own server.
Are You Going to Miss Bloglines?
Most of us here at RWW switched away from Bloglines a long time ago. Will you miss Bloglines? Or did you switch away, too? Did you move to another RSS reader or did you abandon RSS altogether?