Today, at the Internet Retailer Conference and Exhibition in Chicago, Nic Covey, Director of Insights for Nielsen Mobile, spoke on the subject of m-commerce (commerce that takes place via the mobile device). In his presentation, he covered what retailers must do to make their sites ready for the mobile web as well as discussing some stats on who uses the mobile web, what prompts them to shop online, and what concerns they have today about the mobile shopping experience. Additionally, Covey reported that, based research done by Nielsen Mobile, nearly half (49%) of mobile data users have said they expect to participate in mobile commerce in the future. It looks like this is one trend about to take off.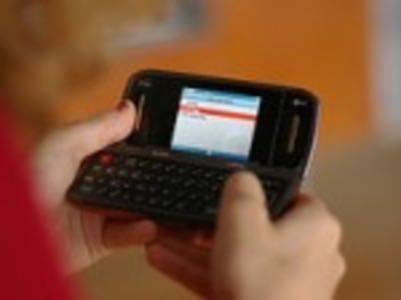 Mobile Shopping Today
According to the Nielsen Company, today already 9 million U.S. mobile subscribers claimed to have used the mobile web to pay for goods and services. While that number appears to be high, it only represents 3.6% of U.S. mobile subscribers, which shows that m-commerce is in its infancy.
The current crop of mobile shoppers is still very much rooted in the early adopter crowd and consists of more men (4.9 million) than women (4.3 million). Out of these early mobile shoppers, adults ages 25-34 are the most likely to have made a purchase.
Of course, when you think of mobile shopping, the image that comes to mind is surfing mobilized versions of web sites via the phone's browser or visiting the customized pages designed just for the growing number of iPhones. Although the number of users shopping this way has increased – up 73% from April 2007 to April 2008 – there's also another growing trend for m-commerce: shopping via SMS.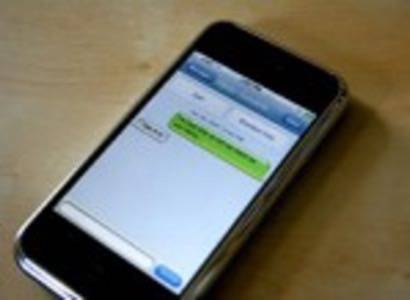 Some services already exist today that let shoppers send text message to a phone number or mobile shortcode in order to purchase goods or services. The spammy commercials selling ringtones and wallpaper may be representative of this trend, but other more reputable brands are also venturing into this territory as of late.
For example, a fav millennial clothing retailer, American Eagle Outfitters offers a "send to phone" service that allows you to send AE products and descriptions to any phone via the use of a special shortcode (23595 – which spells AELYL or "American Eagle: Live Your Life). You can send items to your phone or your friend's phone and a link in message takes you to a mobile web page featuring that item, its description, pricing, and locations where it can be found. The idea here is that you could take your phone to the store, show it to a representative, and they can help you find and purchase the item. However, this almost m-commerce experience is only one click of a button away from a "buy-it-now" full-blown mobile shopping solution. If AE shoppers could set up profiles in advance, saving their sizes, shipping address, and credit card info, there's a potential to turn what's now just a mobile sharing experience into true mobile shopping.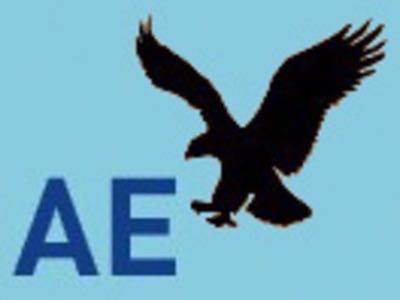 Another company pursuing a mobile shopping strategy is Amazon, having recently launched a mobile shopping service called TextBuyIt that works via a shortcode (262966 – AMAZON). Shoppers can text to this shortcode with the name, model number, or ISBN number of a product to see if Amazon offers the product for sale, as well as read a summary of the item and see its current price. An included link in the reply also directly links to the product page, where you can purchase the item with a one character response.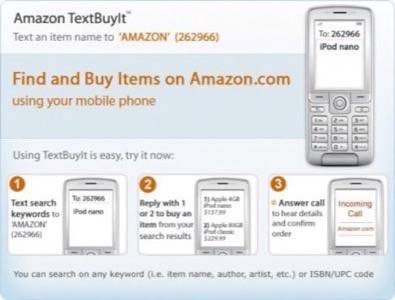 Amazon's TextBuyIt
Even the world of traditional media is looking to embrace m-commerce. For example, in May, Hearst Magazines Digital Media, a unit of Hearst Magazines, partnered with ShopText to offer a text messaging service to their magazine audience which includes Cosmopolitan, CosmoGirl, Good Housekeeping, Redbook, O, The Oprah Magazine and Seventeen. Thanks to ads in the pages of these popular magazines, shoppers will be able to buy products, request free samples, and enter sweepstakes by sending texts to the shortcodes provided.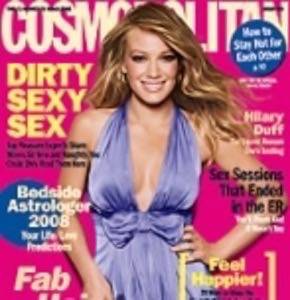 M-Commerce Concerns
In order for the m-commerce trend to really take off, though, some consumers' concerns will need to be addressed, most notably: security, airtime charges, and reliability. According to Nielsen:
41 percent of data users who do not participate in mobile commerce say security is their biggest concern
23 percent say they worry about being charged for the airtime
21 percent say they don't trust that the transaction will be completed
However, if retailers can prove that these mobile transactions are "safe, affordable, and efficient," says Covey, "…more consumers will come to view mobile shopping as a compelling and viable option."
Photo Credits: enV courtesy of nesster; iPhone courtesy of pouwerkerk