If you haven't heard of longtime Flash developer Paul Yanez, there's a good chance you've likely seen some of his work over the past few months. Yanez creates web-based flash media players that interact with the Internet's top video sites, and many of them have been written up on top blogs like TechCrunch, Mashable, DownloadSquad, and NewTeeVee. His latest creation is an online media player for Hulu, which brings an Apple TV-esque experience to Hulu videos. Yanez has created a number of media players for various online video and image sharing properties which bring desktop-like functionality to browsing and playing files on those networks. But he has loftier aspirations for his project.

The Hulu player follows the Joost player, the Flickr Video player, the Digg and YouTube mashup, Babelgum player, and his Apple TV clone that draws from a number of different video sites.
Each of these applications, however, is really just a proof-of-concept for the "Web Media Player Framework" that Yanez is trying to create. According to Yanez, the way videos are displayed now is broken. Requiring users to navigate from page to page on multiple sites isn't as intuitive as what we're used to from television. Instead, users should be able to browse multiple videos from multiple sources from within a single player.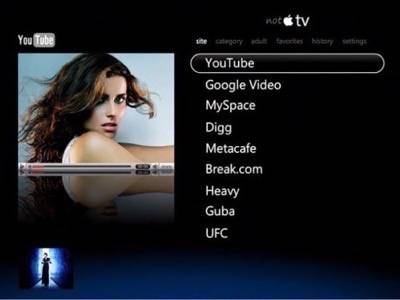 Writing about Hulu, Yanez says, "a video player that is capable of multi video plays is necessary for Hulu because the main complaint against embedding individual videos is that it causes the page to have endless scrolling. I believe Hulu needs to have an embeddable player unlike that of a YouTube, mainly because players like that are meant for web page viewing of short length videos and are not scalable to contain large volumes of videos."
His experimental multi video players are a solution for that problem. His goal with the media player framework is to build a single media player that is capable of sucking videos from any online source and display them in a way that is TV-like and familiar to users. Yanez also hopes to create a player that can be used on multimedia devices like the Nintendo Wii.
"My goal is to build a media player that integrates with all web video, be easy to use, have a television style feel and have capabilities to be fully integrated with multimedia devices such as the Wii and mobile phones," he writes. "The television without a doubt was one of the biggest inventions of the 20th century. I believe web video is going to be one of the biggest breakthrough's in the 21st century."
In July, when Yanez first released his Joost player, NewTeeVee suggested that Joost should hire him to create a web-based version of their player. We agree. Even better, Sling Media or Tivo should hire Yanez to create a player for the Slingbox that can suck videos off the web and put them on our TVs.