We all know the term 'Software as a Service (SaaS). The term SaaS was coined in a conference in 2005 and then popularized by Salesforce with its "No Software"
motto. Today Google is one of the strongest backers of this approach, with such products as Gmail,
Google Reader and
Google Docs. And ever since Bill Gates' famous Internet services memo in November 2005, Microsoft has been promoting the concept too.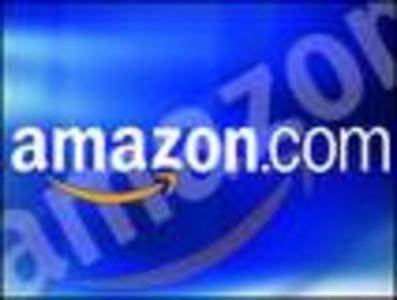 But today we can coin have a new, similar term: HaaS, for 'Hardware as a Service'. [Update: As several commenters have pointed out, in fact we didn't coin the term HaaS. It seems that Nick Carr was the first, in March 2006.] Hardware has always been
available as a service through dedicated hosting providers, but it was never so
well abstracted until Amazon introduced
S3 and EC2. With dedicated hosting, you
still had to deal with dirty hardware issues like scalability; but Amazon makes
it a totally painless experience. In other words, the relationship between
EC2-S3 and dedicated/virtual hosting is similar to the one between SaaS and
ASP
(Application Service Providers) – EC2-S3 is an evolved version of dedicated or virtual hosting services.
How big is HaaS?
First of all, if you still don't know about S3 and EC2, I recommend you take a look at some past RWW articles on the topic; Alex Iskold
wrote a very good
introductory article about it. See also Alex's ETech report of Amazon CTO Werner Vogels' speech. Also, there are great articles on Amazon's
official web site.
So what is Haas? A good comparison can be made with Google Adsense. In early 2000, Google enabled web publishers to
generate revenue from their content. Google introduced a fair pricing model that
worked for everyone, from personal publishers to big media companies. As a
consequence, some earned pennies with Google AdSense, while others earned
millions of dollars per month.
In other words, Google fragmentized the Revenue side of web business and
made it available to everyone. But the Costs side of the web business
remained the same for a very long time. There was an ongoing inefficiency
and nobody did much about it. Virtualization, which was made commercially available
first by VMware, changed things a little and lowered the prices of hardware. But things were
still pretty much the same; publishers still had to pay for resources they didn't
use and deal with the hassles of maintenance.
Now what Amazon is doing with EC2 and S3 is to fragmentize the Costs part of Web business.
Publishesr no longer need to deal with scalability – they pay exactly for what they use. In other words, resources are allocated more efficiently than ever – which was what happened with Google AdSense too, as the below diagram shows.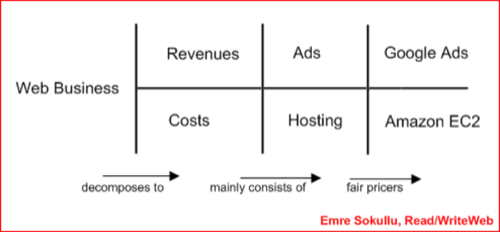 Can Amazon Follow Google's Example, on the Hardware Side?
Another way to ask how big is HaaS: "Will Publishers
follow the same pattern as with Google Adsense and pick more fragmentized and efficient hardware options?" If the
advantages are obvious, there is no reason for them not to embrace Amazon's
offerings. However, there are a few differences that may slow down or even
inhibit this process:
Amazon S3 & EC2 is less viral than Google AdSense. Google Ads were spread
all over the Internet – everywhere you go, you see Google Ads and
you want to give it a try yourself. Amazon's offerings work in the
background and they're not visible to users, hence they're not especially viral. However, Amazon
could try things to make their product more viral – e.g. offer discount prices for web sites that promote that they're
powered by Amazon EC2.
It is tough to switch your existing infrastructure to Amazon S3 & EC2.
On the other hand, you can start using Google AdSense using a simple
copy-paste.
The fact that the EC2 pricing is linear may make it not so attractive
for big publishers. Even so, Amazon should cut deals with the top web sites, to try and influence other sites.
It's also worth pointing out that VMware, the first virtualization software company listed
on NASDAQ, performs very well and shows the potential of HaaS. Amazon EC2 is not a direct
substitute of virtualization, but it shows the
potential of offering super-efficient hardware services over the Internet.
Conclusion
It's intriguing to watch Amazon, the old favorite dot com era e-commerce site,
transform itself into a technology company with their new and
innovative HaaS unit. Amazon is
leveraging its deep scalability know-how and expertise, and it's making web
publishing even easier and cheaper. As a result, it should eventually bring great value to Amazon.
Some may be wondering why Amazon is de-focusing and entering into something
that is far from its DNA as an e-commerce service. To respond to that question, take a look at the
table below, which compares some financial data of Internet bigcos:
In terms of 2006 annual revenue, Amazon is even stronger than
Google and well ahead of the others. However, in terms of market capitalization, it is
ranked only 4th. That's because of Amazon's more traditional, less technology
intensive business model – which pushes their net profit margin down with high
inventory costs.
That's why, in order to remain strong, Amazon is investing more and more in
technology – which will increase its net profit margin.
We will see how HaaS complements SaaS; and how many SaaS startups will
shift their infrastructure to Amazon's server farms. And let's not forget that Google and Microsoft are both increasing their HaaS efforts – the Google Dalles server farms for example. Nonetheless, HaaS gives
Amazon hope for increased profit margins and stock price in the long
term.