In the era of connected technology Berlin company 1aim are carving a niche for themselves in connected security for commercial buildings. I met with Torben Friehe, CEO of 1aim to find out more.
1aim builds a complex array of hardware and software for a simple purpose: open any door by waving a smartphone in front of a retrofitted lock instead of needing a key, swipe card or access code. Administrators use a simple app interface to issue digital passes via email or SMS to anyone visiting including non-registered users like guests or contractors.
Friehe likens them to "a central nervous system for buildings" explaining that 1aim  has created an enterprise-grade access control system that serves two functions – first, to allow professional access and identity management and, second, to gather large amounts of valuable data to enable companies to identify space usage patterns in their commercial space.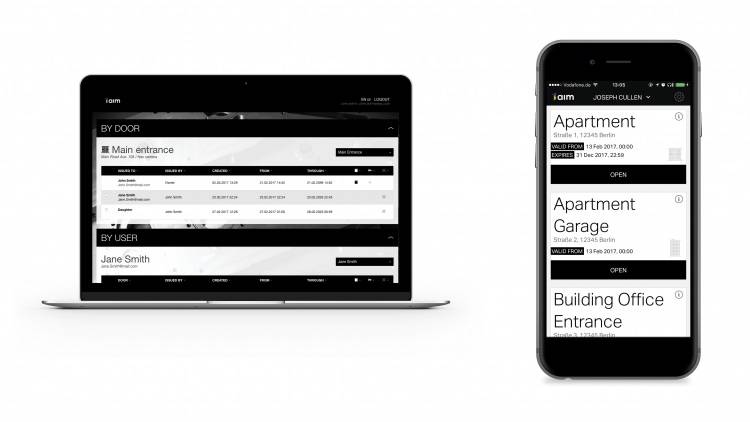 Friehe explains that as the company ships more software, customers will be able to use the device to collect and analyze data and perform a suite of tasks to improve cost flows and efficiency, such as arm areas or turn off electricity to reduce utility expenses as employees leave their offices.Other features include allowing users to request conference rooms and automatically provide them with the ideal premises fitting their requirements.
"Since our platform knows who is where and when, it will also be able to allocate the right space to every employee on an individual basis and offer strategic work-layout suggestions to optimize operations."
What are the cultural differences when it comes to smart locks in Germany compared to the US?
As an expat myself living in Germany I was interested to know the differences in how Deutsch and American people view security and technology. Friehe noted that:
"German homeowners would not trust doors that are seen as perfectly safe in America. In Germany, homeowners take enormous pride in the so-called "Resistance Class" that their door fulfills. But most U.S. doors would not even pass the lowest grade of such certification. The same goes for mechanical locks. Many German homeowners purchase high-quality lock cylinders that cost up to a few hundred euro per piece. Although there are security grades in America as well, German consumers have a much wider variety of choices and can select products offering more mechanical security. We have had meet extremely high-security standards in Germany as part of our partnership with the Hormann Group."
Connected security in a crowded space requires complex solutions
Connected security is becoming a crowded space with the involvement of industry stalwarts like Honeywell and Yale. However, the majority are focused on the consumer market and fewer are equipped to respond to the challenges of older commercial buildings. Friehe explains that:
"In the building platform space, we see competitors attempting to build a "building operating system," a software connecting all the hardware in a building. We don't see this approach as working. Without a strong hardware foundation, there is just no way to connect legacy and modern systems. These companies might be able to supply middleware, but as long as they focus on software alone they will not be able to dominate this space. So our major differentiation point here is that we supply the hardware at the core of our system, providing quality ID-related data."
Friehe also compares questions companies that monitor space utilization using sensor boxes as their hardware, noting that
"These companies cannot supply the same data quality that we can provide, as their data is not connected to the ID of users in any way and the number of potential data points is limited."
The company sees the opportunity in the future to team up with companies in the HVAC and energy optimization sector where "We can make good use of their data, and they might require some of ours."
How secure are connected locks?
One need only read the agenda of the latest DEFCON or Black Hat conference to know that there will be security researchers showing their prowess in hacking connected home security devices.  Then over the last week, we've seen spirited discussion after Amazon revealed they are sealing smart door locks that enable Amazon to deliver packages inside your home with a smart lock and connected camera. Walmart recently offered to deliver groceries straight to people's fridges with a similar system. When polled about the idea of Amazon in-home delivery three different surveys suggested strong opposition to the idea, perhaps in the spirit of 'just because you can, doesn't mean you should.'
In regard to security, Friehe believes that:
"As an industry, we must guarantee that companies are not developing software to a negligent degree. They need to implement accepted industry practices, which should be enhanced to demand more regular audits when it comes to how data is collected and stored. Companies need to have security in mind and be held accountable if they fail to observe best-practices. This is especially so with connected devices, where extremely personal life data is concerned.

Ultimately, the free market will serve as the catalyst for ensuring that security in the IT sector catches pace, but there will be much more bloodshed and massive attacks."
Presently, 1aim's access control product LightAccess Pro can be purchased on Amazon Germany, UK and France, or by contacting their offices directly.