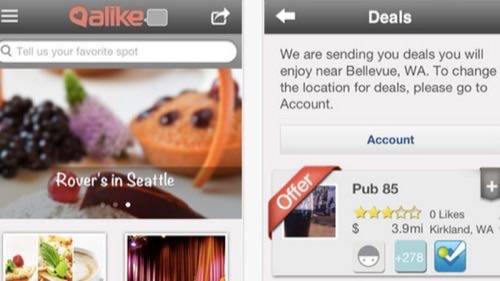 Yahoo's mobile gameplan is shaping up fast – or its stable of mobile apps is, anyhow. Yahoo has now acquired Alike, a mobile location-based suggestion engine app à la Foursquare. The news broke on the same day that CEO Marissa Mayer took the stage of the Goldman Sachs Technology and Internet Conference to repeat her clarion call for Yahoo's new direction.
Paring Down Yahoo's Mobile Mess
At the conference, Mayer took a verbal machete to Yahoo's existing tangle of apps, announcing plans to cull Yahoo's ridiculous current mess of 60 to 70 apps down to around a dozen core mobile products.
At the same time, though, Mayer also keeps adding apps. In her tenure at Yahoo so far, she has already brought two other mobile apps with social tendencies on board: Stamped, a social-suggestion network that could be interwoven with Alike's DNA, and OnTheAir, a livestreaming app that facilitates video chat.
There's no word yet on how much Yahoo paid for the small Seattle-based company, which will integrate into Yahoo's San Francisco and Sunnyvale offices. In a statement on its website, the team behind the now-discontinued Alike app announced the big news.
Alike To Join Yahoo In The Sunshine State
"We've always been passionate about the growing power of intelligent mobile experiences," read the statement from the Alike team. "We believe that distilled information, deeply personalized and made accessible anytime and anywhere, is what makes mobile experiences a part of our customers' daily lives. In Yahoo! we've found a team as excited about this vision as we are, and who are serious about making it real."
While pruning Yahoo is no small task, Mayer is making decisive moves toward her roadmap for the ailing internet giant. With a trio of nimble mobile teams under her wing and a clearer vision for a company recently known for trying to do everything at once, she just needs to stay her own course.