Further fueled by the Internet of Things, wearable technology has become a very big deal. According to analysts at CGS Insights, shipments of smart wearables are estimated to grow from 9.7 million in 2013 to 135 million in 2018. The wearable space has expanded dramatically to include smart hats, shoes, glasses, jewelry watches, helmets, and more.
These accessories carry embedded actuators, biosensors, and gyroscopes to follow movement heart rate, stress level, and countless other metrics. These amazing tiny tech gadgets have developed from fun novelties to industry game changers. Smart gadgets are increasing workplace safety and improving operation efficiency in construction sites across the country.
Here are some wearable tech gadgets are making waves with construction companies.
DAQRI Smart Helmet
Despite having been around for hundreds of years, hard hats haven't changed much. The California based tech firm DAQRI is looking to change that with their smart helmet. The DAQRI Smart Helmet features a virtual visor which displays work instructions for you to view what needs to be done within the context of your visible workspace. The 4D system that DAQRI creates reduces training time and helps workers visual the importance of the task at hand within the overall scope of the job. The helmet also supports 360 ° cameras, 3D mapping, and alphanumeric capture. The potential for data mining, compliance optimization, and maintaining construction records is limitless with DAQRI.

Redpoint Safety Vests
Safety vests are commonplace on any construction site and innovative tech companies are looking to infuse new technology into these must-have piece of construction gear. Real-time location systems provider, Redpoint Positioning, has started implementing GPS badges on safety vests. Redpoint Safety Vests allow employees to request help at their specific geo-targeted location. Additionally, employees carrying the Redpoint badge are instantly alerted when entering pre-defined danger zones on jobsites. Furthermore, actuators can be triggered to slow or deactivate heavy equipment when badges enter within a specific radius. Redpoint's GPS-enabled badge furthers employee safety, but it also enables managers to optimize their operations. With employees that are constantly on the move, managers can capture location data to understand potential bottlenecks, issues, or inefficiencies and optimize time management to drive down production costs.
XOEye Smart Glasses
For the past several years there has been a skilled trade shortage in the U.S. with the number of skilled trade positions growing as fast as 10% in certain parts of the country. In fact, by 2020 The US Department of Labor estimates the number of unfilled skilled trade jobs will rise to a staggering 31 million. XOEye Technologies looking to lessen the hiring gap with their XOEye Smart Glasses. XOEye glasses come equipped with a camera wired to the internet so experienced technicians can provide real-time feedback for new learners. Construction professionals are fed exactly what their technicians see out on the field and can effectively communicate back and forth to accomplish a task. Managers can now monitor their workforce to ensure they're being productive and the glasses can also be used to scan in data like bar codes.

Myo Wristband Controller
While not specifically designed for the construction industry, Myo is a handy wristband produced by Thalmic Labs that could prove very beneficial for construction workers. Myo reads your arm's gestures to turn your hand into a controller for a slew of different devices. Myo will work straight out of the box with Netflix, PowerPoint, Drones, etc. Once attached to a construction worker's arm, Myo can be used in conjunction with smart glasses  — like the XOEye smart glasses — to communicate with coworkers, take pictures, and mark off completed task items. This kind of gesture control makes perfect sense for construction worker who are constantly on the go and can't afford the time to remove gloves or drop equipment in order to operate other computing devices.

Bionic exoskeleton suits
The world's first bionic suit was created with construction in mind. The suit may not allow you to fly or blast lasers like Iron Man (yet,) but it does promise to aid construction workers in lifting heavy loads and reduce the risk of injuries from muscle strain. At 16 pounds in weight the exoskeleton manufactured by Ekso Bionics is extremely maneuverable. The suit is also entirely analog, meaning that no batteries or electricity is required. According to The Bureau of Labor Statistics, more than one million workers suffer back injuries each year. Furthermore, back injuries account for one of every five workplace injuries making eliminating such injuries the nation's number one safety problem. With this new suit fatigue from heavy tools and injuries from poor lifting techniques could very well become a thing of the past.
Construction industry looks to the future
Historically, the construction industry has been reluctant and slow to adopt new technology. That may no longer be the case according to JB Knowledge's 2015 Tech Report. The number of construction firms utilizing cloud-based software has more than doubled since 2012. Likewise, many companies are already beginning to adopt some of these wearable tech gadgets. It will be exciting to see just how much of an impact wearable tech makes on worker safety and productivity as more companies begin integrating these devices into their toolkits.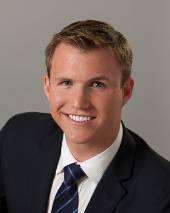 The author is an associate attorney at the Appel Law Firm LLP in Walnut Creek, California, focusing on personal injury and workers' compensation. When not practicing law, Thomas enjoys learning about new technology, exploring outdoors, and spending time with his family.