You've probably never heard of We Heart It. But that's about to change.
Combining Pinterest's image-sharing platform with Tumblr's teenage appeal, We Heart It is a perfect storm of what becomes viral success on the visual Web. It's a hit with 20 million users, who apparently can't get enough of it. Members on average spend 16.5 minutes on the site per visit—with more than 25 visits per month.
We Heart It is a visual free-for-all, where users post everything from landscape photography to funny image macros, from Disney movie stills to outfit photos. After a quick sign-up you're free to endlessly scroll through the site's kaleidoscopic fare, clicking on the ones you like to "heart" and save them. Apart from a tagging system, there are no words allowed. Members communicate purely through visual expression.
A Haven For Teens
GigaOM calls the site's success "seemingly out of the blue," but We Heart It has actually been around since 2007. It has only just caught that attention of the tech world because the majority of users aren't the typical early adopters, but teenage girls.
"Our largest demographic is people under 24, and about 70% of them are women," said Ranah Edelin, CEO of We Heart It. "I'm not a psychologist, but I'm sure there's some parallel between the idea of 'men are from Mars women are from Venus' and expression on the visual Web."
In an earlier time, such a large female audience wouldn't have merited much attention. When Pinterest first launched, tech bloggers didn't "get it" and the site went largely ignored. It wasn't until Pinterest's growth surpassed that of literally every other social media site that it became the key player it's known as today.
See also Mindboggling Facts That Will Make You Care About Pinterest
We Heart It is already benefitting from the mistakes that surrounded Pinterest. Today a female audience isn't considered "niche," it's considered a tech revolution. We Heart It's first ever funding round, late this June, earned $8 million right off the bat.
That's not to say We Heart It is any sort of Pinterest for the younger set. While Pinterest focuses on wish-fulfillment, We Heart It is about self expression. While Pinterest is about commerce, We Heart It users are more likely to focus on their feelings. As an example, Edelin shared a set of photos he collected that are related to users' feelings about the Boston bombing earlier this year. He says users select images with the express purpose of communicating, "This is how I'm feeling right now."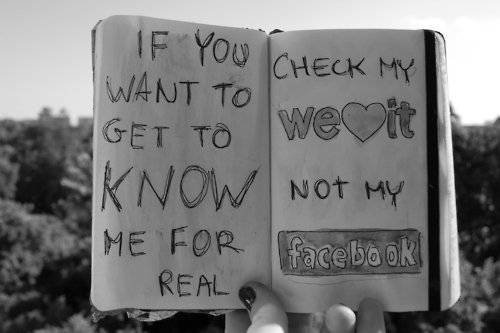 Or, as one viral image with 76,000 "hearts" reads: "If you want to get to know me for real, check out my We Heart It, not my Facebook."
"Not everybody can be an artist or a photographer," Edelin said. "But everyone can be moved by an image."
Mobile: The Visual Web's Preferred Medium
This August, We Heart It released its single most user-requested feature—the ability to upload your own cell phone photos to the site. More than two-thirds of We Heart It's traffic comes from mobile devices, and Edelin said that's no coincidence.
"Between text, images, and videos, images are the easiest to create and consume [on mobile devices]," he said. "You can definitely scroll through 100 images faster than you can read 100 tweets."
In fact, We Heart It's mobile site is far more sophisticated than its desktop accessible one. On Tumblr especially, the network has received flack for failing to credit photographers and image creators, a practice documented in the #weheartit is not a source tag. But Edelin said that every We Heart It image links back to where it was found—it's just plainer to the eye when you're using the mobile version. On mobile; I saw the source right away. On desktop, it took me several clicks to discover who to credit.
"Mobile is the biggest trend of the visual Web," said Edelin. "There are five billion cell phones in the world and that number is only expected to grow."
However, Edelin thinks of We Heart It as a site that coexists with others on the visual Web. It's not out of place to see Tumblr posts or Pinterest pins that originated as user expressions on We Heart It. Now that the network has transitioned from pure organic growth to press outreach, Edelin thinks this is just the beginning.
"The fact that the company has never done any PR speaks to the notion that we are riding a very fundamental wave," Edelin said. "It's the combination of the digital web and the mobile transition."