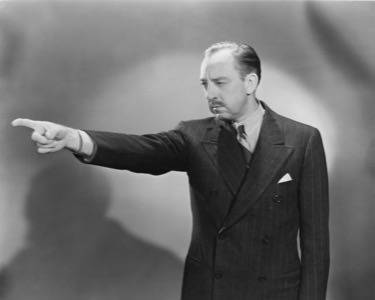 Do you have a private Facebook photo of yourself showing the middle finger? Lindsey Stone had one, too, and outraged Internet busybodies found it so offensive that they harassed Stone's employer until they fired her.
The photo in question is part of a picture spree she did with friends disrespecting admonishing signs. Stone smokes in front of a no-smoking sign in one, noted Gawker. In the photo that got her fired, she mocks a sign asking for "silence and respect." That sign belongs to the Tomb of the Unknowns in Arlington National Cemetery.
Stone posted that photo in October and explained the shot as a joke in advance of criticism. The photo has since been taken out of context by self-described patriots and served up as red meat for knee-jerk military backers and sensitive families of veterans.
I'm Offended, So You're Fired
Within days, there was a "Fire Lindsey Stone" Facebook page as well as a Change.org petition. At its height, the Facebook page (now deleted) had 30,000 Likes, and the petition collected 2,900 signatures.
The nonprofit where Stone worked, Living Independently Forever, was inundated with complaints, said her boss, Diane Enochs, in an interview to FOX 25 in Massachusetts. Stone had worked for 18 months at the nonprofit, which assists adults with learning disabilities.
Enochs said Stone was a "good employee," at least until last week, when she was fired. The nonprofit announced the action on its Facebook pag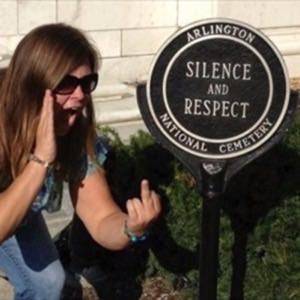 e, writing that her termination was directly a result of the "publicity [which] has been very upsetting to the learning-disabled population we serve."
'She's Entitled To Her Opinion'
Meanwhile, a representative for the Old Guard, the U.S. Army Infantry regiment guarding the Tomb of the Unknowns, told NBC Washington "Stone is entitled to her freedom of speech."
Stone, who has expressed remorse and tried to make amends, had posted the offending photo on her personal Facebook page meant for friends, not in a public forum.
Those participating in social-media shaming generally say they have done so to right a wrong. In this case, the wrong presumably would be disrespecting those who've died defending the United States. In fact, it's plainly obvious that Stone is comically trying to offend a sign.
The people memorialized at Arlington died defending our rights, including, significantly, free speech.
The busybodies went further than expressing their outrage. They defamed her on Facebook and harassed her out of a job.
Facebook's Silence
Too bad, then, that such harassment violates Facebook's own community standards on bullying. Given that Stone is now unemployed as a direct result of the bullying, the action seems also to violate Facebook's "Violence and Threats" clause, which reads:
"We also prohibit promoting, planning or celebrating any of your actions if they have, or could, result in financial harm to others, including theft and vandalism."
Cyberbullying Becomes Physical Threat
While you're debating the finer points of that argument, consider the "Set Fire to Lindsey Stone" Facebook page, which was set up after Stone's firing.
Cooler heads prevail on that page, which has just 133 Likes. To the best of my knowledge, no one is campaigning to get those responsible for that page fired. It would only take one person being convinced that violence is appropriate to create a tragedy. Just ask former U.S. Rep. Gabrielle Giffords.
Gawker's 'Who, me?' Stance
Over at Gawker, a site partially responsible for social-media shaming, there's a follow-up post on the matter. It asks if people are happy now that Stone was fired.
It's doubtful.
If anything, the vigilantes probably feel vindicated, and won't think twice before harassing someone else who offends them.
Lead image courtesy of Shutterstock.