This year's Mobile World Congress should have been renamed Mobile Wearable Congress, with many of the world's tech companies showing off their latest strappy gadgets. One of the big winners in this category is HTC and the gigantic piece of face gear it introduced this week.
Though expected to whip out its first smartwatch, the company instead unveiled its HTC Vive virtual reality goggles. Powered by SteamVR, a technology from partner and gaming heavyweight Valve, it's part of a whole system that wraps the user in a digitally created world. Think Samsung Gear VR and Oculus Rift, but with a bigger hardware system. And better—way better.
I toured Vive's artificial worlds, and they looked and felt much realer than I anticipated. It's the difference between being passively "immersed" in a fake setting, and feeling like you're actually in an alternate universe that you can explore and interact with. Best of all, after half an hour, no nausea. Not bad for someone with a slight astigmatism and a habit of getting motion sick.
Building A Better Reality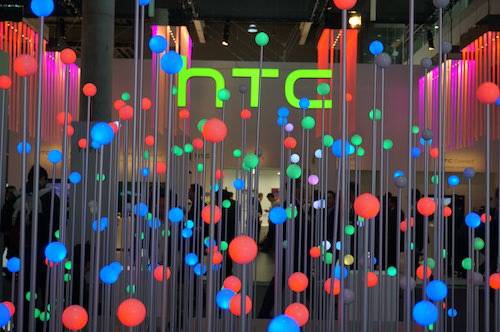 I've tried two of the leading names in VR technology before—the Oculus Rift and the Samsung Gear VR—and they each have their merits.
The Rift was the first device to excite modern app and game developers about virtual reality, after years of laughable attempts. The Gear VR lets users experience a manufactured world without cables by popping a Samsung smartphone in the self-contained unit.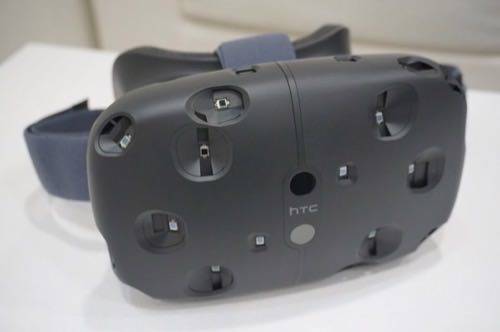 At this point, Sony, Microsoft, Epson and others are crowding into the face gear realm, whether for virtual reality or its cousin, augmented reality, which adds an overlay to the physical world. Rumor has it, Apple may even get into this game. Most will have a tough time meeting the bar HTC just set.
The Taiwanese company is known for making pretty, well-built phones that somehow fail to light up the market. But with the Vive, which won MWC's Best In Show category, how it looks—or what you look like wearing it—isn't the point. (Good thing, too, because how it looks is pretty dreadful.)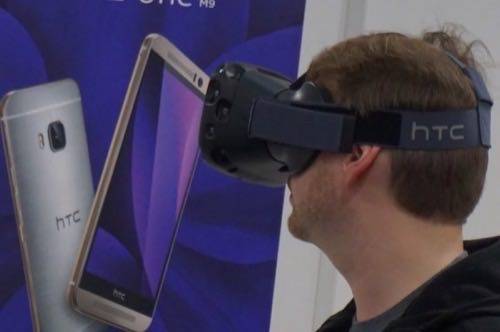 What the technology lets you see and do is what matters, and it turns out, it's a lot.
When VR is good, you don't just watch the world around you. You feel like you're part of that world. When it's really, really good, you get to interact with it too. I instinctively ducked when the artfully created and realistic digital whales and fish came toward my head. I made tomato soup, screwed up a robot in a futuristic repair lab, and 3D-painted in bold, bright, colorful strokes in mid-air.
A few more details:
You can actually move around
With the Gear VR, you're a fixed point in space. You can look around and turn your head left or right, but you can't walk and explore. Oculus Rift manages to offer some "spatial positioning" or tracking through a laptop camera or the like, but it's limited.
The Vive goggles, encrusted with shiny compact little hardware components, work with room-situated laser sensors that can detect your physical location. You fix the room parameters or size, and the system sets its virtual boundaries.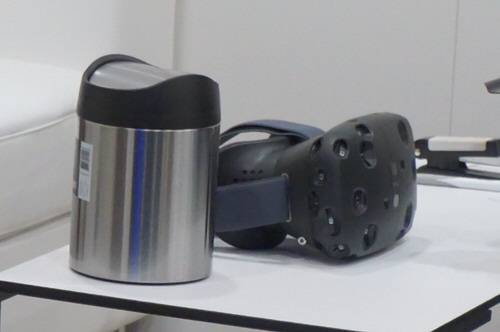 You can interact with virtual objects
Vive works with two joysticks that feature touchpads and trigger-style buttons. The units let users manipulate objects—for instance, by picking up virtual items or batting away obstructions.
I used clunky wired joysticks, but the company told me they were working on wireless versions. That's a relief, because I almost tripped on those wires a few times. The cables extending from the goggles itself—attached at the top where the HDMI port, USB ports and headphone jack sit—look ridiculous, but ultimately didn't get in my way.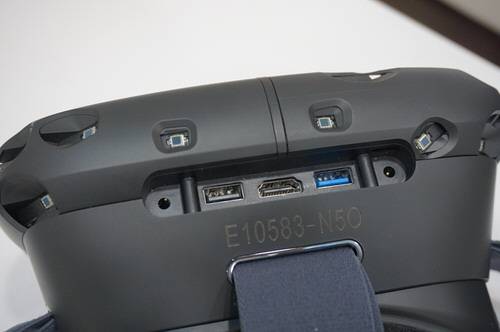 The smartphone-based Gear VR wasn't built for full-fledged interactions. It works with a game controller-style directional pad. The Rift can make it work to some degree with third-party add-ons. One of the most intriguing might be the motion-control Myo Band, which looks like a punk rock arm band, but can interpret electrical signals from your muscles as gestures or movement. Made by Thalmic Labs, the $200 device hasn't reached a broad enough audience to spark wide support yet.
HTC's controllers are a fundamental part of the system, and developers will be able to support them when they build Vive apps and games.
Better visuals are baked in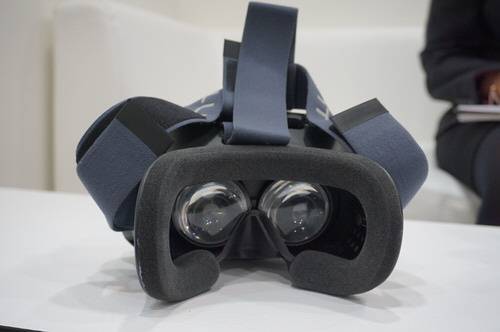 The goggles feature two 1,200 x 1,080 displays, one for each eye, that deliver the sprawling 360-degree scenes. The graphics pipe in at 90 frames per second, which is high for this type of VR technology.
In the demo, I saw no head-splitting blurriness, no sudden or jarring panning action, no sputters and, most importantly, no queasiness. When I moved around, the scene moved with me smoothly and naturally. Usually, I can only stomach virtual reality in small doses. This time, half an hour felt too short. I didn't want to leave this world.
HTC Vive fits over eyeglasses
The cushioned inner molding and large size gives the goggles a roomier feel that was actually large enough to accommodate my eyeglasses, without pushing them uncomfortably into my face.
Even the sounds are realistic
With attached headphones, Vive offers hi-fidelity sound that can distinguish between noises that are supposed to come from behind you or move horizontally in front of you. In other words, flat, uni-directional sound won't take you out of this world.
It's not clear whether it can compete with the "spatial audio" of Oculus Rift's new Crescent Bay prototype or Sony's "3D positional audio" in its latest PlayStation VR project, Project Morpheus. But Vive's sound travels the way you'd expect real life noises to move, both for foreground and ambient audio.
You'll be able to do more than gaming
To produce the Vive, HTC joined forces with gaming giant Valve and its 125 million-subscriber online gaming platform, Steam. But that doesn't mean the system will be a gaming-only proposition.
The company struck deals with HBO, Lionsgate and Google for entertainment and VR-oriented media. The move appears to take direct aim at Samsung, its rival in the smartphone business and now virtual reality market. The South Korean tech giant, which launched its own goggles last year, has been promoting its Milk VR video service for a couple of months now.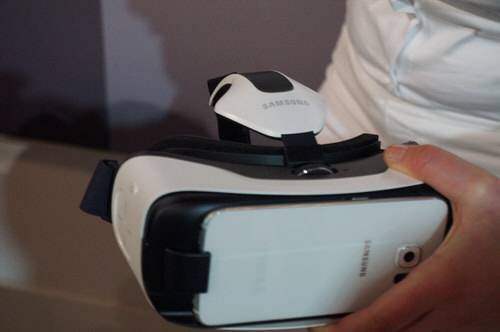 See also: Samsung Is Getting Serious About Producing Its Own Virtual-Reality Videos
When it comes to VR hardware, Samsung seems to be asleep at the wheel. While HTC showed off its amazing new Vive and Oculus readies its first consumer release, Samsung gave its Gear VR the measliest of updates. There's almost no difference between the new model and the old one, except support for the latest Galaxy phones—the glassy S6 and the dual-curved S6 Edge.
In other words, if you're a Gear VR user and want one of the new Galaxy phones, you'll have to replace your virtual reality goggles too.
Perhaps instead, fans will wait for HTC's new gadget. The Vive will hit the market by the end of the year. In the meantime, developers will be able to get their hands on it some time this spring.
Photos by Adriana Lee for ReadWrite