ExecTweets is a new Twitter-powered site that provides an information-rich and curated view of just well-known executives grouped by fields of expertise. The site makes it easy to quickly vote up specific tweets as they appear as well as send a reply via Twitter if you want to engage in conversation. According to the official Twitter blog, Federated Media accepted the request to build the site in response to pressure for a more topic-based Twitter site. The site is sponsored by Microsoft.

Disclosure: Federated Media is a ReadWriteWeb advertising partner.
ExecTweets is described as "a real-time tool that helps you to find, follow and engage with the world's most prolific and successful business executives on Twitter." To that end, ExecTweets surrounds the hand-picked stream of Twitter posts with relevant informational widgets, such as a topic cloud and selected tweets from other segments that the service covers. Another widget extracts a list of linked articles and sorts them by popularity. You can act directly on specific tweets, voting them up or clicking the reply to send the twitterer your response.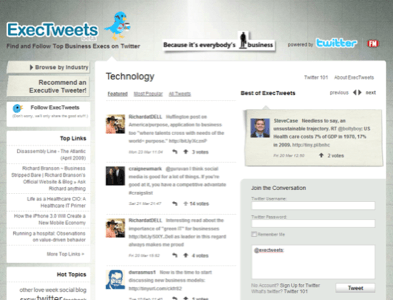 Overall, the site has a fairly clean presentation for providing so much information on its front page. Initially, we were a little confused by the busy look but after working with the page for a few minutes, everything seemed to be very logically arranged. We were pleased that an RSS feed is provided, but we would prefer if we could have gotten a feed for just the industry we were interested in as well. But the concept is definitely one we can get behind; we can say it's a clear 'win' for what we are calling curated content – information that is hand-picked for people to make more informed decisions.
If you want to be considered to have your tweets be listed on ExecTweets, you can follow their Twitter account (@exectweets) and they will see if there's a spot for you. Similarly, they have documented a process for removing your tweets if you don't want them to be listed on their service.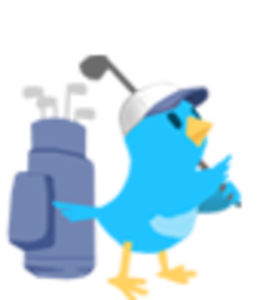 Finally, VentureBeat has a write-up covering how ExecTweets is the first site to be able to advertise on the Twitter main page. We'll see if this happens; if it does, it will probably mean that this site will become really big in a very short amount of time.