The first forty minutes of Apple's Worldwide Developers Conference stayed on the race-and-gender script past events have established, with one white man, Apple CEO Tim Cook, handing off to another white man, Apple executive Craig Federighi, who handed it off to another white man, Billy Bramer of Epic Games.
On Sunday, in an interview with Mashable, Cook promised that this year's WWDC keynote would be different.
"You'll see a change tomorrow," Cook told Mashable's Christina Warren.
And sure enough, he delivered, with Federighi introducing his colleague Jennifer Bailey, who runs Apple Pay. Bailey walked through a number of announcements, from the UK launch of Apple Pay to partnerships with Pinterest and Square, that—had Apple stayed on a script which strictly limited which executives got stage time—might have been presented by executives like marketing chief Phil Schiller.
Bailey is a powerful executive at Apple and a veteran of e-commerce, having done online-retail deals at Netscape, where she worked in the 1990s. She joined Apple in 2003, where she rose to run the company's online Apple Store, taking her present role with Apple Pay last year.
Apple easily could have put her on stage years ago, in other words.
Bailey's appearance was followed by another executive, Susan Prescott, who showed off Apple's new News app. Prescott joined Apple in 2003 from Adobe.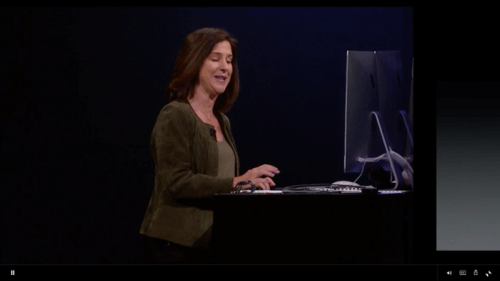 A Stage Built By Women
Women like Prescott and Bailey have been instrumental in building the products Apple has showed off on stage. Until 2015, though, they weren't the ones talking about them in public.
Their inclusion comes after a long history of putting women on the sidelines of the Worldwide Developers Conference, Apple's most important annual event for app makers and other technologists building on top of the company's hardware and software platforms.
Apple's consumer-friendly product-launch events haven't been much better—at March's Apple Watch, the only woman was Christy Turlington Burns, who's best known for her career as a supermodel.
ReadWrite has been vigilant in noting the poor representation of women on stage at Apple events, which goes back decades.
"I think it's our fault — 'our' meaning the whole tech community," Cook told Mashable Sunday. "I think in general we haven't done enough to reach out and show young women that it's cool to do it and how much fun it can be."
Apple's WWDC event is great fun. And with finally more than just a token woman or two speaking, women can finally picture themselves on Apple's big stage.
Screenshots by Owen Thomas for ReadWrite