If you run a business, then you know that it's not always smooth sailing. Your customers may not be responding to your offer as positively as they once did or your "high-seasons" are few and far between. Here are nine ways to refresh your company's image without spending a fortune.
Have you've started to rethink ways to refresh your entire business?
You may have ventured into new markets and products and services. Do you want to attract a different target demographic than what you are focusing on today?
If any of this sounds like you, it may be time for a partial rebrand or redesign. Luckily, contrary to popular belief, rebranding doesn't have to cost you a fortune.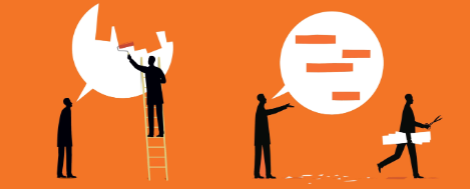 1. Adding a "Human Touch" to the Messaging Language
Many companies try to be too formal with their leads and customers. To some extent, they're right to try sounding profession through marketing copy, content and other social media interactions. However, this professionalism can backfire and compel others to distance from you if you start to come off as too buttoned-up.
Instead, try to inject personality into your brand. Use a more down-to-earth tone when communicating customers online, and don't be afraid to joke around or add a personal touch, to remind them that there are people behind the brand.
2. Introducing a New Product or Service
When your business starts to lose traction in the market, one of the first things that may come to mind is to dramatically tear it all down and start from scratch. Here's the thing: You don't have to cause mass destruction to your business if things aren't going well. Not only is it completely rebranding expensive, but it's also unnecessary.
Instead, think about rolling out a new product or service in the market. This can give your brand a fresh makeover without confusing your existing customers with an entire change — one that would come with a complete rebrand.
3. Logo Redesigning
Your company's logo is the most important part of your overall brand. By simply redesigning the logo, you can refresh your company's image.
If you're concerned about the costs involved, then you'll be happy to know there are cheaper and more affordable options available than hiring an experienced graphics designer.
For instance, you can find freelancers on websites like freelancer.com or fiverr.com that will design an attractive logo for a little as $10-20. Alternatively, you can also create it with a logo maker yourself.
There are many online programs that are highly advanced, with technologies like AI and machine learning that you can use to create unique logos in a matter of minutes.
4. Exploring Other Marketing Channels
Sometimes, just by changing the medium through which you connect with your target demographic can give your brand the boost you want.
For instance, if you are mainly focusing on social media marketing and PPC, then maybe you can also consider email marketing. Besides, email marketing is one of the most affordable forms of digital marketing and offers amazing ROI, too.
5. Getting Help from Influencers
Did you know that influencer marketing has become quite effective?
Many big and small brands have started to recognize the benefits of partnerships with popular influencers. You, too, can readjust your marketing strategy in a way that encompasses influencer marketing.
The right influencers can take your business to the right people, and they can also bring their personality to help redefine your brand identity.
6. Improving Photography
Many organizations spend a ton of money on their logos, marketing copy, product design, etc. However, they overlook the impact of images on branding. The reality is that you can rebrand your enterprise by simply improving the quality of the photos you take of your products, business space, and other valued photos.
If you take the photos yourself or use someone else who doesn't have formal experience in photography, then its' strongly recommended that you hire a professional photographer who will take the quality photos your business and new branding deserve.
7. Changing the Style Guide and Tagline
Every company that has a brand must also have a style guide that directs the marketers and branding executives. These guides give advice and direction to use certain colors, fonts, and icons for all online entities that are related to the business.
You can modify this guide to take your brand in a new direction; or, change the tagline of your company to mark the shift into a new venture. The best part of these changes is that they don't cost a lot.
8. Trying Different Messaging
Messaging is at the heart of your brand, and it simply refers to the ideas you want to get across to your customers and leads. A message can be conveyed through different types of channels — videos, blogs, PRs, and many additional avenues.
However, your message might not be speaking to your customers. You'll want to determine if the tone of the voice your using or the values behind what you're communicating to your audience are hitting your target.
The fix is a simple one: Change the message if you don't think it's working for you. Pivot quickly and move through different branding tactics — like using the new images and a new tone of voice. Ask advice from business individuals who know, and try new recommendations.
9. Building a New Website
It's no exaggeration that your business website is just like a virtual store or office, meaning your customers and clients will judge your business based on the quality of your website. If you want to rebrand — then you may want to think about a website update or redesign.
For this recommendation, too, you'll want to hire a professional for the job. A professional can give you concrete guidelines for what is working right now, and what isn't. You'll see many options that will spark your creativity and move you forward in your refreshed image.
Conclusion
You don't have to burn a ton of cash during your redesign and rebranding. Don't let the thought of rebranding and redesign stop you from making your website a place to showcase your product and service. Decide quickly what you are going to do — and move forward with your best efforts and make your website a delight for your customers.
Which one of these affordable ways are you going to implement first?