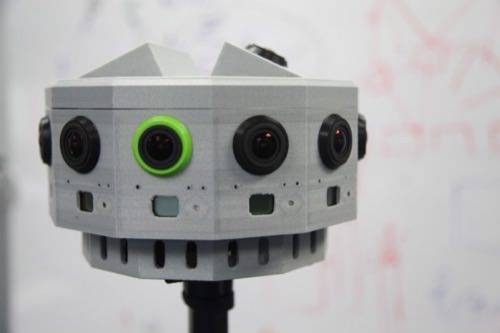 Oculus might not have a release date for its virtual reality headset yet, but its parent company Facebook is already thinking about how to incorporate virtual reality into its lifeblood: the newsfeed.
CEO Mark Zuckerberg said at the f8 developers conference Wednesday that Facebook plans to add newsfeed support for spherical videos—the 360 degree panoramas necessary to make VR an immersive experience.
Look around where you are right now. Now imagine you're a camera, your surface studded with many different lenses that capture the scene from all angles. Imagine loading that spherical video into a virtual reality headset, where the wearer has the exact same viewpoint. They can see exactly what you see at this moment. Within a VR headset, they can turn their head from side to side and look up or down, and the view changes as if they are looking around the room.
That's spherical video, although it's much cooler to experience than to read about.
Getting Spherical On Facebook
Even outside of a VR headset, Facebook envisions letting newsfeed users pan around in 360 degree videos with a finger swipe or mouse. It's the same experience, except the user is viewing through a rectangular window on their screen instead of an immersive VR headset. It doesn't inspire the same feeling of real presence, but it still captures more of a scene than a traditional camera.
"I actually think that video is going to be more engaging (than video games for virtual reality) in a lot of ways," Zuckerberg said. "This is a new and much more immersive type of content. You're actually interacting with it and you feel like you're there."
The Newsfeed videos showcased on-stage at F8 were shot with multiple sets of spherical camera arrays, a setup that lets the viewer "jump" from side to side to gain additional perspective in addition to simply panning around. In the demo room, I experienced a live feed of the Facebook campus' Hacker Square. It was shot with six GoPros arrayed in a ball; their video was then stitched together to provide the panorama.
User-created videos, at least in the near term, would be shot from a single location, much like the GoPro ball. That takes away the feeling of being able to step from side to side, but still allows the viewer to look around as if they are standing in place. The camera pictured above, which is built by professional VR camera company Jaunt, is one high-end example of a stationary camera.
DIY Spheres
Consumer spherical cameras, such as the relatively low-quality Ricoh Theta, currently cost as little as $300. That may drop in coming years as a wave of options from crowdfunding-backed startups and large camera companies hit the market. Eventually, 360 degree cameras could even work their way into our phones. Here's an example of an image I captured with a Ricoh Theta (which is also capable of shooting video):
<blockquote data-width="500" data-height="375" class="ricoh-theta-spherical-image" >Hello! – <a href="https://theta360.com/s/m7OSi9kNzRFAZc8mdefzYeYtc" target="_blank">Spherical Image – RICOH THETA</a></blockquote>
<script async src="https://theta360.com/widgets.js" charset="utf-8"></script>
Zuckerberg said photos have replaced text as the most commonly shared medium on Facebook, and predicted that within five years that will shift to video. Beyond that, there's virtual and augmented reality videos.
When Facebook bought Oculus a year ago, Zuckerberg laid out a vision of virtual reality as the ultimate social media tool. That could mean sharing spherical videos and photos with friends across the world, as Facebook revealed today, or creating online worlds and communication apps where people can socialize as if they are in the same room. It more than likely means both.
YouTube began allowing users to upload spherical videos earlier this month—the first example of a major website hosting them. Zuckerberg didn't say when Facebook would add support, but it would make sense to incorporate it into the newsfeed soon to drum up interest in Oculus ahead of its consumer launch.
Photo by Signe Brewster for ReadWrite