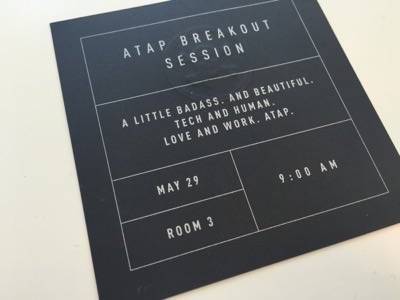 With a presentation rivaling Google I/O's keynote in scope and ambition, Google's Advanced Technology and Projects (ATAP) team took to the stage Friday to give the world a peek at its latest "badass," unconventional whacks at technology.
Plucked from Motorola shortly before its sale to Lenovo in 2014, ATAP has spawned some of Google's most intriguing initiatives, including the Project Ara modular smartphone and Project Tango 3D-mapping, spatially aware mobile devices.
The group showed off a broad array of projects, including the latest updates for those devices, plus concepts to shake things up for wearable gadgets, passwords, interactive storytelling and much more.
Do You Want To Tango In Virtual Worlds?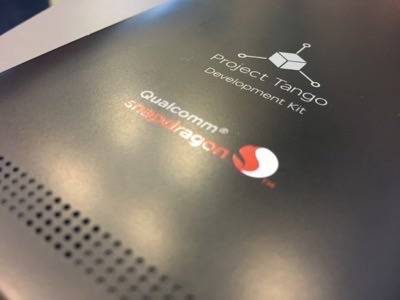 Phone-based virtual reality, as touted by Google's Cardboard and Samsung's Gear VR, offers a lot of benefits: With a smartphone acting as the brains and display, there's no need for cables. The upshot: You don't feel like part of The Matrix, jacking yourself into a made-up world.
But there's also a downside: Unlike full systems, like the ones based on the Oculus Rift, HTC Vive or Sony's Project Morpheus, smartphone-powered VR can't place your location or what direction you're moving in. That's why, in those virtual worlds, you're usually pinned down in one place. You can look around, but you can't walk around.
Enter Project Tango. ATAP's compact tablet, released last year, showed off "spatial awareness" using three specialized cameras and a variety of sensors. Now Google has teamed up with Qualcomm on a smartphone version, fitting the hardware and software into a smaller package.
By holding up and pointing one of these devices—whether tablet or the new phone—a user can map out a room in real time or even take virtual measurements that's accurate to within a few inches, Google reps say. Add-ons give the technology even more juice. Fit the gadget into a headset and take a stroll to explore a virtual world. Stuff it into a Nerf toy gun, and you can whip around (or run around) to shoot enemy robots.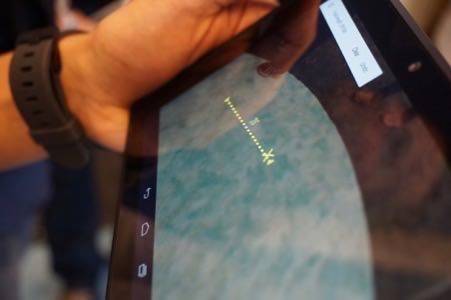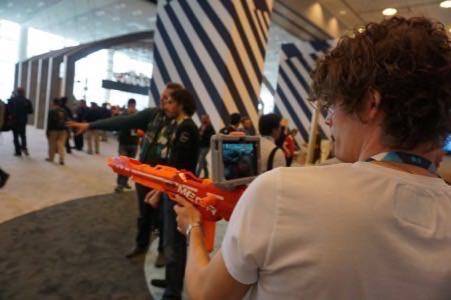 The smartphone, produced by Qualcomm, runs off the chipmaker's 810 Snapdragon processor, which should crunch those processes easily. End result: The unit should work without lag or jitters. It looks larger than your average phone—even your average phablet—but that may not matter. It's not entirely clear if or when it may come to market. Qualcomm built the unit as a reference device, so if it decides to sell it at all, it will probably come with plenty of caveats—it's not a commercial product, it's really intended for testing and development, etc. Yes, that's all fine. As long as I still shoot virtual drones down with it.
Abracadabra! The Interplay Of Finger Play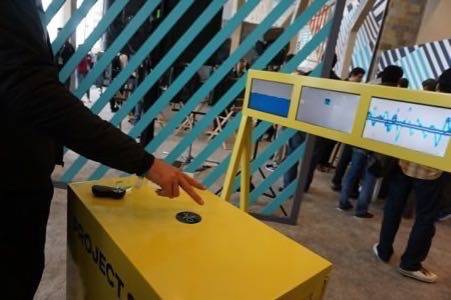 Project Soli tackles the problem that comes with interacting with increasingly small displays: usability. With so little real estate, there's only so much space to accommodate a finger. (Good luck, if said digit is of the sausage variety.)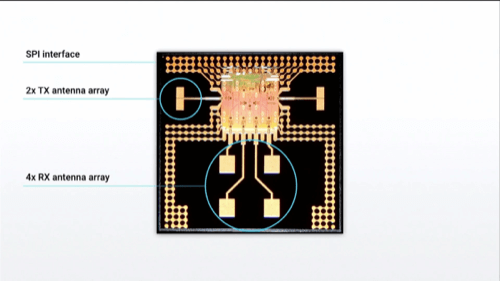 To solve this, ATAP's Soli crew removed the display—and its limited real estate—from the equation, focusing instead on mid-air gestures using radar. They shrunk down a radar gesture-tracker to a miniscule size, so it could fit into wearable gizmos like smartwatches.
On stage, ATAP's Ivan Poupyrev and his team demonstrated how the gestural hocus pocus works. Apparently, the radar sensor can even pick up somewhat subtle movements: In one example, the hand motion mimicked turning a tiny, imaginary dial, and in another, tapping fingers together stood in for pushing buttons.
Soli could hit hardware makers as soon as later this year, so touchless control presumably should show up in some future Android Wear devices—which means that our smartwatches could become much more usable for many more people. That is, if Soli's gesture play works as well in the real world as it does in the demos. Fingers crossed.
Connected Clothing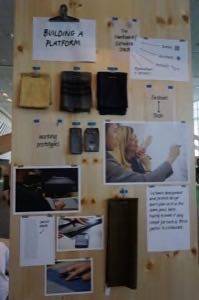 Poupyrev also spilled the beans on Project Jacquard, ATAP's take on smart fabric.
The concept of smart textiles isn't new—plenty of companies have managed to fuse wires, LED lights, sensors and other flexible components into fabric. But those efforts can be problematic, with finicky results that either require careful handling or complex production that nixes any hope for large-scale manufacturing.
The Jacquard team thinks it can make smart, conductive fabric stronger, more colorful, and better suited for large production.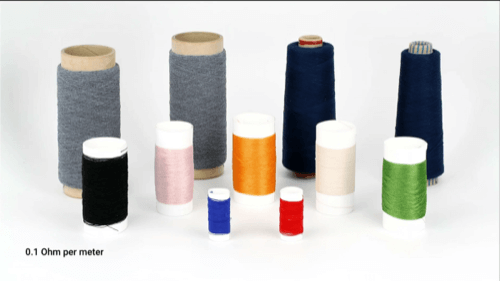 Its version boasts capacitive features, which means it can touch and interact with the growing array of touch screens in our lives.
Patches of what looked like Jacquard fabric popped up in the new version of Cardboard, which replaces the fussy metal ring input/trigger on the original virtual reality viewer. Pressing the "button" (really, a divot on the upper, right) on the new box pushes the fabric swatch onto the screen, which accepts the input as though it were your finger touching the glass.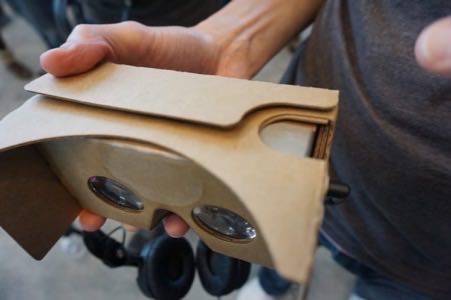 ATAP wants to see the fabric used in other ways—from clothing to pillows and couches. Poupyrev announced that Levi's will be Google's first official partner in the Jacquard initiative, so we may soon see wash-and-wear smart jeans that can connect with Android phones before long.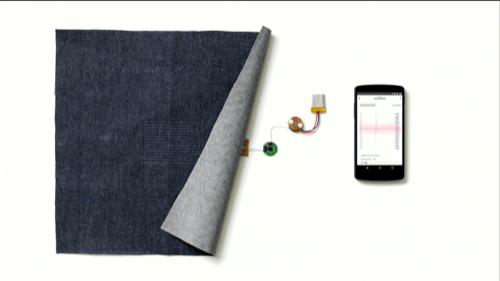 Can ATAP Kill The Password?
ATAP boss Regina Dugan wants to kill the password, and she may have just the weapon to do it in Project Abacus.
In partnership with universities across the country, ATAP has been working on a system that can judge whether or not an authorized user was using a device based on how they spoke and typed—not simply what they said or wrote.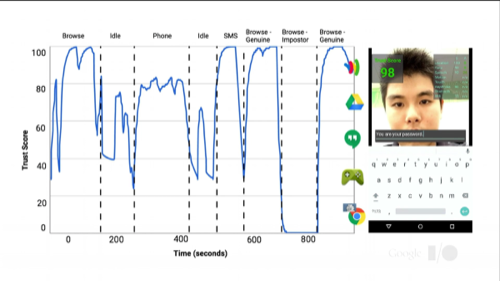 According to Dugan, the ultimate goal of Project Abacus is to get rid of passwords:
Because authentication sucks. Passwords suck. We forget them to our frustration, we reuse them to our peril, we need better methods, and squirrel noises are not scalable.
Even so, Project Abacus won't be able to free us from the tyranny of passwords just yet. Given what Dugan showed off, you apparently have to use the device before it can authenticate you; it doesn't block you from accessing it to begin with. However, as a secondary form of security, it looks like an interesting step in the right direction, if coupled with another login procedure.
In that sense, Abacus could be a sort of hyper-aware digital watchdog that acts as an extra layer of security for your digital life. Users would first use a PIN code or pattern-swipe to access the device, then the system kicks in later, assessing a user's typing and vocal patterns to determine whether or not he or she is the authorized owner. If not, it can clamp down and limit access to data or apps.
This Teensy Memory Card Packs A Full Computer For Encryption
Speaking of security, ATAP also showcased Project Vault, which takes the form of a bite-sized, secure computer that's completely housed inside of a micro SD memory card.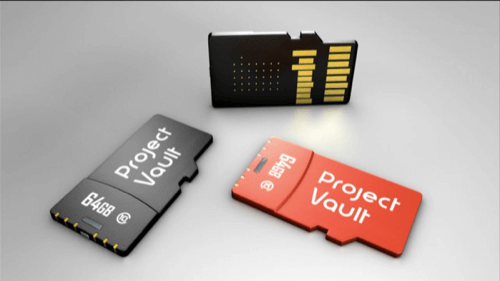 The Vault comes with 4GB of storage, its own ARM processor, an NFC chip, antenna, and a whole host of cryptographic features, to keep your communications safe from prying eyes.
Thanks to its mundane and universal format, the card can be used on nearly any device powered by just about any operating system, including Android, Windows, OS X, and Linux. Google has distributed enterprise-focused Vault units internally, but it plans to bring the security initiative to consumers in the future as well.
Interactive Storytelling, With A Twist
All the video, audio and photos we stream, capture and share in the mobile phone era really amounts to one thing: We have all become story tellers in our own way. Now the Spotlight Story group wants to help us tell those tales, but in a new, more interactive way.
Known for its Windy Day film, which came out on the original Moto X when ATAP was still part of Motorola, the group has a new Story Development Kit on tap, to give creative folks tools to make visually interactive films. The premise is somewhat simple, at least in theory: When a Spotlight Story film plays through on a smartphone, the film will change or progress based on where on the screen the user chooses to look.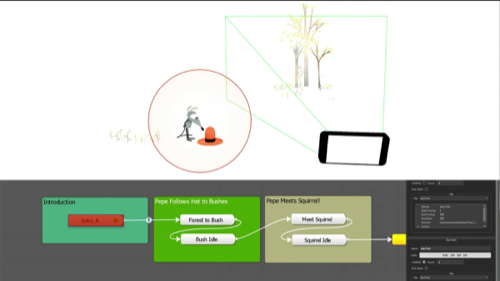 Given Google's interest and concentration on virtual reality and immersive experiences across projects like Cardboard, Jump, Project Tango and other areas, Spotlight Story seems to line up quite nicely. Windy Day, in fact, is one of the default videos when users first download the Cardboard app, revealing a deep relationship between these two divisions.
The Spotlight Stories app went live on Google Play on Tuesday, and the team explained that more stories will start to appear on YouTube—likely in conjunction with this summer's plans to bring Jump VR videos to YouTube as well.
The Ultimate Build-Your-Own Smartphone
Last but not least, the Project Ara modular smartphone popped up on stage, looking surprisingly polished. ATAP's Rafa Camargo pieced together a prototype out of various modules, practically Lego-style, right in front of the audience.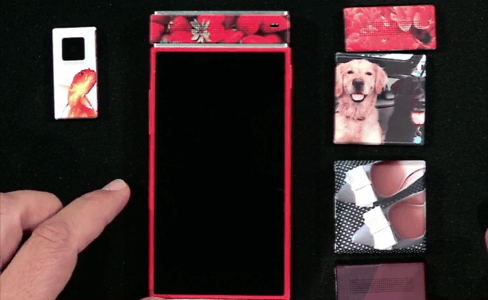 Then, in a carefully staged "afterthought," Camargo admitted he had forgotten the camera module, so he slid the block into place, held the phone up to the audience—which was powered on the entire time—and took a photo. Cue rousing applause.
Project Ara remains ATAP's most high-profile initiative, and there was no shortage of interest in it at Google I/O. With its swappable, upgradeable parts, the Android-powered device has big potential to free users from the expensive and aggravating phone upgrade cycle—typically $200 every two years for an entirely brand new smartphone. Instead, with this piecemeal device, people could switch out parts as better ones come out.
That prospect may excite software developers as well for one simple reason: Apps that take advantage of powerful hardware—like better cameras or crisp display resolutions—won't be restricted to only users with top-tier phones. If people can affordably upgrade parts of their devices as needed for specific features, the result may lead to surges in usage for particular apps. That's one possibility. But there could be another looming: Android fragmentation, with numerous companies' own software and screen sizes, have vexed some developers for years. Would fragmentation all the way down to the component level—with people running all sorts of different bits and bobs—create more problems than it solves?
We'll know shortly. Users in Puerto Rico will get to test the phone later this year. Stay tuned.
Screenshots by Brian P. Rubin for ReadWrite, photos by Adriana Lee for ReadWrite