Given the seemingly endless supply of fitness trackers and health bands, there's are no shortage of wearables that record and report user data coming from within. But a new device called Tzoa, which appeared on the floor of Wearable World Congress in San Francisco, provides insights into a person's health by recording data from without.
Billed on Indiegogo as a "Wearable Enviro-Tracker," Tzoa analyzes the air around it, scanning for particles and quantifying them to offer meaningful information about air quality. In the short term, that could help users make informed decisions about where they spend their time. But Tzoa's long term goals are much grander than that: the company wants to inspire meaningful change about what we pump into the air we breathe.
(Disclosure: ReadWrite's parent company, Wearable World, owns a small equity stake in Tzoa as a result of its participation in the Wearable World Labs program.)
Air Apparent
A tiny fan and an equally small laser inside the Enviro-Tracker make it work. The unit periodically sucks in air for analysis, and whenever particles cross the laser's beam, the device identifies each one it based on its size—whether pollutants like black carbon emitted by diesel engines or allergens like pollen and dander.
"It can say, here's the particles that are really dangerous for your health, because they can enter past your cilia into your lungs and then not only affect your lungs but create scar tissue," explained company co-founder and Tzoa inventor Kevin Hart. "They can also get through the blood barrier of the lungs into your bloodstream."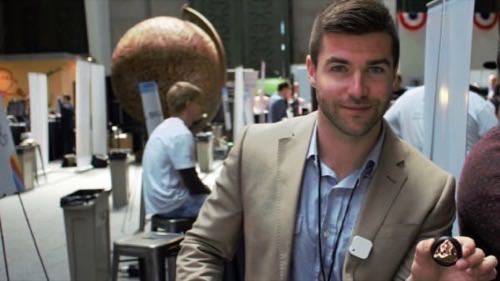 The device also boasts light, UV, temperature, and humidity sensors, which help the device understand whether it's inside or outside or what weather conditions are like. If the relative humidity hits 70 percent, for example, the Tzoa compensates for the way particles change in size as a result. All those sensors work in concert to give users a full picture of the air around them—both what they can see, and what they can't.
Tzoa can also track a user's location via a smartphone's GPS sensor when linked up with Bluetooth. An accompanying phone app will rate the air quality on a scale of one to ten, and might recommend that a user turn on an air purifier when things get bad. The app also provides what Hart calls a "daily digest," which tells users about their air quality exposure throughout the day and then offers suggestions such as trying to avoid locations thick with pollutants and allergens.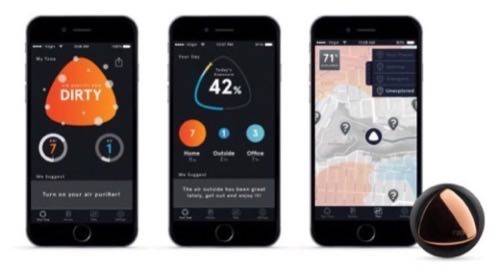 "If you're indoors, it might say something like, 'you should open the windows because we know the outdoor air is better than the indoor air'," said Hart.
Crowdsourcing The Air Supply
And how does it know that? "We're aggregating all the different sensor data from different people," Hart said. "We're making citywide apps of air quality, both indoors and outdoors."
If lots of Tzoa units make their way out into the world, they can then share enough data to create crowdsourced air quality maps. It's a lot like Waze, the traffic-reporting app that helps users plan their routes to avoid major jams or accidents. But instead of making your commute shorter, Tzoa wants to make your trip to work a little easier on your lungs and body.
Says Hart:
Just like you can manually report that there's been a traffic incident or a police officer spotted, we can manually report when someone who has asthma has had an attack—you can report that by tapping the device.

It's sort of the first solution for people, because we don't know typically what triggers this. We know air pollution is a major factor, and the environment. So we're crowdsourcing this information and warning other people, stay out of this area.
Air Of Authenticity
The wearable version of Tzoa is just half the equation. The Vancouver-based company has also teamed with the University of British Columbia to deploy ten "Research Edition" versions of the Tzoa for use in a public health study in India to measure people's daily exposure to pollutants. The Research Edition has a bigger battery and larger internal storage than the Enviro-Tracker, allowing the researchers to leave the devices at study sites for longer.
The Research Tzoa will give the researchers an insight into the effects of burning wood or dung for cooking in huts. While the larger version costs at least a hundred dollars more than the Enviro-Tracker version, it's significantly less expensive than the air quality analysis equipment used in past studies.
"We have a queue of researchers who want to do these studies," said Hart. "Researchers are looking for low cost devices, and they don't exist right now. This is the first one that they're looking at that they're getting very excited to try out.
"They're typically $1,000 to $2,000 or more—up to $20,000," he added. The Tzoa Research Edition costs $250.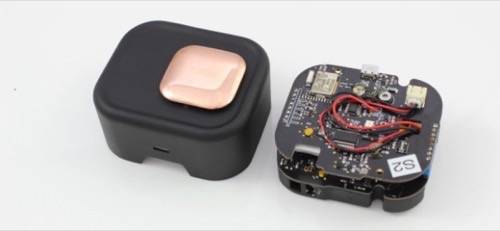 Researchers aren't the only ones looking forward to the study's results. The research edition's deployment will also provide more data to help refine the Tzoa's technology and design, while also providing a proof-of-concept for the wearable version that's set to launch in 2016.
And proving the Tzoa's power and potential is important if the company hopes to succeed. Since crowdsourced air quality maps are one of the device's chief selling points, its success hinges on getting as many Tzoas out into the world as quickly as possible.
Hart said that consumer distribution and sales is only one avenue the company is currently exploring. Tzoa hopes to enter into partnerships with the likes of GE to embed air quality units in smart LED light bulbs for deployment around cities like San Francisco.
Of course, while smoggy areas like New York, Los Angeles, and Beijing are easy targets for a device aimed at improving air quality awareness, there are plenty of sparsely populated places throughout the world that may not see air quality problems as something worth exploring. I asked Hart how Tzoa planned to target people living in smaller cities where air quality isn't a daily concern.
"This is an awareness campaign," he said, posing a hypothetical data set built from sensors deployed in Tzoa's home city of Vancouver:
We might say, "hey we thought Vancouver was really clean, however when we went and put a thousand sensors around the city, we found X, Y, and Z. We found that restaurants were venting fumes onto a busy city street. We found that laundromats were venting lint right into a garage where people were getting their cars." There's all sorts of crazy scenarios.

As the data sets get built out, as we have a proof of concept city established, we can then turn to a smaller city and say, look at what we learned here. You may not think you have a problem, but neither did they. And look at what they found, and look how we've improved their quality of life because of it.
Waiting To Exhale
For now, the $99 crowdfunding price (and the planned $139 launch price) might make the Tzoa just a little too expensive to see widespread consumer adoption, —and it's a hurdle that Hart acknowledges. He didn't hesitate with his answer when I asked him if he saw the Tzoa's asking price as a potential barrier to widespread adoption:
Absolutely. We're starting with $99, seeing what happens with $99, and what we're really trying to do is just expand the amount of volume manufacturing we're doing so we can drive that cost down as low as possible. But we need people to be part of this movement for clean air and get engaged with using these and building the maps.

We have ambassadors from around the world who have signed up and said, "we want to be the first people to build maps for you in our cities, and we want to tell people and spread the word." Because the more people that use this, the lower the cost gets, and the better the maps get, the higher resolution they are, and the more useful this is for everybody.
Regardless of the Research Edition's results or any arrangement with GE, for Tzoa, the crowdfunding campaign is do-or-die. "We absolutely need to hit our goal in order to manufacture that in volume," Hart said.
The good news is that, after only one day, Tzoa's Indiegogo campaign is already nearly halfway funded. The bad news is that, so far, the number of backers is still only hovering around 200 people—not quite enough to incite a major social change around the world just yet.
If we can't get enough people to wear this and get a high resolution picture of the environment, then we can't. And so as much as this is a campaign about a product, it's a campaign about a movement for clean air that's empowered by the product. If we can't find enough people who are interested in that topic, then maybe it's not a topic that's worth pursuing.

But I personally believe, and we have a hundred ambassadors around the world who believe, that it is an important problem.
Tzoa and Kevin Hart photos by Brian P. Rubin for ReadWrite; Tzoa app and Research Edition images courtesy of Tzoa