The desktop 3D printer space is getting crowded. In just a few years, we've gone from "Wow! A 3D printer!" to "How cheap is it?" and "How are you going to convince me to buy it?"
That's why I was surprised to be, well, surprised by the Tiko, a Canadian 3D printer that will hit Kickstarter next week. The Tiko is a delta printer, which means its body is shaped like a triangle instead of a rectangle. It has a sleek, unibody design. And it will cost $179.
In case you haven't been playing along at home, that's peanuts in a market where lots of 3D printers will set you back $400 or more.
Delta Force
I saw the Tiko in action at the SXSW conference, where it was hard at work pumping out blue trinkets. CEO Matt Gajkowski said he designed the printer with mass production in mind, meaning every part can be made on standard equipment. That bodes well for crowdfunding backers, who often have to wait months for delayed 3D printer deliveries. The Tiko is slated to ship this fall.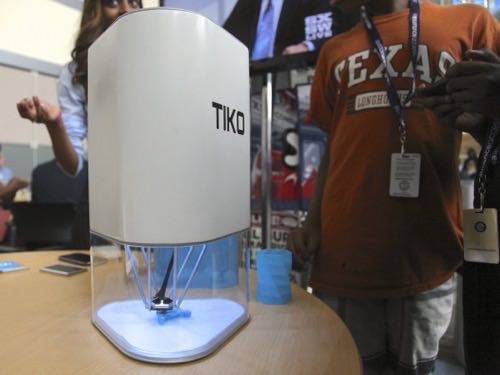 The machine is super light, and designed to simply be picked up when a print is done. The print bed, which is unattached, then remains sitting on the table. The bed is made from a special material that does not need to be prepped with glue or tape to get prints to stick. To remove a completed print from the Tiko, you bend the bed until it pops off—something I have never seen on a 3D printer.
The bed is not heated; heated beds are generally used to keep a print from shrinking during the print process, which can cause warping. Interestingly, the Tiko can print right up to the edges of the bed, making most of the clear area of its body accessible print space. No part of the Tiko's footprint is wasted.
The printer's print head, which dangles from three arms in the traditional delta style, has no cooling fan. 3D printers work by running spools of plastic through a heated nozzle, which then oozes out the melted string of plastic layer by layer. A fan makes sure everything cools correctly, but also adds cost and noise. Gajkowski said hollow tubes open to the print head just carry the heat away, so no fan is needed.
Align Those Prints
Tiko's delta design is also unusual for a printer aimed at the general public. Experienced makers often choose deltas because they tend to be suited to taller prints. Gajkowski argues that more traditional rectangular printers, which usually have a print head on bars that run from the back to front and between the two sides of the printer, can become misaligned more easily, leading to bad looking prints.
Lots of people in the industry would disagree, and it's definitely true that in the end it depends on the printer. If the Tiko is well made, then it will stay aligned more reliably.
This is one odd design, which is why I was glad to actually see it in action during my visit. The Tiko does indeed print things, and they all looked reasonably in line with what you can expect from any desktop printer.
The Tiko's software is just as thought through as its body. It's cloud based, which means you access your print library and prep screen through your browser. The printer has no USB ports, so everything needs to be sent over Wi-Fi. Print files are loaded onto the printer so you can shut off your computer during a print.
Only time and a lot of users will tell if the Tiko is as tough or reliable as Gajkowski says. What I do know is that it is the best looking consumer printer since the Buccaneer, and $179 is not that scary of a risk to take.
Photos by Signe Brewster for ReadWrite