It's been a busy day for HTC announcements as Mobile World Congress kicks off in Barcelona. The company has revealed its new flagship phone for 2015, a fitness-focused wearable, and a virtual reality headset developed in partnership with Valve.
First, the long-rumored HTC One M9. The handset brings with it a 5-inch 1080p screen, Android 5.0 Lollipop, the next-generation Snapdragon 810 octa-core CPU and 3GB of RAM. In terms of design, it looks similar to last year's One M8, and perhaps the most significant upgrade is the 20-megapixel camera (with the 4-megapixel lens from the 2014 model now the front-facing camera).
The photo-taking capabilities are something that HTC is focusing on in its promotional material. "The HTC One M9's cameras are designed to capture every moment in amazing quality, allowing you to relive those moments again and again," says the company. The phone can also record 4K video.
The HTC Grip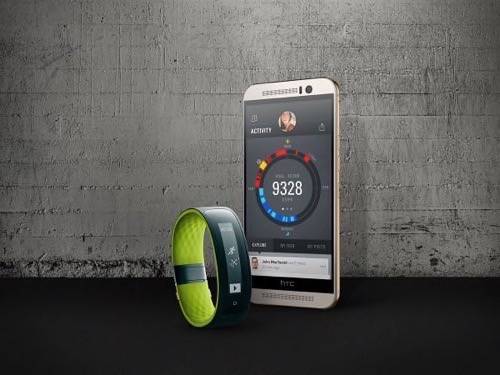 The arrival of the HTC One M9 at MWC wasn't much of a surprise, and nor was the appearance of the manufacturer's first wearable. We thought we might see something at last year's Mobile World Congress, but now a smartband has finally seen the light of day.
The HTC Grip is a bulky-looking fitness tracker that also happens to tell the time. It comes with on-board GPS for tracking routes and distances without a phone, though it can also display notifications from a connected iOS or Android mobile.
The device taps into HTC's previously announced partnership with sports brand Under Armour. The wearable can track workouts, steps, calories and sleep, and HTC is promising 2.5 days of battery life —though just five hours with the GPS on. No price details yet, but it goes on sale this spring.
HTC Vive
Finally, the HTC Vive is the VR headset teased by Valve and Steam earlier this week. The hardware is a joint project between the companies and the aim is to release a consumer edition before the end of the year. We're likely to hear more about it at the Game Developers Conference in San Francisco next week.
See also: Steam—Yes, The Videogame Outfit—Wants To Join The VR Fray
The Vive offers full 360-degree immersion, tracking controllers and high-quality graphics running at 90 frames-per-second. "Vive combines Valve's Steam VR tracking and input technologies with HTC's world-renowned design and engineering talent, setting a new gold standard for an industry that has, until now, struggled to move beyond concept stage," says HTC.
HTC and Steam say they have a number of media partners on board—including Google, HBO, Lionsgate, Vertigo Games, Dovetail Games and Wemo Labs—and envisage the technology stretching beyond gaming into entertainment, travel, retail and social.
While it's difficult to assess any product from a launch event, HTC is facing strong competition for market share in each of these three areas—its brand new hardware is really going to have to shine in order to make meaningful inroads against the likes of Apple, Samsung and Facebook's Oculus Rift.
Images courtesy of HTC