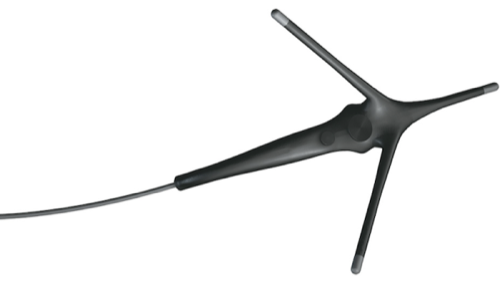 Pity the poor computer mouse. What with touchscreens and trackpads, mice are no longer the input devices of choice. And things are about to get a lot worse for the once-dominant computer controllers.
If I had to name my personal Best of Show for the Consumer Electronics Show last week, it would be Tobii, an eye-tracking startup that does one single, amazing thing: it lets you use your eyes to move the cursor around the screen.
As I thought about it a bit more, I realized that many of the companies that have impressed me the most of late have been those that offer new ways to physically interact with the PC and other computing devices: companies like Tobii, Leonard3Do, Leap Motion and Oculus VR.
Maybe it's the influence of smartphones, Windows 8 and the Kinect peripheral for the Xbox 360 console. Suddenly, touch, voice, gestures and motion have become the ost talked-about ways of interacting with computers. Like many people, I'm perfectly content with using the mouse and keyboard as my preferred means of entering content. But that doesn't mean that these other methods aren't just as viable – especially when consuming content.
Tobii Rex
I was most impressed with Tobii, if only for its simplicity: it simply replaces the mouse with your eyes. A year ago, Tobii teamed up with Lenovo to design a custom notebook that integrated its eye-tracking or "gaze-tracking" software. Last week, the company showed off the Tobii Rex, a USB peripheral that can attach to the bottom of your LCD monitor. At this point, the Rex is a developer platform that costs about $1,000; however, the company will soon begin preorders for a limited run of 5,000 devices that will ship this fall. Pricing for that device, which may be known as the IS20, has not been announced.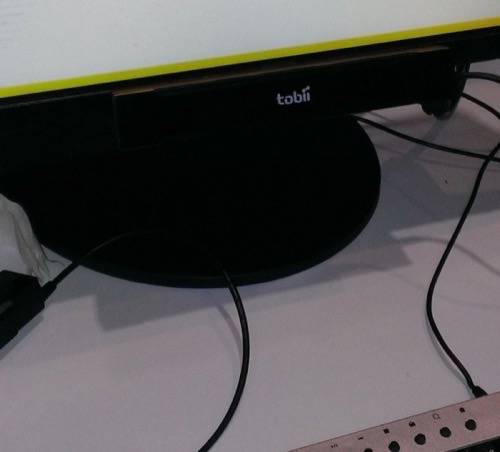 Some have said relying too much on touch on a desktop PC could result in tired, "gorilla arms" after a few hours of use. With Tobii, that's not an issue.
Tobii's eye-tracking peripheral uses low-power infrared lights to illuminate your retina and cornea, tracking the reflections. Chief executive Heinrik Eskillsson assured me that the infrared posed no danger to people's eyes, and wouldn't cause additional fatigue. After a few seconds of training, including looking at colored balls to calibrate the device, I was able to interact with Windows 8 using just my eyes.
And in my experience, Tobii was amazing – not just for its potential, but because it worked extremely accurately, right now. In the demonstration, Tobii mapped the mouse keys to little-used keys on the keyboard, so that if I wanted to click on a widget, I simply looked at it, clicked, and moved ahead. It takes a second or two to remove one's hands from the keyboard, find the mouse or trackpad, then realign them for typing. Tobii eliminates all that. Scrolling is accomplished simply by looking at the bottom or side of a window. Highlighting text is as easy as holding down the "mouse button" and moving the cursor (which appears only when you click.) Another reporter also recorded video of using Tobii during a version of "Asteroids".
Scrolling in and out of a map was a bit trickier; instead of highlighting a point and then spinning a mouse wheel (or pinching), you looked at a spot and clicked in and out. Still, it worked just fine. The only drawback is that your gaze is essentially a single point of contact, so it can't technically replace multitouch gestures. Still, for 99% of the interactions you'll have with your computer, Tobii should be terrific.
Other eye tracking technology is apparently being used for research, with names like Applied Science Laboratories, Sensomotoric Instruments, Optitrack, or SR Research. But Tobii appears prepared to take eye-tracking tech mainstream.
Leonard3Do
Budapest-based Leonar3Do also wants to replace the mouse – with a bird. The winged "bird," which users wave through space, incorporates horned antennas that helps Leonar3Do's software manipulate 3D models.
What's interesting, however, is that the models don't "live" inside your monitor. Because Leonar3Do's software is synced to a 3D monitor and goggles, the model appears to float outside the 2D display. (Leonar3Do has a non-embeddable video on its website with more information.)
In some ways, the bird didn't appear to offer the sort of fine resolution that CAD designers would want, although Roland Manyai, the company's director of marketing, sales and business development, denied that. However, it seemed nicely intuitive to be able to rotate, "push" and "pull" 3D models, deforming surfaces easily.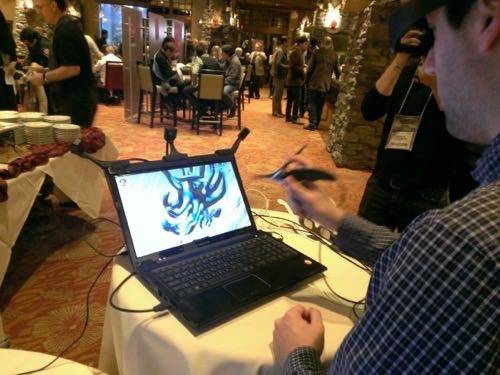 Leonar3Do was on hand at CES to launch HelloVR, a program that eliminates the "bird" and replaces it with the gyroscope found within a user's smartphone. Interesting stuff, although serious modellers will still want the bird or something similar.
Oculus Rift
I wasn't able to actually use Oculus VR Oculus Rift gaming headset directly. But old-school gamers will remember Virtuality, a 1990s-era arcade game where users wore a virtual reality headset to look about a primitive gamefield, shooting others with blocky pixels.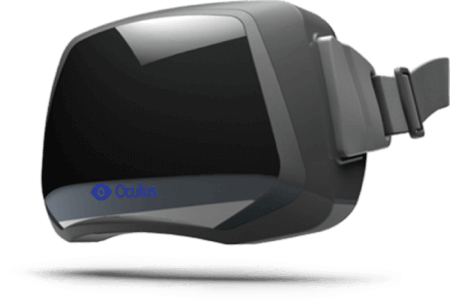 The Oculus Rift replaces those headsets with a similar pair of goggles employing a shared 1280 x 800 display that, most importantly, minimizes the latency that accompanied the previous versions. So far, Oculus appears to be marketing the Rift as a gaming peripheral, but it will be interesting to see what other applications it .
Leap Motion
ReadWrite's Dan Lyons characterized Leap Motion as the hottest tech company of 2013, and in fact it might be. Leap's technology lets users incorporate Kinect-style gestures into PCs and other devices, manipulating what's on the screen without having to touch them. Leap's technology sounds fascinating, but I'd still rather be able to manipulate objects with my eyes then be forced to physically gesture with them. Oh, who am I kidding – I'd like to have both.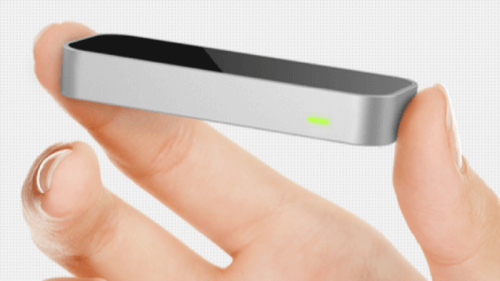 But no matter whether it's working with eyes or hands or heads, the most interesting products of the last few months involve translating physical movements into the virtual space. Companies like Tobii and others still face plenty of questions about pricing and availability, but it's clear that these kinds of devices can anticipate a bright future.

For the venerable mouse, not so much.
Image sources: Oculus Rift/OculusVR.com; Leap Motion/LeapMotion.com