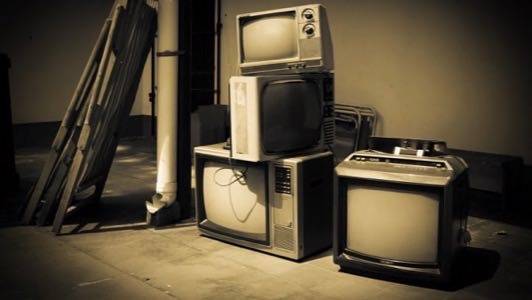 The Internet may be changing TV, but it is nowhere close to completely disrupting it.
Why's that? In a word, content.
Web videos can rack up millions of views (and millions of dollars), but the Web isn't yet giving us content as compelling as Downton Abbey or Breaking Bad. Netflix, Hulu and YouTube are all trying to change that by investing in TV-quality programming for the Internet.
But there's another problem: the user experience. Even the best Internet videos have to be clicked, queued, buffered and occasionally refreshed. You can't just sit down and watch. Fortunately, that's starting to change.
I don't have a subscription to cable TV, nor have I had the slightest desire for one. When I sit down in front my TV, it's with an iPad and Apple remote, which controls my Apple TV set top box. I stream shows from all the usual suspects: Netflix, Hulu Plus and Amazon. But lately, a handful of innovative social video apps have been nabbing more and more of my attention.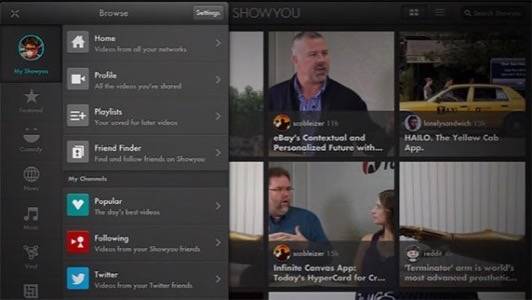 Showyou
Showyou has long occupied a spot in the top row of my iPad's "Entertainment" folder, and it's only gotten better since I first installed it. The app borrows heavily from the Flipboard concept, but instead of articles and blog posts, it curates personalized video clips based on my social connections and interests I've explicitly declared by adding channels. I can also follow individual friends on Showyou, independently of whatever relationship I may (or may not) have with them on Twitter or Facebook. In that sense, Showyou is a bit of a social network in its own right.
There's a ton of content in Showyou. Video clips come from legacy brands like ABC News and the New York Times alongside Web sources like Reddit, Pitchfork, The Verge and Gawker. Each category of channels (Comedy, Tech, News, Music, etc) lists at least a dozen sources, each of which can be added as a channel. If you actively follow channels on YouTube, you can plug your Google account into Showyou and include those videos as well.
Combine all of this formal curation with feeds of videos shared by Facebook and Twitter friends, and you've got an enormous amount of personalized, highly relevant video content. You can break them down by channel or social network or you can view everything in one huge mega-channel. Factor in continuous playback and you'll be sitting in front of your TV for awhile.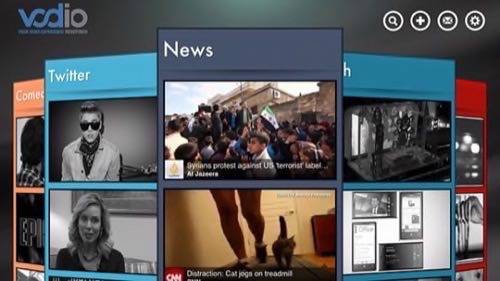 Vodio
Like ShowYou, Vodio merges self-declared interests with socially fueled recommendations. Its channels are far less granular (they're more like general categories rather than feeds from individual content providers). Its design is decidedly simpler, with a big rotating carousel of video channels and minimal controls.
Some channels are more useful than others. The Music channel pulls in videos from a range of sources, and seems to presume that I'm interested in UK boy band One Direction. By contrast, other social video apps let you subscribe to specific music publications, labels and artists, which obviously results in a more personally relevant selection of videos.
News, on the other hand, is great on Vodio. The app pulls news clips from outlets like CNN, Al Jazeera and ABC, auto-playing them back-to-back to create a sort of multi-sourced, commercial-free news broadcast. The continuous playback makes it feel like watching a single news channel, but with fewer talking heads and more variety.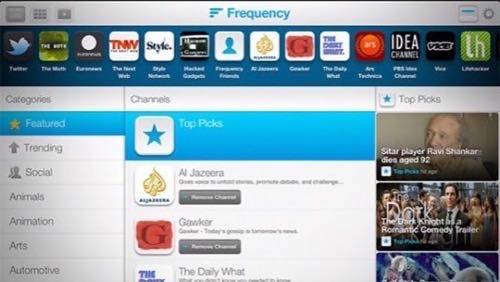 Frequency
Frequency is awesome. It's pretty much the same concept as the other apps – plug in your social networks and select your favorite Web video content channels – but with an interface that more deliberately mimics the experience of watching TV. Tapping each channel icon is akin to "changing the channel" on a television, jumping from Reddit to Ars Technica, from Gawker to Lifehacker. Whatever you're into.
Like ShowYou and Vodio, Frequency pulls in the videos your friends are sharing on Facebook and Twitter. I can't overstate how much more effective it is to peruse these videos in this context than it is to scroll through the noise of tweets and status updates to find them. And like the other apps, Frequency plays videos continuously back-to-back. This turns watching Web video from a hunt-and-tap experience to a lean-back and don't-make-any-decisions experience.
Kind of like TV.

Lead photo by Gustavo Devito.