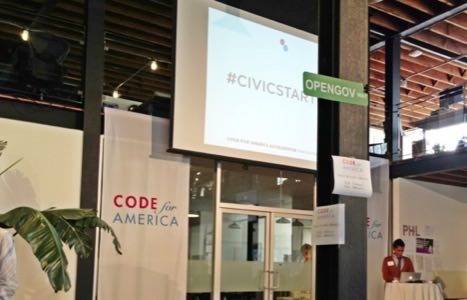 The U.S. public sector employs some 21 million people, the vast majority at state and local governments. That makes the public sector ripe for innovation and reinvention, a task being tackled head-on by Code for America, a San Francisco-based incubator that aims to help "government work better for everyone."
Startups Attacking A Giant Market
Last week, I attended a Code for America demo day where seven startups, billed as the "inaugural class of the first-ever civic startup accelerator," showed off their wares. The Code for America accelerator program hopes to disrupt the $170 billion government IT market, while providing new and improved services to U.S. citizens.
One of the startups, MindMixer, had already shown up on my radar. MindMixer helps local government and civic entities create instant online communities. The company has so far set up more than 250 organizations around the country.
MindMixer helps organizations collect ideas and perspectives and lets visitors vote on them, much the same way that I'm using Spigit to ideate solutions for America. One MindMixer community is ImproveSF, which is working to create a better San Francisco. Its "Design a New Library Card" challenge racked up 14,529 interactions.
Handwriting To Digital Isn't Easy
Another startup that drew much attention is Berkeley, Calif.-based Captricity. Co-Founder Kuang Chen reiterated how difficult it was to transform handwritten or other paper-based data into digital form.
Captricity uses real people for data entry but you do need either have a scanner or camera to upload text originals to the Web. The company currently has an offer you can't refuse: the first 25 pages for new customers are digitized for free. It's $0.20 per page after that.
As Code for America Director of Strategy and Communications Abhi Nemani tells me, "Captricity is one of the clearly compelling startups, it's a problem we can all relate to." The company already has received investments from Mitch Kapor's Kapor Capital and others.
Social media startups were well represented by Measured Voice and Revelstone, both promising to improve civic engagement supported by analytics to track social engagement.
The Start Of Something Bigger?
Three other startups, Aunt Bertha, LeanSprout and Recovers are described on Code America's site. As Nemani says, "This is the first accelerator class. The whole ecosystem needs to be built up, but this is the start of something bigger."
I agree. Code for America has definitely struck the right tech chord. If you need more persuasive evidence that America needs to innovate, please see Kleiner Perkins Caufield & Byers General Partner Mary Meeker's presentation "USA, Inc." Key Points, which brilliantly articulates trends we should all be familiar with.
Code on.