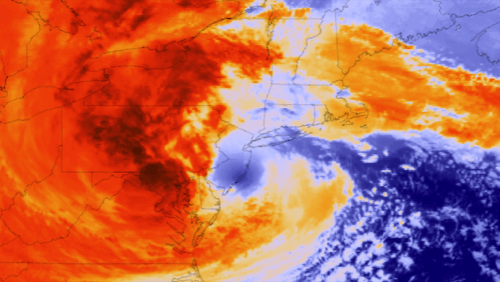 Although Sandy continues to be primarily a flooding event, High, sustained winds and some large fires are complicating life on and off the Internet.
Service issues for YouTube were widely reported Monday at 7:30 p.m. EDT, and were intermittent throughout the rest of the night, until they ended around 6 a.m. today. Tumblr's problems started at about the same time, with intermittent outages through the night.
Tumblr is based in Manhattan, bit it is likely that the social network's systems are co-located elsewhere. Other New York-based firms, like BuzzFeed, Huffington Post and Gawker likely have suffered Sandy's wrath. BuzzFeed was down last night through 8:30 a.m. today, HuffPost is in station-keeping mode due to a power outage at its offices, and Gawker is down.
The infrastructure of the Internet is solid so far, although edge-of-network problems continue to plague the East Coast, sending ripples across the continent. According to the Internet Traffic Report (ITR), North American traffic was rated 67 out of 100 at 8:45 a.m. EDT today, with several Internet routers across the country reporting 100% packet loss. While many of the affected routers are on the Eastern Seaboard, several are not, which could mean there are systemic issues other than Sandy affecting traffic.
According to the ITR, traffic speed on the Internet dropped sharply from a rating of 69 just after 4:50 p.m. EDT Monday, just as winds from Sandy grew dangerous on the coast. Because of the size of the storm, high winds range as far west as Chicago, with scattered power and telecommunication outages reported throughout the immense affected area.
Sometime around 3:30 a.m., packet loss spiked briefly, indicating a significant disruption of Internet service, the cause of which was not clear.
Data centers in the affected region seemed to fare well.
Outage Analyzer indicated a few scattered outages, including a suspected outage at pro-market.net that affected 174 domains, and an earlier outage at ad provider ContextWeb. KDDI's Northeast U.S. servers also went down for two hours at 9:12 p.m., potentially impacting 675 domains. All of these servers were located in northern New Jersey, and as of post time, the problems were resolved.
Downrightnow is reporting some issues with Twitter, Facebook, Gmail, Yahoo! Mail and Tumblr. While downrightnow is a useful tool, it gathers some of its data from anecdotal complaints on social-media services like Twitter. Given the scattered router problems on the East Coast, it is likely that customers' access to those services are only degraded.
Those who rely on Amazon Web Services will be pleased to note that their services are smoothly running in North America, with no problems reported. Google Apps and Google's App engine cloud service are also showing green lights across the board.
As Sandy moves north, dumping rain and pounding with winds, there is still a chance that some data centers will be affected by the storm. Certainly local and regional Internet service on the edge of the network will be affected, either through power or direct disruptions. For now, major service disruptions seem to have been avoided.
[Updated]
Equinix, one of the maintainers of a New York City-area Internet exchange, has released details on how it is weathering the storm. According to Sam Kapoor, Chief Global Operations Officr, "All sites in New York/New Jersey, and several in Philadelphia and Washington, D.C., experienced power outages and customer loads were transferred to generator power. All of these sites have at least 48 hours of fuel onsite with fuel vendors on standby to deliver more as needed. As of this morning, some of these sites are back on utility power, while some remain on generators.
"NY9 experienced a failed generator that impacted service to several customers. We made repairs and service was returned this morning. The site remains on generator power," Kapoor added. "Sites in New York and Washington, D.C. experienced water leaks. While most were minor and quickly contained, at least one leak at a New York site impacted a customer. We are currently working onsite with the customer to contain the issue."
Equinix clearly isn't taking their responsibilities lightly, either.
"To minimize the storm's impact and prepare wherever possible, we tested generators, filled fuel tanks and made arrangements for backup fuel, arranged to have full time staff onsite at each facility to maintain operations, secured hotel rooms near the sites, and brought in cots, MREs, and other emergency supplies, so that our Operations staff could comfortably support customers even in extreme conditions," Kapoor explained.
Image Courtesy of NASA