The online meeting space continues to see lots of innovation, especially at what you can get for free.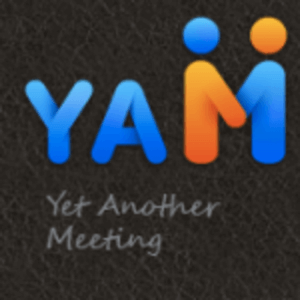 There is a new service from FreeConferenceCalls.com called FreeScreenSharing.com that says exactly what it does and some major feature enhancements to YamLabs (for Yet Another Meeting).
FreeScreenSharing works on both Windows and Mac and on a variety of browsers. You download the software on both sides, which takes the form of an .EXE for Windows and a Mac package file, and within a few moments you are sharing your screen. For example you can control which of your apps get shared over the link, you can easily switch presenters as you collaborate back and forth, there are attendee lists and chat rooms. It works with the FreeConferenceCall service for the audio link. You can also customize your conference "lobby" landing page with links, logos, and shared documents, and also specify whether or not you want a listing of all attendees or not. You even get an emailed report when your meeting is finished, recapping who was there.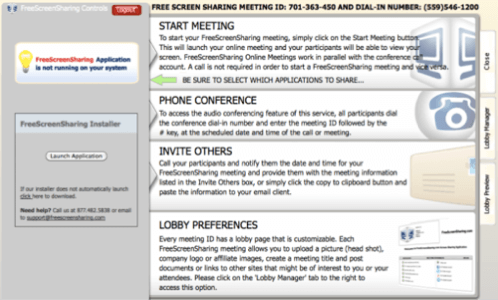 I last wrote about free video sharing tools earlier this summer and FreeScreenSharing It isn't as flawless as Join.me, but it has more tools. I had some trouble bringing up the software initially, and there is a few second delay sending the screen across the Internet. It also isn't great for sharing PCs running multiple monitors.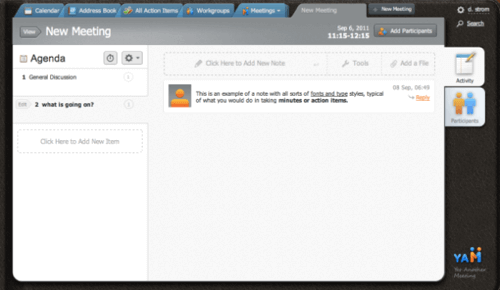 The other free service is from Yam, shown above. This isn't a screen-sharing tool but a way to facilitate running the meeting itself. You can take meeting minutes, share the meeting agenda, add common files to share, share a whiteboard and other tasks. The service has been around for some time, but this week they bulked up their feature set, including offline access, better integration with Google Apps including Contacts and Calendars, and connectors to Jive and Evernote. They are also working on both iOS and Android apps and plan on Outlook and Webex connectors in the near future as well.