The other day, National Public Radio (NPR) featured a tech worker who has been out of work for some time. He spends his days in San Francisco coffee shops looking for work.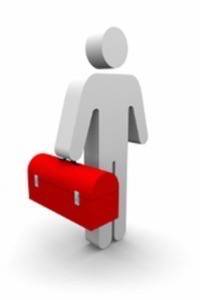 His job search may improve if the "Elance Work Index," proves true. Elance reports that they are seeing a 46% increase in hiring for contract work, compared to a year ago.
Contract work is always hot during a recession as employers look to get their work done without hiring people full-time. In other words, it's a great time to be in consulting.
The "Elance Index," looks at the top 100 skills in today's online job market. The results arrive from more than 100,000 jobs posted on Elance in recent months, making it a credible barometer of online hiring trends.
Tech skills carry 11 of the top 25 spots in the index. And marketers look like they have better prospects, with skills in graphic design, social media and search engine optimization (SEO) being the kind that employers want. Writers are also in demand
First, let's look at the top ten on the Elance Index: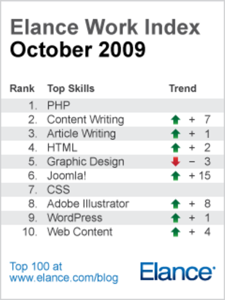 Some tech highlights:
Knowing PHP is still a great bet for getting a job. It remains the #1 sought-after skill by prospective employers.
HTML skills jumped two notches to the #4 slot.
People with Java skills have some reason to be optimistic. Their skill advanced 36 slots to the #24 position.
Joomla! rose 15 spots to #6.
In marketing:
Graphic design is a hot skill to have. It rose to the #5 slot.
Illustrator is in the #8 spot.
Social media marketing came in 14th on the index.
SEO skills are still in demand, ranking #15 in the index.
In writing:
Content Writing moves up 6 spots to #2.
Article Writing came in the #3 spot.
Copywriting and Creative Writing move up to the #12 and #13 spots, respectively.
Contract jobs are not a reality for many people. Health insurance costs can be steep for contractors. On the upside, skills in web development, online marketing and writing may be signs that the overall web technology market is rebounding, with employers focusing more on those types of projects.