There were only about 15 people at the Smart Homes Meetup at SXSW, which took place in a meeting room at the Hilton Austin. Ironically, the air conditioning didn't seem to be working. Not much smart technology in this room, I thought, mopping my brow and pouring myself a glass of iced water. But as I began working my way around the room, I discovered plenty of human smarts among the handful of Smart Home companies in attendance. I also found out that many of these startups are focused on home security. Turns out that's where a lot of the initial commercial activity is happening around the Internet of Things – where real world objects are connected to the Internet.
Adam Beguelin was one of the smart startup founders I met. He already has a successful track record in Web 2.0, having sold his video search startup Truveo to AOL for a cool $50 million in 2006. Beguelin's latest venture, Sensr.net, is a cloud-based video monitoring service. Using relatively cheap webcams, users can monitor video footage of their homes (or anything else) over the Internet.
Sensr.net processes 1.1 terabytes of data every day and is growing 15% every month in active cameras.
Beguelin came up with the idea while on a one-year sabbatical in Vietnam with his family. Wanting to keep an eye on his California home while he was away, he set up two webcams and piped the footage to the Internet. (Note that a photo or video camera is still the best 'sensor' on the market, because it sees so much.)
Those humble beginnings led to a fast growing business. Sensr.net is currently processing about 1.1 terabytes of data per day and the service is growing 15% every month in active cameras.
With the tagline "watch your stuff," Sensr.net continuously monitors and archives data from its users' webcams. The initial use case is a kind of DIY home surveillance, enabling users to watch out for suspicious or unusual activity in their home or office. If such activity is detected, Sensr.net notifies users immediately via text message or email.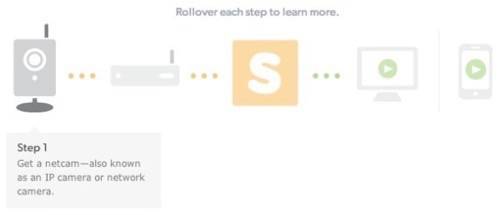 The business idea is compelling for Sensr.net: professional video surveillance is expensive and Sensr.net is a low cost alternative. For the user, they just need to buy a webcam or two ($100-200). For Sensr.net, it's low cost to run because of cloud computing – which these days is relatively cheap. Also, Beguelin informed me that Sensr.net has a 20% conversion rate from fermium to premium users (plans range from $3-29 per month).
While home security is the driver for Sensr.net, Beguelin is also hoping to tap into another current trend: the Social Web. Beguelin figures that a lot of interesting or fun footage is among the 1.1 terabytes of data being uploaded to Sensr.net every day, so why not enable users to share it with friends. So like almost every other online service nowadays, Sensr.net connects to Facebook, Twitter, YouTube and other social networking sites. In the words of Beguelin earlier this year, "Sensr.net is about security, but also socializing your network camera."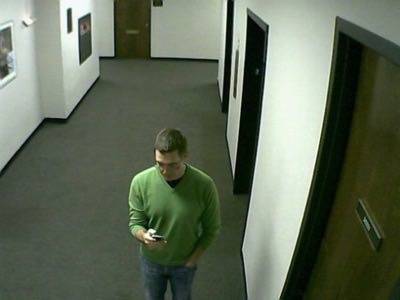 How Sensr.net Manages 1.1 Terabytes of data Per Day
How does Sensr.net manage so much data? The company was founded in 2009, so it already has years of video on its servers. Beguelin told me that Sensr.net is smart about how it stores data, because it only saves about 1/10th of the video that is uploaded. That's about 100GB for each 1.1 terabyte it uploads every day. Sensr.net aims to keep just the good bits, by scanning an hour's worth of video footage and saving only a few interesting parts. In Beguelin's words, the software "summarizes videos and picks the right frames" to keep.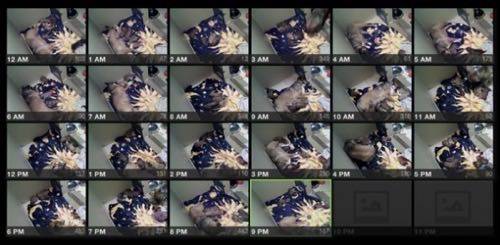 For example, if a webcam is monitoring a garage, most of the time nothing will be happening. It's just video footage of a garage door. However if a car enters the garage, that is an activity that Sensr.net will save – for later viewing, in case it becomes relevant later.
Future plans for Sensr.net include implementing face detection technology and branching out into areas such as storing home-made family videos. It will also publicly release an API (currently in alpha).
I'm impressed by the market opportunity that Adam Beguelin is already exploring – mixing home security with cloud computing. With a hint of Big Brother too, which may cause Sensr.net problems if it becomes very popular. Regardless, I'm intrigued by Beguelin's willingness to experiment and pivot if necessary. Who knows what Sensr.net will eventually become, because one senses that home security is just a foot in the door for the company. Plus, with a name like Sensr.net, the company has in-built flexibility to go into other areas. My spidey senses are tingling with Sensr.net, it's one to watch.