As Dropbox CEO Drew Houston left the stage at his company's Dropbox Open event Wednesday morning in San Francisco, "Rumble And Sway" by Jamie N Commons started playing.
Don't you tell me no truths, I want all of your lies.So give me all of your lies. Give me all of your lies. Give me all of your lies. Give me all of your lies.
It was an odd if strangely self-aware choice of music for a company that has kept changing its message, if not its core file-sharing product, in recent years.
Dropbox has, in turns, courted mobile-app developers and then consumers; lately, it has turned its attention to large businesses, the focus of the Open event.
Open—For Business
Company representatives emphasized to me that Open was for customers, not developers. (Dropbox hasn't held a developer event since DBX in 2013.) As such, it self-consciously aped the style of events like Box's BoxWorks and Salesforce's Dreamforce.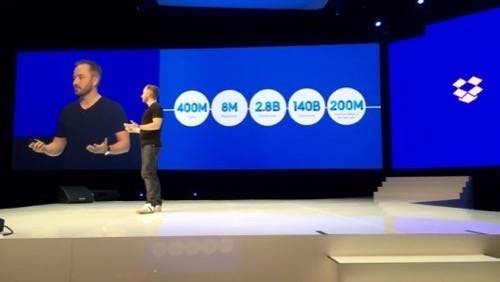 Salesforce CEO Marc Benioff, who's spoken previously at Box's event, appeared for a fireside chat with Houston. (Benioff's presence appears to be mandatory at events held by fast-growing business-software startups, given Salesforce's success in pioneering the subscription-software model.) The CEOs hugged, then verbally patted each other on the back, with Benioff telling Houston what a great conference it was before the first hour of the event had passed.
See also: Dropbox is MySpace, Box Is Facebook
Developers would have been bored, anyway. There was precious little at Open for them. Dropbox COO Dennis Woodside announced a handful of new API features for manipulating shared folders and links. He only made an obscure reference to the bigger news for developers—that the long-awaited second version of Dropbox's API was out of preview and ready for use in their apps.
That came just in time, as Dropbox has seemed busier lately making plans to shut down APIs than rolling out its new ones. As Steve Nellis reported last week in The Information, Dropbox has ended support for two older APIs used by developers to sync and store data.
No APIs For You!
In a conversation with ReadWrite last week in the runup to Open, Woodside signaled that Dropbox's priority was making it easier for the Dropbox service to fit into corporate IT environments.
That is, after all, where the money is—a realization Box made several years ago, according to CEO Aaron Levie.
"That was our strategy in 2011," Levie told ReadWrite in a phone call shortly after Houston wrapped his keynote. "We're moving on to the next era of this landscape, which is much more of a platform rather than just a way for enterprises to share files."
Box recently rolled out an update to its platform that allows app developers to use Box to store customers' files without requiring them to set up a Box account.
Dropbox's strategy, above all, assumes a large number of people—400 million at last count—who have set up a Dropbox account, and use it both home and at work. Its business and developer strategy are geared around this fortunate reality.
That may well work, considering Dropbox's lead with consumers and small businesses. But it feels like Dropbox is missing out on a larger opportunity, which is to be the default storage option not just for its own consumer apps, but for all of them. Dropbox is great if you have a Dropbox account—particularly if you pay for it.
In his Open keynote, Houston often spoke in front of an image of a connected world—a world connected by Dropbox. But the vast majority of the world files still aren't on Dropbox. That's the lie. At least Houston tells it well.