Apple CEO Tim Cook was right when he said, at a press event in San Francisco Wednesday, that television hasn't changed much in decades. We still sit and veg out, hitting the clicker until we find something we want to watch.
One thing that has changed: search. Channel surfing's not so simple now. Instead, we tend to peck out titles or keywords one character at a time. This process utterly stinks—it takes us out of our gleeful couch-potato trance and into a world of irritation.
See also: Apple Builds A Larger Canvas For Tablet Appmakers With The iPad Pro
Amazon, Google, and others have attacked that problem by building in voice features and contextual searches. Now Apple has as well, with its new Siri-driven Apple TV.
In some ways, the device is like an Amazon Fire TV, Amazon Echo, and Nexus Player crammed into one box, which will now tie into Apple TV's own App Store—a store third-party developers have been itching to fill with wares.
That's the just the beginning. A new operating system for Apple TV, called tvOS, and a touch-friendly remote join the company's TV streaming box, turning this former "hobby" into a platform. Here's more.
Meet tvOS
Apple hasn't touched the Apple TV in two years. Cook even acknowledged the wait, saying "we've been working really hard—and really long …"
Part of the reason for the delay was likely tvOS, Apple TV's new software, which is "based on iOS, [but] adapted for the living room," according to Apple executive Eddie Cue. Though the OS is a new entry for Apple, consumers won't have to buy separate versions of apps by device. Developers will be able to set their wares as universal purchases, so their users can pay or download once and enjoy their apps everywhere.
According to Cue, app makers will be able to create universal streaming, game, and other apps that run on the iPhone, iPad and Apple TV. Continuity features also let people, say, start a game on one device and pick it up on another.
According to Apple's developer page, app makers can use "use key frameworks and technologies such as Metal, UIKit, On Demand Resources, CloudKit, and Game Center to create rich games and apps that look amazing on the new Apple TV." The kit includes new templates using XML and JavaScript as a framework for tvOS apps. With predefined layouts and Javascript APIs, developers should be able to build apps quickly for the new Apple TV App Store.
The tvOS developer beta is available now to cater to the 11 million developers who are already working on TV apps, Cue said.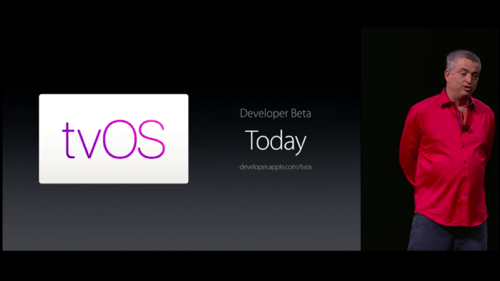 There's an extremely short deadline period, though: You must register by September 11 at noon Pacific time for an opportunity to get your hands on the Apple TV Developer Kit, which includes access to the new hardware.
Talking TV, Siri-ously
Along with the Apple TV finally getting an App Store instead of a handful of Apple-blessed apps, the unit comes with other changes: Siri voice features capable of natural language and understanding context. For instance, "Show me action movies. New ones. Show me only ones with Jeremy Renner."
Amazon Echo also understands natural spoken language and context particularly well, and it offers other types of searches. Now, so does Siri on the Apple TV. As you watch a show, you can call up the weather, ask for sports scores and other things. Get more details, and the unit automatically pauses the stream.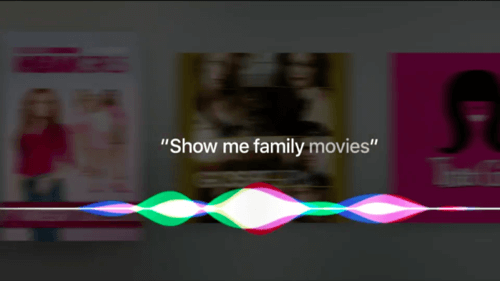 In addition to launching apps like Apple Music by voice, Siri also lets you articulate searches across different apps. Amazon Fire TV's early hype stemmed from the same feature, but it was saddled by extremely limited initial support for other apps and slow attempts to expand. Apple's variation on this theme reaches into iTunes, Netflix, Hulu, HBO, and Showtime, to start. It will cover more over time.
Another nifty feature: If you missed what the actor said, you can ask Siri. It will skip back 15 seconds and temporarily turn on the captions, so you can see it on screen.
Touch By Touch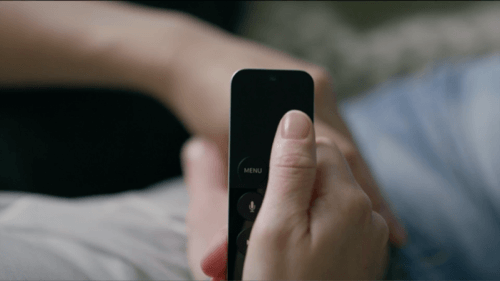 Initially, I thought that putting a touchpad on a TV remote control—a unit we tend to reach for in the dark or without looking—was an awful idea. However, the real purpose of the touch-friendly remote seemed much clearer today.
Swiping through shows and making an icon jiggle while your thumb lays on the remote are just the beginning. Adding touch gives the TV remote more functionality as a gaming remote, and lets users do things, like shoot through digital shopping catalogs. The accessory also comes with a built-in accelerometer and a gyroscope.
Demos by Crossy Road and Gilt highlighted the fact that Apple doesn't just want people "vegging out" in front of the tube. It wants people actually doing things with their TV—from checking out sports scores and playing Guitar Hero or Disney Infinity, to planning their next trip with Airbnb or even searching for a new home on Zillow.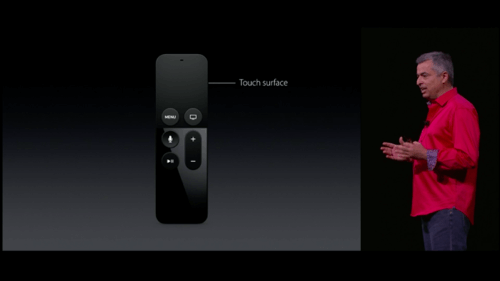 "We believe the future of television is apps," Cook said. "In fact, this transition has already begun." He cited that more than 60% of paid streaming video gets "consumed" on an Apple device through an app. Now, by extending the app economy to the television, the company has made its bid to own our living rooms.
Of course, that begs the question: For what purpose? Sales, of course. But there could have been one other reason, one that was wholly missing from the announcement. Early predictions and rumors foresaw the new Apple TV supporting HomeKit, Apple's smart home framework. However, there was no mention of that whatsoever on stage. Neither did the company announce any support for short-range smart-home wireless standards in this unit, at least so far.
What we do know, at least for the TV experience, is that developers can already work with tvOS and, Apple announces, they can also start playing with the new hardware. Consumers will get their chance in late October for $149 (wth 32 GB of storage) or $199 (64 GB).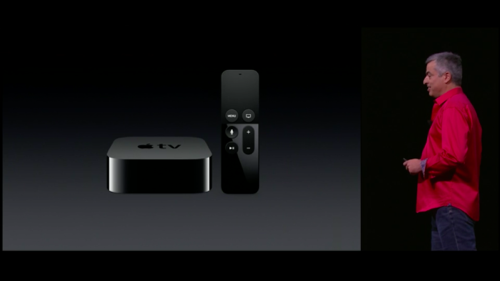 For the money, they'll get a streaming set-top box with a 64-bit A8 processor and support for 802.11ac Wi-Fi and Bluetooth 4.0. The latter, which works with the new remote control, means users won't need a line of sight (pointing directly at the box) to control the TV. Apple crammed in all of that into a casing that's "just 10 millimeters taller" than the previous version, Cue said.
The product will roll out to 80 countries to start, and reach 100 countries by the end of the year—though only eight will get Siri, which will apparently only work in five languages.