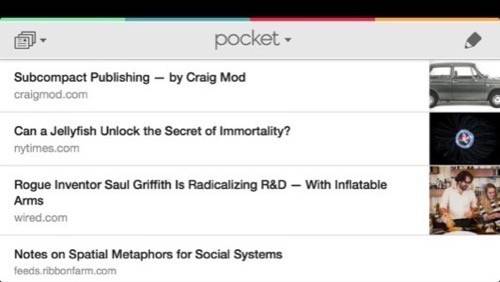 One problem that people who live online do not have is a dearth of reading material at their fingertips. This should be the most exciting era in the history of reading, yet humankind's favorite leisure activity is mired in an ever-expanding swamp of unread links, forgotten URLs, buttons and bookmarklets. So I've hacked together a half dozen tools into a method for managing reading madness. Here it is, in three easy steps.
Step 1. Browsing
The number-one problem I didn't know I had with online reading was keeping track of everything I started to read, whether or not I finished it. Once I started tracking every article I opened, I realized that I would never again have to endure that agonizing, fruitless search of memory for "this thing I saw online the other day."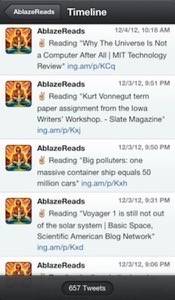 I track this using Reading.am. I installed the Chrome extension, and I added the bookmarklet to my mobile Safari and Chrome bookmarks. I fire off Reading.am every time I start reading something. I use Reading.am's built-in hooks to send links to my @AblazeReads Twitter account and to Evernote. That gives me two redundant logs of my readings that are easy to find at all times via local search, browser, or Twitter client.
I don't post everything. Like anybody, I occasionally read articles I'd be embarrassed to share (or maybe even remember), which is why those "frictionless" social reading apps on Facebook are dumb. But if I think I might possibly want to look at an article again, I click 'Reading.' And in case anyone else wants to sip from my reading firehose, they can do so on RSS, Twitter or Kippt, which is kind of neat.
Step 2. Reading
When and where I actually do the reading depends on what device I'm using and what time of day it is. This is where the madness starts.
Reading Immediately
Unlike every other nerd, apparently, I'm still a big RSS user. There are 100 or so sites that I read religiously, so I use the Reeder app for Google Reader whenever possible. It clears out my Google Reader queue on desktop and mobile, so things don't slip down the list and into oblivion. Almost always, these are long stories that I send immediately to Pocket, which saves them to read later. If they're very short, I read them inside Reeder, but these days I have to remember to open them in the browser as well and hit the Reading.am button, too. Kind of a pain.
If I'm reading something immediately on the desktop, my preference is to read the article directly in the browser. Isn't that quaint? Most websites are so horrible that the idea of reading a Web article au naturale is a funny joke. But for those cherished few publications that celebrate design, as well as most respectable personal blogs, I like to see the words displayed as their author intended them to be seen.
But more often than not, Web layouts are crazy looking, so I use a browser extension to read them. I'm a Chrome and Evernote user, so I use Evernote Clearly to clean up pages for reading. It's nice looking, and it gives you the easy option to save an article to Evernote with one click (more on that later).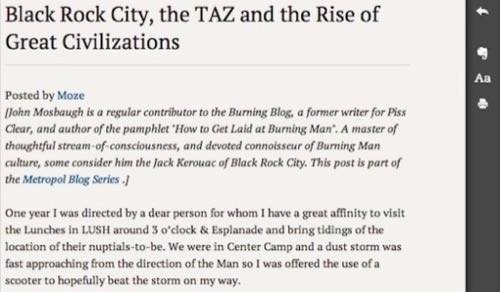 Reading is usually a bit easier on mobile, where articles tend to be more legible. If they're not, I either use Safari Reader mode or the Readability mobilizer in Tweetbot, my Twitter client of choice, to clean them up.
Reading Later
Nonetheless, I do the vast majority of my reading in Pocket. It's attractive, it has excellent sharing options, and it lets me see the material it stores without an Internet connection. I also like having that red badge on my iOS home screens nagging me to read more because I'm a masochist.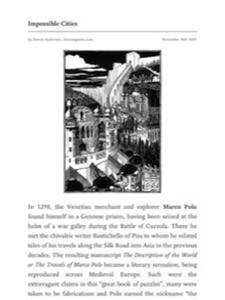 Lately, I've been enjoying Pocket on a Nexus 7, but I also read heavily on the iPad and iPhone. I prefer the Nexus' screen size, but I dearly love the Apple devices' retina text and superior scrolling. It's an unfortunate tradeoff.
In rare cases, I have time to clear out my Pocket queue while I'm at my Mac, so I open the Pocket views of the articles in a bunch of tabs, read them, then delete or archive them and close the tab.
For me, saving something to Pocket is part of starting to read it, so I click the Reading.am button at the same time as I save to Pocket. This is an annoying extra step, but hopefully the services will learn to speak to each other and make that action simultaneous. By posting to Reading.am at the outset, I don't have to think about whether or not I've done it when I delve into Pocket.
Step 3: Sharing & Archiving
Sharing
By posting to Reading.am, I automatically share everything I read at the outset. I figure anyone who wants the firehose will subscribe, and the rest of the Internet doesn't want to know.
But I want to share the more remarkable reads on my personal feeds. Twitter is the main place for that, because I figure people who follow me on Twitter generally share my interests. My preferred tweet format for sharing an article is a money quote followed by the link. If there's no quote short enough, I'll come up with a brief summary or simply post the title.
I prefer to tweet the natural URL, so people can see what site the story is on, but if I'm sharing from Pocket, there will be a pocket.co URL.
I usually tweet great quotes I come across as I'm reading. I try to keep the noise down, but sometimes an article is so mind-blowing that I have to keep tweeting out the genius. I've learned to do so at a pace my followers don't seem to mind, and I find this increases the likelihood that someone will click, read, and talk with me about it.
I only use Facebook for actual, real-life friends, so I'm much more discriminating about what I share there. Facebook article previews are pretty informative, so I try to make those posts worthwhile by adding a couple of sentences explaining why I think people should read this thing.
Archiving
If I read something particularly beautiful, funny, informative or terrifying, I want to keep it. Even if the site goes away, or the whole Web explodes and all the links break, I want to keep the treasures I've found. That's where Evernote comes in.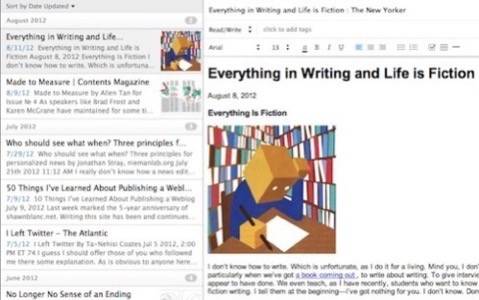 I have a stack of Evernote notebooks called Library. In that stack, I maintain notebooks for a bunch of general topics that are broad enough that every article I want to keep fits in one. Evernote says it wants to last 100 years, and, perhaps at my peril, I take that promise seriously. I pay the service to have enough bandwidth and file types that I can stick just about anything in there, and I can read it all in Evernote long after the links break. Even if I lose access to the Internet, those notes will still be on my devices until those break, too.
I send articles to Evernote to archive in various ways. Sometimes I want to preserve the Web formatting, so I highlight it and use the Web Clipper on Chrome. If I've cleaned up the article with Clearly, clicking the elephant button sends the clean version to Evernote.
On iOS, I use a great app called EverClip that runs in the background, letting you copy text and images from any app and send them to Evernote. On the Nexus 7, I usually read in Pocket. Pocket's Evernote sharing is also excellent, so I do that directly on iOS and Android alike.
What's Wrong With This Picture?
Before you tell me this Jenga tower of reading services is insane, let me say: I know that. But I think there's a kernel of something good here. I've gathered all the necessary pieces, they're just spread out among too many different services. Reading online without losing your mind should be easy enough that anyone can do it.
Here's what app makers might do to make my life, and that of dedicated readers across the globe, simpler:
Evernote would offer a standalone Clearly app for all platforms that syncs to an Evernote notebook and shares to Twitter, Facebook et al. Sorry, Pocket.
Apps that offer 'Save to Pocket/Instapaper/Readability' options would also add Clearly.
Reading.am would trigger automatically when Evernote Clearly is activated or when an article is saved to it.
If that happened, my entire reading flow would work like this:
Start reading
Click Reading or Clearly
Read
Share if desired
Move to an archive notebook in Evernote or delete
Looking at those five simple steps, reading online seems less insane and even more exciting. If they could all be accomplished in one place, without having to jump around between various tools, reading would be more fun, and that would be for the betterment of humanity.