When the iPad first launched two years ago, it was derided by some for its limitations. The first iteration didn't even have a camera on it, and it may never get a physical keyboard, so the notion of the device being used for content creation was laughable. Instead, the iPad was seen as a tool best used to lean back and consume content. For the most part, that's how things have played out. People use their iPads for reading, watching video, listening to music and gaming.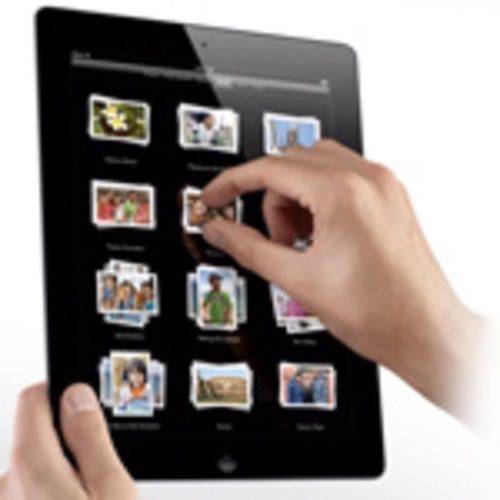 Despite that, the iPad is finding a place in business all over the world. About 67% of iPad-owning professionals use their tablets at work, even if the vast majority of the devices are not supplied by employers, according to a recent survey by IDG. Of those people, 93% use the device for work-related communication.
The iPad's role in business and worker productivity is fueled in large part by the efforts of app developers. Between the "Business" and "Productivity" sections of the App Store, there are over 12,000 iPad applications available for download.
Some of the more popular choices include apps for word processing, document reading and signing, remote desktop, file-syncing, communication and collaboration. There are numerous apps that turn your iPad into a whiteboard, let you attend virtual meetings and focus more intently on what you're writing. For any business or sole proprietor with goods to sell, downloading Square or one of its competitors is just a no-brainer at this point. There's no shortage of business intelligence apps and even IT can use server admin tools, FTP clients and mobile device management software.
A Supplement to – Not Yet a Replacement For – the PC
The iPad and its chief competitors in the tablet space are not poised to replace laptops and desktops just yet, a fact confirmed in IDG's survey. Only 6% of respondents said their tablet has "completely replaced" their PC and 16% said the iPad had ousted their laptop from their lives. Instead, the tablet is serving as more of a supplementary device.
With cloud syncing of calendars, email and documents, the tablet becomes sort of an extension of the desktop. Content can be shifted seamlessly across devices via Dropbox, Instapaper or email. There are, of course, limits. Graphic designers and high-end video editors aren't going to get much of their work done on an iPad. But for basic work-related tasks like reading, writing, communicating and even accepting payments, the tablet is a fit. Sure, the lack of a physical keyboard can make extensive writing cumbersome, but a small, wireless keyboard can fix that.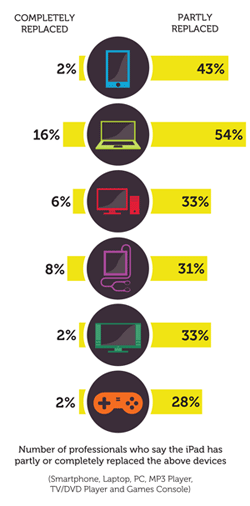 It's not just the apps available for the device that make it ideal for productivity. Indeed, the very thing that many critics cited as one of the iPad's biggest flaws makes it better at getting certain tasks done. As it turns out, the device's tendency to allow users to only do one thing at a time provides a much-needed boost in focus. For many, the iPad serves as a place to go when prolonged focus on a single document or task is needed. It can be a refuge from the cluttered, multi-windowed, multi-tabbed, chat notification-buzzing world of the desktop.
It's worth noting that the tablet revolution is still in its early stages, and that the iPad isn't the only player, even if it is the dominant one. Android-based tablets have grown up quickly and offerings from Amazon and others may force Apple to reconsider its $500 entry level price point when the iPad 3 launches this year.