Storify, the Twitter and multi-media curation service that's taken the indie and mainstream media worlds by storm, finally added the ability to post comments on stories tonight with the experimental addition of independent commenting platform Livefyre. Storify hasn't announced the feature yet, but Livefyre has.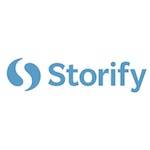 The opt-in feature does mean that there will be comment threads flowing from collections of Tweets, ephemera about ephemera, but it's something that's long overdue. One Tweet can be serious, a collection of Tweets can be epic and when that happens people have something to talk about.
We've written about Storify here a lot, most recently about the collection named Storify of The Year, journalist Josh Stearns' tracking of journalist arrests at Occupy protests.
There's something magical about Tweets, photos and links brought together in a new context, with commentary, and placed in an embeddable collection called a Storify. Some people may say that aggregation is not a creative act, but Storify offers a strong argument otherwise.

Photo: Storify's Xavier Damman, by mbargo.be.
It only makes sense to allow Storify publishers to permit readers to comment on their collections, too. What was originally social becomes social again when commenting is turned on. Otherwise it feels oddly frozen in time.
Commenting on ephemera like Twitter messages; what could be more meta? That might sound silly, like the ultimate in navel gazing – but that's what Twitter itself seems like to the uninitiated. I expect that allowing readers to discuss and listen to discussions about the often sublime collections that Storify makes possible will end up a big win.
In order to opt-in to comments on your Storify, users must click the settings button near their logged-in avatars in the top right of the page. Then a link to the Labs page will appear on the left side, which today contains nothing more than a check-box to turn on Livefyre.
Livefyre appears to have most of the same features that other platforms offer (we use Disqus here at ReadWriteWeb, Echo is another leader in the field) with at least one additional element: the ability to "listen" to conversations without commenting on them publicly. Livefyre will email you comments on posts you're listening to either in real time, hourly or daily depending on which you select. That's cool.
Altimeter Group's Brian Solis said at the beginning of last year about Storify and other tools like it that curated content would soon "spark conversations and reactions" while extending the reach of socially produced content – from across one network and into another. A year later, that vision appears to be taking form.